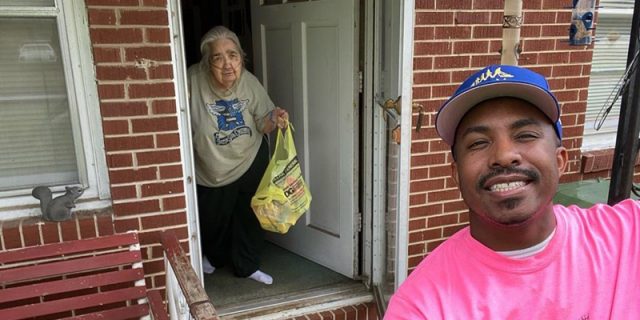 As the Covid-19 pandemic continues to affect countries around the globe, Bermudian Rodney Smith Jr is going the extra mile by delivering food and supplies in addition to mowing for the elderly, disabled, single mothers, and veterans in Alabama.
A report on AL.com said, "Even as most Alabamians are staying at home right now due to the coronavirus pandemic, Rodney Smith Jr. continues mowing as many yards in the Huntsville area as possible. Only now, in addition to mowing for the elderly, disabled, single mothers and veterans, free of charge, Rodney is delivering food and supplies as well.
"People have been donating money for hand sanitizer, fresh fruit, water, toilet paper and other items for those who can't get outside of their house," he said. "Some have met with me to give me the items."
"On Monday, he delivered some 30 meals prepared by Beacon Hill Worship Center in Madison. "I mow lawns, drop [food and supplies] off and go," he said in a phone interview. But he doesn't leave before taking a quick selfie with his clients as they peek out at their newly trimmed lawns. He also posts before-and-after photos of their yards to show the difference.
"It used to be that Rodney would give a quick hug before he left. Hugs are forbidden now, and he uses a selfie stick to take a photo from a safe, six-foot distance.
"Since 2015, when he was a student at Alabama A&M University in Huntsville, Rodney, a native of Bermuda, has dedicated himself to mowing lawns for free in all 50 states. By 2016, he had started a nonprofit organization, Raising Men Lawn Care Service, whose motto is "Making a difference one lawn at a time."
You can read the full story here on the AL website.
Comments
comments