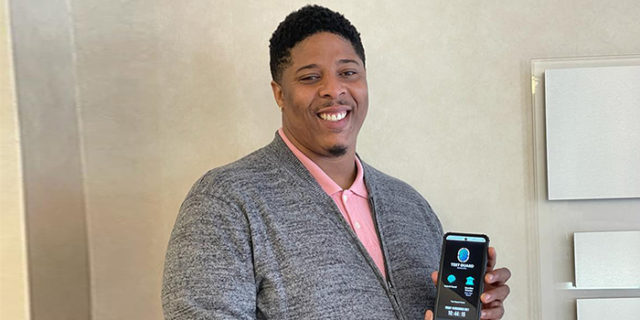 Developed by local technologist Edmond Johnson, TestGuard – an antigen test registration system – includes a both an easy-to use web and mobile application, with the company recently winning a Leadership Innovation Award for the project.
A spokesperson said, "To minimize the spread of Covid-19, we have completely rethought our daily routines. We work from home. We learn remotely. We socialize outdoors. We second guess many of the places we go. As the global community searches for effective methods for addressing Covid-19, the important role of testing is becoming more apparent.
"Keeping workplaces open and helping us return to school, sport and life within the new normal is a local company called, TestGuard. TestGuard is an antigen test registration system that gives Bermudians the confidence to return to everyday life. TestGuard provides a comprehensive digital platform for supporting Self-Administered Covid-19 testing.
"It includes a both an easy-to use web and mobile application to help individuals and organizations make informed decisions with greater confidence.
"Developed by local technologist Edmond Johnson, TestGuard is helping the community turn the page on long wait times for test results and adopt new simple testing protocols that meet their needs now and move us all forward.
"The company offers regular, rapid Covid-19 self-testing regulation that is simple to do, easy to afford and quick with results. After submitting the required information, including a semi-proctored self-administered antigen test, TestGuard allows you to obtain a digitally encrypted Guardian Report within three minutes if your Covid-19 test results are negative. The Guardian Report can be shown at facilities or events that accept antigen testing for entry and is valid for three days.
"TestGuard's design is optimized for use in a variety of settings including urgent care clinics, physician offices, schools, restaurants, workplaces and travel. Testing, when used in combination with protective measures including mask wearing, hand washing, and social distancing, is key to recovery from the Covid-19 pandemic."
TestGuard founder Edmond Johnson said, "As a local business owner, I was looking to create a solution to keep my organization open and protect our patrons at the same time. The pandemic isn't going anywhere, but with all of the data we have now, technologies such as TestGuard can provide us with information we can use to actively detect the virus and decrease the likelihood of spread."
The spokesperson said, "Businesses and schools who partner with TestGuard receive detailed statistical data which aides with reporting to government agencies.
"TestGuard is the way forward in getting Bermudians back out and about within our community. Organizations or individuals looking to use TestGuard can visit www.testguard.bm or call 777-5353. Let's stay open and stay together."
Comments
comments