[Updated] Premier David Burt, Minister of Health Kim Wilson, Chief Medical Officer, Dr. Ayoola Oyinloye, and BHB Chief of Staff Dr. Wesley Miller will be holding a press conference on Covid-19 at 4.00pm this afternoon [Oct 6], and we will stream it live.
Update 7.26pm: Minister Kim Wilson's full statement follows below:
Good afternoon.
I begin my remarks today by offering heartfelt condolences to the friends and families of those mourning the loss of a loved one to circumstances related to the coronavirus in recent weeks. You remain in my thoughts and prayers.
It does appear that our numbers are trending in the right direction, and our active cases are decreasing. I want to thank everyone for doing their part and making an effort to stop the spread of this aggressive Delta Variant.
However, we must not be complacent. We must not let our guard down, and we must continue to do everything we can to avoid getting infected with Covid-19.
We have completed week 38 of vaccinations, and since January 11, Bermuda has administered a total of 87,723 vaccinations.
Of the 87,723 vaccinations given as of October 2:
52% are women and,
48% are men
84.6% of all residents over the age of 65 years have had at least one vaccination and 82.8% are fully immunised.
To date, 68.9% of the population has been vaccinated [1 dose], and 66.7% of the population has been immunised [2 doses].
From January 11, 2021, when Bermuda's vaccine campaign began, to Epi Week 39 ending October 2, 2021, Bermuda's Covid-19 hospitalisations and deaths of vaccinated and unvaccinated persons are as follows:
276 hospitalisations [including repeat admissions] of which:
249 or 90% were persons who were not fully vaccinated, and,
27 or 10% were fully vaccinated.
To October 2, Bermuda has also sadly had 67 deaths, of which:
55 or 82% were not fully vaccinated
12 or 18% were fully vaccinated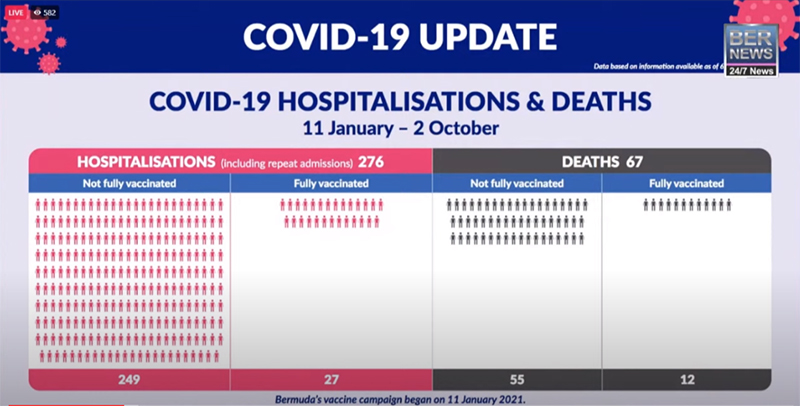 The Covid-19 vaccine remains our best defence in preventing the spread of this virus. It will decrease symptoms and severe illness and, in most cases, prevent death.
We are offering free Covid-19 vaccinations at the Hamilton Princess in the Harbourview Ballroom on the following dates:
Friday, October 8, from 3 pm to 7 pm
Sunday, October 10, from 1 pm to 5 pm
Complimentary parking is available, as well as refreshments and sweet treats generously provided by the Hamilton Princess.
Those who have decided to get vaccinated can go to Hamilton Princess, book an appointment, or walk into the KEMH Vaccination Clinic on Tuesday and Thursday, 4 to 7 pm, and Saturday, 8 am to 4 pm. Medical doctors will be at Hamilton Princess and KEMH to answer any questions about Covid-19 and the vaccines.
Tomorrow, we will receive 11,700 vaccine doses from the United Kingdom and begin administering boosters this Saturday 9th October and Sunday 10th October at the rest homes and the King Edward Memorial Hospital vaccine centre, respectively. The rest homes residents and staff will receive boosters, and those that are interested in being newly vaccinated at the rest homes will also have an opportunity to receive first doses at this time as well.
The KEMH vaccine Centre has committed to the following booster schedule: Sundays and Wednesday 8am to 8pm, and Tuesdays, Thursdays, and Saturdays will remain dedicated to 1st and 2nd doses.
A second vaccine centre is scheduled to open the week of October 12th, at the National Sports Centre for persons 65 and over.
Persons are eligible for the booster vaccine after 6 months of the second dose. In addition to the rest home, we will begin our booster roll-out with those who have the highest risk of getting infected which are the immunosuppressed persons.
Immunosuppressed are those with underlying conditions that make them highly at risk of severe illness if they were to contract Covid-19. The following categories for the roll out will be those that are 65 and over and then healthcare workers. The roll out is designed to ensure those that are vulnerable and those that work in high risk environments are a priority for the booster vaccine.
In addition to starting booster at the rest homes, an antigen testing program is in its final stages of development at rest home staff. This additional screening, along with the booster deployment, will provide more tools to effectively assist in mitigating mass outbreaks in rest homes.
I will remind residents intending to travel to the UK who have been fully immunised in Bermuda with the Pfizer vaccine, who do not wish to quarantine whilst in the UK, can request a proof of UK vaccination confirmation letter. The letter is a UK Government requirement for all overseas territories which verifies you have received a vaccine prescribed by way the UK vaccine distribution programme. You can generate the letter yourself by going to: https://www.gov.bm/vaccine-certificate. The process is quick and simple and similar to the way in which you would self-generate the safekey.
The UK vaccination confirmation letter cannot be generated for residents who have had their doses overseas or those who received a vaccine type other than Pfizer. Using this process requires an email address tied to your local vaccine record.
Those who cannot use the automated process can call 444-2498 option 2 to request to have the letter generated, but there will be wait times associated with using this option due to the high demand. Requestors must be ready to provide their passport number to generate the letter.
Finally, just a quick reminder that the Ministry of National Security, the Bermuda Police Service [BPS] and the Ministry of Health have introduced fixed penalty tickets, which allows for a Police Officer or a Public Health Compliance Officer to enforce the Covid- 19 regulations to issue on the spot tickets on any individual, business or organisation in contravention of the law.
The fixed penalty tickets are almost identical to the standard traffic ticket and filled out in the same way. A person will be invited to sign the ticket and will then be given the summons portion, which contains information on where to pay the $500 fixed penalty at the Hamilton Magistrates' Court.
Another matter I want to raise before I end is that due to the sheer number of cases, we require the public's assistance in contacting close contacts to reduce further spread.
Please provide an email address on your Covid test booking if you want to benefit from this speedier automated notification process. We all must work together to help stop the
spread of the virus in our community. When a test result comes back positive, persons will be notified via the email address provided on their test booking.
The notification email will include necessary information on the steps the person who tested must take concerning isolation and other matters. It will also include a link to an online form that allows the positive person to list their close contacts to be notified about their exposure without disclosing who the positive person is.
Please remember, we must all do our part to help stop the spread of the coronavirus. Continue to follow public health guidelines, wear a mask, practice good hand hygiene, maintain physical distance and download the WeHealth Bermuda app.
>
Update 9.04pm: Premier David Burt's full statement follows below:
Good Afternoon Bermuda,
I am saddened to begin my remarks today with condolences to more families in our Bermuda community who have recently lost loved ones to the coronavirus. My heart goes out to all those who are grieving at this time.
This afternoon I am pleased to be joined by the Minister of Health, the Hon. Kim Wilson, the Chief Medical Officer, Dr. Ayo Oyinloye, and the Bermuda Hospital Board's Chief of Staff, Dr. Wesley Miller, each of whom will address you this afternoon.
First, we will hear from the Minister of Health.
Minister.
Thank you, Minister of Health, Dr. Ayo, and Dr. Miller, for your remarks this afternoon and your continued hard work and dedication to helping our country through this pandemic and this current surge of the Delta Variant. Thank you also to your teams at the Ministry of Health, the Office of the Chief Medical Officer, and the King Edward Memorial Hospital.
Your teams have been on the frontline from the very beginning and continue to work tirelessly in service of our country, and we remain grateful for all the work that they do.
We, the people of Bermuda, can assist their hard work by doing our part to contain this current outbreak by following the public health regulations and protecting ourselves in the best ways that we can. This includes the basic methods which we all are aware of, such as hand-washing and sanitising, physical distancing and mask-wearing when you are not able to physical distance.
Our primary goal as the government remains to get students back into the classroom as soon as possible. Pre-return testing has commenced this week, with preschools and primary schools that have received over 80% consent from parents for their children to be part of the regular saliva screening programme.
The schools that have been tested this week include; Lagoon Park Preschool, Southampton Pre-school, and St. Paul's Preschool, which were tested on Monday. The Ministry is currently discussing plans to have these schools opened on a staggered basis, beginning as early as tomorrow.
Gilbert Institute, West Pembroke Primary School, and Port Royal Primary were tested on Tuesday.
As of yesterday, East End Primary, Purvis Primary, Victor Scott Pre-School, Prospect Primary, and Success Academy Robert's Avenue reached 80% consent and will be tested starting tomorrow, Thursday 7 October. This means we will have had 33% of our schools that have exceeded 80% saliva screening consent tested in preparation for a return to in-classroom learning.
Once a school reaches over 80% consent, testing is arranged. The results and data received from the tests will help determine when a school can return to in-classroom learning. The schools are aware of those who have not signed up for the regular saliva screening and are making contact with parents directly to discuss. Parents who would like to know the consent level of their child's school are able to contact the school principal directly.
We can all assist our students and teachers by doing what we can to contain this outbreak, get our schools back open, and to keep them open safely. Vaccinations remain one of the best and most effective ways we can protect ourselves and others. I am grateful that we continue to see an increase in registrations for the vaccine. The more people who get vaccinated, the more community protection we will have against the highly contagious Delta Variant. The presentation from the Chief Medical Officer earlier certainly outlined some of the data surrounding those matters. If you have questions or concerns, or if you are considering getting the vaccination, please speak to your doctor and discuss if it is medically safe for you to do so.
Along with vaccinations and following the basic health guidelines, we must also ensure that we follow the regulations currently set out in law. The 12:30 am – 5 am curfew remains in place,  large group gatherings of more than 20 persons require a large group exemption from the Ministry of Youth, Culture, and Sport, and they also require the use of SafeKey for all in attendance.
Since the introduction of the latest regulations during this outbreak, large group events which take place indoors have not received approval.  That restriction has now been removed, and indoor events will be reviewed and approved in line with the policy for large group exemptions.
Further, the Minister of Youth, Culture and Sport, the Hon. Ernest Peets also advises that sport is moving to Stage 3 of Return to Play which is competitive training to prepare for competition.  I can also report that the Ministry has informed the Bermuda Football Association that it has been given the approval to recommence the football season on 23 October.
The Government, alongside the Bermuda Tourism Authority, is continuing our work in spreading the message that Bermuda is a safe place for those who wish to visit our shores. We are also working collaboratively to build back the business that we have lost in our tourism sector due to this recent surge, as well as securing new business that will benefit those who rely on tourism income for their livelihoods.
As the Minister of Health stated earlier, our metrics are all moving in the right direction, but our hospital is still in a critical state. Further progress will require us all to do our part and accept personal responsibility for doing what is necessary to protect ourselves and our families.
Each of us plays a critical role in our efforts to reduce the further spread of the coronavirus, protect our healthcare system, get students back into the classroom, and protect our most vulnerable.
Our sense of community must be as strong as ever. We must look out for one another and continue to take the necessary precautions to keep ourselves, our family, and our friends and neighbours safe. We must continue to rely on our resilient Bermudian spirit, which has been tested time and time again over the last 18 months and has not withered yet. I know that it is hard to envision a future when there is so much pain in our community – but we must as a country move forward with a sense of unity and togetherness.
Comments
comments