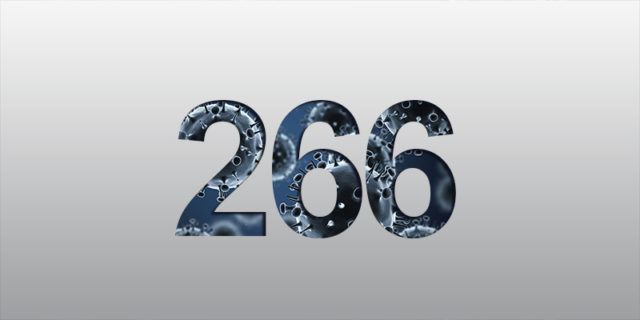 The Ministry received 4020 test results — spanning 7 days — and 266 were positive, so there are now 307 active cases, of which 18 people are in hospital, and the Ministry confirmed that the island has recorded a coronavirus-related death, bringing the total to 142 since the pandemic began in 2020.
Last week Wednesday the Government said there were 28 people in hospital and on Friday the Premier said there were 56 people in the hospital. Following the Premier's statement, the hospital said, "56 people on Friday would be consistent with our entire patient population, including acute care, critical care, and long term care across both KEMH and MWI. The figure of 28 from Government's Wednesday update relates to the number of people in acute and critical care at KEMH only."
Bernews asked the Ministry for clarification on the hospital figures, as today states 18, and a Ministry spokesperson said, "As per prior reports via ESU, the hospitalizations include those persons hospitalized in acute care wards only. It does not include BHB long term care, MWI or residential facilities."
"I am sad to report that Bermuda has had another coronavirus-related death," said Acting Minister of Health, Jason Hayward. "I extend sincere condolences to the family and loved ones of the deceased."
A Government spokesperson said, "Since the last update, the Ministry of Health received 4020 test results, and 266 were positive for the coronavirus, giving a test positivity rate of 7%.
"These results are from testing done on:
Tuesday: 68 positive out of 751 results [9.1% positivity]
Wednesday: 35 positive out of 628 results [5.6% positivity]
Thursday: 51 positive out of 612 results [8.3% positivity]
Friday: 40 positive out of 583 results [6.9% positivity]
Saturday: 17 positive out of 320 results [5.3% positivity]
Sunday: 23 positive out of 569 results [4.0% positivity]
Monday: 32 positive out of 557 results [5.7% positivity]
"107 of the new cases are classified as imported with a history of travel in the previous 14 days. The additional 159 new cases are classified as either local transmission [62] or under investigation [97]. Additionally, there were 338 recoveries and one death.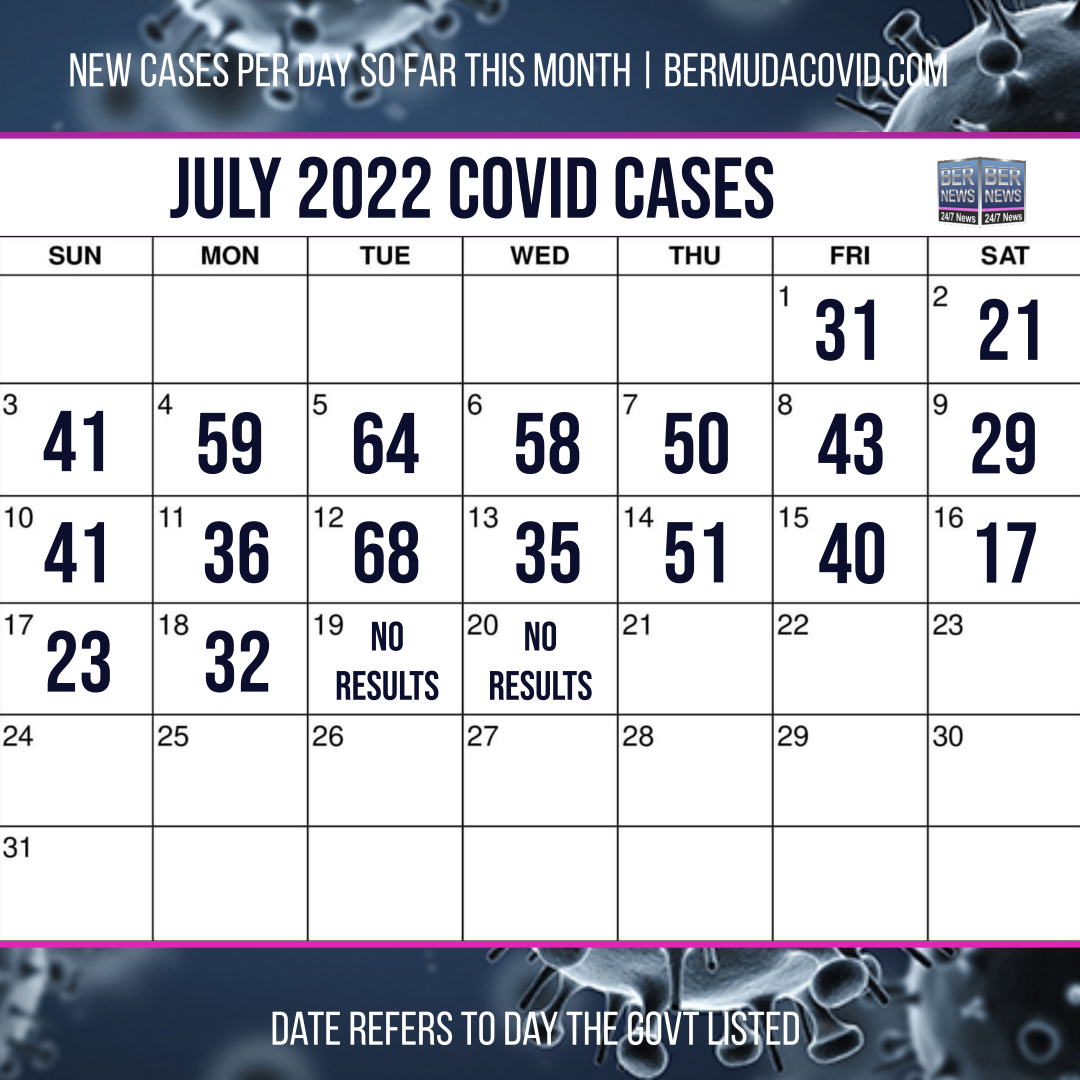 "There are 307 active cases, of which:
289 are under public health monitoring; and
18 are in hospital, with 0 in intensive care.
"Since March 2020, Bermuda has recorded 16988 coronavirus cases, out of which 16539 have recovered, and sadly there have been 142 coronavirus-related deaths.
"The source of all active cases is as follows:
122 are Imported
75 are classified as local transmission
110 are Under Investigation
"The source of all confirmed cases is as follows:
3502 are Imported
13107 are classified as local transmission of which:

5667 are Local transmission with known contact/source and
7440 are Local transmission with an unknown contact/source

379 are Under Investigation
"As investigations proceed, transmission categories may change. For age distributions and overall transmission categories, please refer to https://www.gov.bm/coronavirus-covid19-update. The seven-day average of our real-time reproduction number is 0.56.
"For information regarding other conditions being reported to the Epidemiology and Surveillance Unit, please refer to https://www.gov.bm/health-information."
"Most people are ready to move past the pandemic, but COVID-19 is still widespread in our community, and around the world. The virus continues to evolve, and we see rapid transmission on the island," said Acting Health Minister Hayward.
"The main symptoms are a sore throat, body aches and headaches, and, also, blocked or runny nose, cough, hoarse voice, sneezing, fatigue and muscle aches. Mild symptoms are still symptoms to be concerned about. Stay home if you have any symptoms. It often takes a few days to test positive after you get symptoms.
"As Minister Wilson stated last week, Covid-19 remains a Public Health Emergency of International Concern, which was reconfirmed by the World Health Organisation last week.
"To avoid the risks of getting infected, wear a face mask, practice good hand hygiene, and maintain physical distance. Importantly, ensure there is proper ventilation when you are indoors. Fresh air ventilation is essential for any building or internal space and protects all of us from infections such as COVID. We should all increase fresh air ventilation wherever possible when indoors. Take an at-home antigen test before going to Cup Match or any event or gathering."
Comments
comments