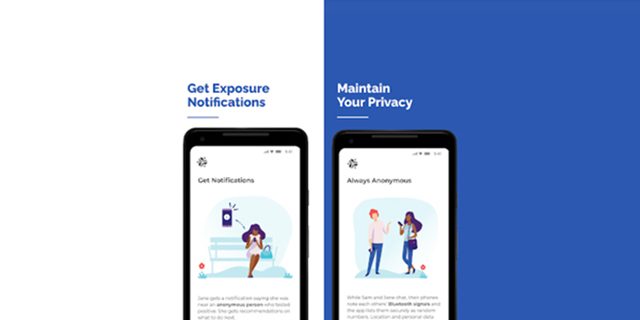 Over 11,000 people have downloaded the WeHealth Bermuda app so far, Premier David Burt said, with the Premier explaining that the app — which offers exposure notifications — is "100% anonymous and no one can see who is sending the information."
Speaking at last night's [Dec 14] press briefing, Premier Burt said, "Everyone should download the WeHealth Bermuda app on their phone. The app can be downloaded from the App Store for Apple or Google Play for Android phones. You can find it by searching WeHealth Bermuda.
"I would like to thank you to the cell phone companies, Digicel and One Communications, who worked collaboratively with the Government to issue a text message today to all cell phone users in Bermuda. The message provided a link so you can access the app quickly and easily. If you haven't downloaded the app, I encourage you to do so right now.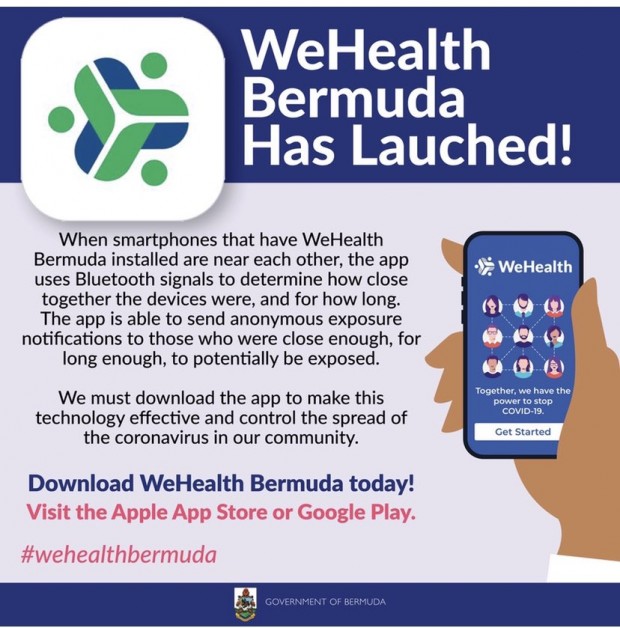 "I've explained before, but I want to explain again in case persons didn't hear it. The app works by ensuring after a person is tested, if they are positive for the coronavirus and have downloaded the app, they are given a randomized verification code by the team at the Ministry of Health.
"That person will enter the code into the app, and WeHealth Bermuda app will then anonymously notify other WeHealth Bermuda app users that an infected person was in close proximity, even if they don't know that person.
"This takes into account sophisticated modeling, the distance at which you are apart. The amount of time which you may or may not have been together in close proximity. It is a very sophisticated programme that analyzes the risk of exposure.
"WeHealth Bermuda does not use or collect personal information or track users' locations, therefore these notifications will be completely anonymous. The WeHealth Bermuda app uses secure Bluetooth signals to measure how long and how close app users were together.
"Once you download and install the app, the app will run in the background and alert you to any exposure risks, and it uses very little data or battery life to run on your phone. If you don't have data on your phone and only have a phone that is able to use Wi-Fi, the app will still work as long as you have Bluetooth on and will get any updates for exposures when you are in range.
"Please encourage your friends, family and coworkers to download WeHealth Bermuda.
"As of yesterday, just over 11,000 people have downloaded the app. In addition to downloading the app, the other important piece is those who are confirmed positive and have the app must be willing to put in the randomized code.
"A reminder if that may apply to you in the future. No one will know who the code came from. This is the other key to the success of the app and for people using it. It is 100% anonymous. Again. It is 100% anonymous and no one can see who is sending the information. No information is collected or shared about the user.
"The WeHealth Bermuda app is valuable to restaurants, salons, grocery stores, and other retail locations, where there is relatively closer physical contact. I urge business owners to ensure that all of their employees have the app installed on their phone, and also to encourage customers to download the app to their phones as well.
"If a customer and employee are using the app, it can alert that employee that they would have come into contact with a customer who may have been infected and the employee would be able to know this.
"That information can allow an employee and their employer to take action to protect their employees and customers; and to ensure their livelihood is protected. Right now – all staff in an establishment may need to quarantine, whereas if the app was installed and in use, selective quarantine may be able to be used instead. That is a key point. That is why it is key and critical that all persons use this app.
"It makes contact tracers job easier and it will relieve the stress versus wide quarantines to targeted quarantine.
"The Department of Communications has been hosting virtual presentations about the app and sharing fliers and other graphics with attendees. Those of you who have attended the meetings, I encourage you to share the information with your members and member organizations.
"Print the graphics and place them in prominent places so the QR code can be scanned and the app downloaded. Flyers can be found on gov.bm/wehealth."
Comments
comments