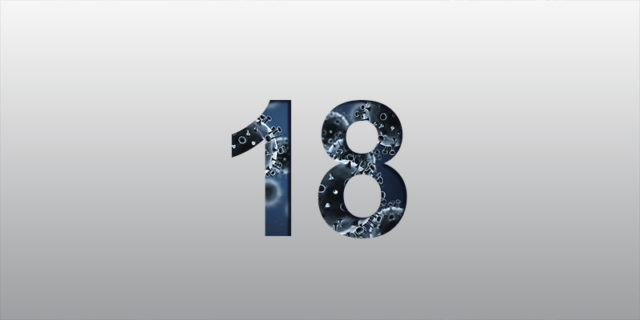 The Ministry received 6804 test results – spanning 4 days — and 18 were positive, so there are now 33 active cases.
A Government spokesperson said, "Since the last update, the Ministry of Health received 6804 test results, and 18 were positive for the coronavirus, giving a test positivity rate of 0.3%.
"These results are from testing done on:
Wednesday: 6 positive out of 1869 results [0.3% positivity]
Thursday: 1 positive out of 1798 results [0.1% positivity]
Friday: 3 positive out of 1776 results [0.2% positivity]
Saturday: 8 positive out of 1361 results [0.6% positivity]
"14 of the new cases is classified as imported with a history of travel in the previous 14 days.
"The additional 4 new cases are classified as either local transmission [2] or under investigation [2].
"Additionally, since the last update, there have been six recoveries and 0 deaths.
"There are 33 active cases, of which:
33 are under public health monitoring
0 are in the hospital
"Since March 2020, Bermuda has recorded 5748 confirmed coronavirus cases, out of which 5609 have recovered, and sadly 106 Covid related deaths.
"The source of all active cases is as follows:
23 are Imported
4 are classified as local transmission
6 are Under Investigation
"Active cases by vaccination status, transmission, and type:
Imported cases: 91% are fully vaccinated, and 9% are not vaccinated
Local/Under Investigation cases: 50% are fully vaccinated, and 50% are not vaccinated
Of the active cases where typing is available, 100% are Delta.
"The source of all confirmed cases is as follows:
706 are Imported
5028 are classified as local transmission of which:

3079 are Local transmission with known contact/source and
1949 are Local transmission with an unknown contact/source

14 are Under Investigation
"As investigations proceed, transmission categories may change. For information regarding age distributions and overall transmission categories, please refer to https://www.gov.bm/coronavirus-Covid19-update.
"The seven-day average of our real-time reproduction number is 0.52. Local data shows that Bermuda is moving out of Community Transmission. Community transmission is characterised by an increased incidence of locally acquired, widely dispersed cases, with many cases not linked to specific clusters.
"The vaccine is the best form of defense in the Pandemic. There still remains the opportunity for unvaccinated persons to get vaccinated, and those that require a booster can receive the booster now. It is encouraged that everyone consider their options and discuss with their physicians on how they can achieve the most effective protection for themselves and their loved ones.
"Covid-19 vaccinations are available at the Hamilton Health Centre, 67 Victoria Street, every Tuesday from 2 – 4 pm. These vaccinations are by appointment only, no walk-ins. You can get your 1st, 2nd or 3rd dose. Call 332-8906 for assistance in scheduling an appointment, or you can book online at www.gov.bm/vaccines.
"Additionally, 1st and 2nd dose appointments can be made at the KEMH Vaccination Clinic on Tuesday and Thursday, 4 to 7 pm, and Saturday, 8 am to 4 pm, and walk-ins are accepted. You can book online at www.gov.bm/vaccines or call the Vaccination Hotline at 444 2498 [option #2] for assistance.
"For those eligible for the booster vaccine, please book an appointment on gov.bm by selecting "Book a Booster Vaccine Appointment." Alternatively, call the Vaccination Hotline at 444 2498 [option #2] or email vaccine@gov.bm. Those persons 65 and older can walk into Pier 6 for a booster, and throughout November and December, KEMH booster clinics will be held on Wednesday 8 am – 8 pm, and Sunday 8 am-8 pm. The last clinic is on 22nd December.
The Ministry of Health is pleased to announce the commencement of the 2021 Flu Express. Minister of Health, Kim Wilson, JP, MP, said, "Commencing Wednesday, December 1st, the seasonal influenza [flu] vaccine will be available for priority groups through their doctor or the Flu Express at the cost of $15.00 per shot [for both adults and children]. Persons over the age of 65 years will receive the seasonal flu vaccine free of charge.
"I am also pleased to announce that the Ministry of Health has launched an online flu vaccine registration. We invite the public to pre-register for the flu vaccine to minimise paperwork on arrival and reduce wait times.
"You can register online by going to the Government website https://www.gov.bm/.  Click on the yellow tab 'Flu Vaccine Registration' on the top right-hand corner of the page, follow the consent prompt, and enter the required information. The direct link is https://forms.gov.bm/Influenza-Vaccine-Consent. An email will be sent to you and is required to be shown when you arrive for vaccination.
"Alternatively, persons can call the hotline at 799- 1524 / 332-8902 to pre-register. If you cannot pre-register online or by phone, you can fill out the consent at the vaccination express location.
"The flu vaccine is a safe and highly effective method of preventing most cases of flu. Side effects are rare and usually mild."
"The Department of Health's "Flu Express" will allow people to drive to a designated site and receive the flu vaccine while waiting in their car, without having to get out. This will make it easier for some people to access the vaccine, reduce crowds and maintain physical distancing.
"Flu Express days and locations are as follows:
National Stadium Pavilion #65 Roberts Avenue, Devonshire DV 01, Bermuda Wednesday, 1st December 10 am – 2 pm
Clocktower, Dockyard, Royal Naval Dockyard, Sandys, Monday 6th December, 10 am – 2 pm
Penno's Wharf, St George's [Drive Through Not Available], Wednesday, 8th December, 10 am – 2 pm
Clocktower, Dockyard, Royal Naval Dockyard, Sandys, Friday, 10th December, 10 am – 2 pm
"Priority persons who should attend the "Flu Express" are:
Healthcare workers, caregivers and essential service workers
Any person with chronic medical conditions that are at risk of complications from the flu, e.g. diabetics, asthmatics and those with heart disease.  They should inform their doctor when they have been vaccinated.
Children 10 years and older. Those 6months – 9 years old should attend their usual doctor's office for vaccination.
"Flu injections will only be offered at the "Flu Express" on the specified dates to individuals in good health without active infections.
"You will not be given the shot if:
You have allergies to eggs, chicken products, or any component of the vaccine
You have had a reaction to the flu shot before
You have a fever or are unwell
You have had a seizure within the year
You currently have Covid-19 or are being quarantined due to Covid-19
Please dress comfortably to allow the nurse easy access to the injection site in the upper arm.
"Please have the correct amount of CASH ready during your attendance at the "Flu Express." [Credit/Debit card facilities will not be available at the "Flu Express" sites].
"The general benefits of flu vaccination are:
Decreased chance of contracting influenza;
Decreased chance of contracting influenza in pregnancy and increased protection for newborn infants;
Increased protection against influenza during travel abroad;
Increased quality of life for our community, especially the seniors, infants and children and persons at risk of complications from the flu;
And decreased absenteeism from work or school due to influenza.
In protecting yourself against influenza, you are also protecting your family, your household, your workplace and ultimately, your community.
"Influenza vaccine is recommended for all persons over the age of 6 months.  Children aged 6 months to 9 years require two shots, given 4 weeks apart if they are being vaccinated for the first time against influenza.
"Individuals under their physician's care for chronic medical conditions and children under the age of three are asked to obtain a prescription for their flu immunisation from their private physician.
"For the upcoming flu season, flu vaccination will be particularly important to reduce flu because it can help reduce the overall impact of respiratory illnesses on the population and thus lessen the resulting burden on the healthcare system during the Covid-19 pandemic.
Minister Wilson added, "It is essential to know that getting a flu vaccine will not protect against Covid-19. Both the flu vaccine and the Covid-19 vaccine can be safely given at the same time. If you have concerns about getting both vaccines simultaneously, you should speak with your physician.
"The chance of contracting flu, Covid-19 and other upper respiratory infections can be reduced by frequent hand-washing, by 'covering' coughs and sneezes, disposing of soiled tissues, avoiding crowded places and maintaining physical distancing.
"Each of us has a role to play in stopping the spread of the coronavirus. Follow Public Health guidelines, wear a mask indoors, practice good hand hygiene, maintain physical distance and download the WeHealth Bermuda app."
Comments
comments