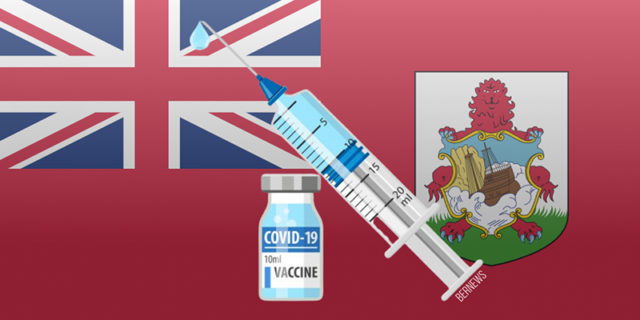 The vaccination statistics as of February 20th show that Bermuda has administered a total of 16,377 vaccinations, with the Minister noting that "18% of the population has been vaccinated [with 1 dose] and 7% of the population has been immunized [with 2 doses]."
Speaking at tonight's [Feb 23] press conference, Health Minister Kim Wilson said, "I will now provide an update on our vaccine programme, which plays a key role in Bermuda's return to normal
"We have completed the sixth full week of vaccinations, and the fourth week using two Vaccination Centres operating six days a week. For the six week period from January 11 to February 20, 2021, Bermuda has administered a total of 16,377 vaccinations – a figure that rises to 17,073 if you include yesterday's vaccinations as well! – all of which is an impressive achievement.
"Of the 16,377 vaccinations administered for the period we are reporting on which ends February 20,
"9,028 [or 55%] are women, and,
"7,349 [or 45%] are men.
"Bermuda's goal of "herd immunity" will be achieved when 70% of the population [64,054] has been immunized. To date, 18% of the population has been vaccinated [with 1 dose] and 7% of the population has been immunized [with 2 doses].
"Each week since January 11 has seen an increase in the number of vaccinations administered, with 3,804 vaccinations delivered last week. The public has accessed these vaccines as follows:
"The Vaccination Centre at Bermuda College [previously at the Police Recreation Club] administered 9,373 or 57% of vaccinations,
"6,119 or 37% were administered at the Bermuda Hospitals Board Vaccination Centre,
"744 or 5% were administered at rest homes and long term care facilities, and
"141 or 1% were administered at Other Vaccination Sites.
"Assessed against Bermuda's vaccination priority targets:-
"In Phase 1A
"1,605 persons or 51% of those aged 80 years and older have been vaccinated. 638 have had one vaccination, and 967 [31%] are fully immunized.
"373 person or 50% of residents in rest homes and long term care have been vaccinated. 72 have had one vaccination, and 301 [41%] are fully immunized.
"1,303 health care workers or 53% have been vaccinated. 347 have had one vaccination and 956 [39%] are fully immunized.
"1,316 essential workers or 56% have been vaccinated. 596 have had one vaccination and 720 [30%] are fully immunized.
"In Phase 1B
"4,193 persons or 44% of those aged 65 – 79 years have been vaccinated. 2,533 have had one vaccination and 1,660 [17%] are fully immunized.
"These are great results so far, and I would like to thank all those who have taken the step to get their vaccination to protect themselves, their families and our community.
"I would like to remind residents that we are now in Phase 2 of Bermuda's COVID-19 Vaccine Allocation Strategy.
"Phase 2 is residents who are 50 years or older, have been diagnosed with heart disease, chronic kidney disease, liver disease, diabetes, have a disability, are of no fixed abode or essential travelers – persons who must travel for medical purposes or to return to school.
"If you fit the criteria for Phase 2, you should register for an appointment by completing the registration form at forms.gov.bm/covid.
"If you were eligible for the vaccine in Phase 1A and 1B group and have not registered yet, please do so today. If you are not able to access the registration form online, ask a friend, neighbor or family member to register you online or you can call 444 2498 and select option 2. The Ministry of Health's appointment process will ensure that you keep your priority status.
"I know that callers have been having difficulty getting through. Please know that the system upgrades are completed now and additional staff are being put in place to answer your calls. This is important, so if you don't succeed the first time, please try again. The volume of calls is high and we have expanded the hours of operation to accommodate this. The Vaccine Hotline is open from 8.30am to 5.00pm Monday – Friday, and 9.00am to 1.30 pm on Saturdays.
"With regard to the numbers of persons who have registered interest… To the week ending February 20, 19,389 persons have registered their interest in getting vaccinated. The breakdown is as follows:
4,445 Black
9,208 White
2,124 Mixed or Other, and,
3,612 Prefer not to say or Not Specified.
"For those of you who have registered already – thank you and please encourage your family and friends who may be in the priority groups to register.
"The Ministry of Health is starting to see the positive results, and a true measure of the effectiveness of vaccines, in data being reported from around the world. Countries, like Bermuda, that have implemented aggressive vaccination programmes are now seeing decreases, and in some countries, dramatic decreases, in the numbers of persons infected with the coronavirus and the numbers hospitalised.
"That is the type of beneficial outcome we are anticipating for Bermuda as we vaccinate more and more people.
"This does mean not we can stop the other public health measures that we have  – please, continue to wear your masks, practice physical distancing, employ good hand hygiene and download the WeHealth Bermuda app, even if you are now immunised.
"I am also pleased to announce a partnership with the Ministry of Health and Age Concern Bermuda to provide assistance to their members to receive the COVID-19 vaccine.
"Starting next Monday March 1, adults aged 50+ who require assistance with transportation to their scheduled vaccine appointment can call Age Concern on  238 7525 to arrange free transportation. In order to receive this free service, individuals must have already registered and received their vaccination appointment. The transportation is being provided by Project Action and will include travel to and drop-off after your vaccination appointment, and is good for travel to vaccinations at both the Hospital and the Vaccination Centre at Bermuda College.
"These types of partnerships are vital as we must all work together to ensure that everyone who wants to be vaccinated, has the opportunity to do so.  Across the world, experts agree that transitioning beyond this pandemic depends on the prevalence of immunity, especially among older and more vulnerable populations. The single most important thing we can do as individuals to achieve the population-wide immunity that slows down the virus's spread is to get vaccinated. If we don't, we risk additional outbreaks that will come at a terrible cost, and this is not something that we wish to experience.
"As announced last week, there will be changes to the Travellers' First 14 Days for immunized persons from next week. We recognise these changes will most immediately impact persons seeking to dine indoors, go to the gym, play contact sports and the like. They will also impact other public health guidance such as the 'return to work' and 'return to school' policies. Until the amendments to public health guidance have been thoroughly reviewed and agreed by Cabinet – which will be next week – nothing has changed! If you are immunized now, you must continue to adhere to all the public health guidance which was in place before you were immunized and which continues to be in place now."
Comments
comments