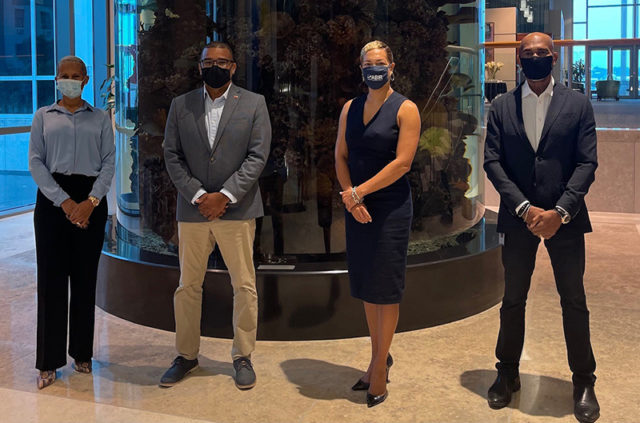 Bermuda's international business community has joined forces to contribute approximately $281,000 towards the cost of antigen lateral flow Covid-19 tests for public school students, noting that this will provide just over 99,000 test kits.
A spokesperson said, "Member companies of the Association of Bermuda Insurers and Reinsurers [ABIR], the Association of Bermuda International Companies [ABIC] and Bermuda International Long Term Insurers and Reinsurers [BILTIR] have donated the funds to support the Bermuda Government's reopening of public schools and the measures to protect the health and safety of students and staff.
"The Ministry of Education has indicated that antigen lateral flow tests [LTFs] are a useful screening tool that the Ministry plans to utilize. In particular, they are useful in detecting cases in people who have no symptoms but are still infectious. Incorporating their use into the schools' screening processes can help to limit the spread of the coronavirus and reduce the need for further quarantines.
"LTFs enable do-it-yourself testing at home, producing a result in 15 to 30 minutes, depending on the type of test device used.
"The funds raised by international companies will allow for the purchase of a batch of just over 99,000 antigen lateral flow test kits, which a local vendor has been able to source directly from a manufacturer at a significantly reduced cost."
Minister of Education Diallo Rabain said: "Bermuda works best when we all come together to support our students and their education. The Ministry of Education thanks ABIR, ABIC and BILTR for their donation and for helping to support the safety and health of our students and school staff. The addition of LFTs to our current Covid mitigation strategy and screening program will help to keep our schools safe and more importantly help to reduce the amount of time students potentially spend away from in-person learning."
Marc Grandisson, Chairman of ABIR and Chief Executive Officer of Arch Capital Group Ltd., said: "We are pleased to support the Ministry of Education's procurement of these lateral flow test devices, which we hope will have a positive, ongoing impact on the safety of the school environment as students and teachers return to in-person learning.
"ABIR member companies, as Bermuda's leading international insurers and reinsurers, are committed to Bermuda and Bermudian families, and we appreciate the toll the pandemic has taken on young people, their parents and guardians, and their teachers. We strongly support Minister Rabain's efforts to ensure a safe reopening of Bermuda's public schools."
Patrick Tannock, Chairman of ABIC and Managing Director, AXA XL and CEO, XL Bermuda Ltd.'s Insurance Operations said: "We are pleased to support Minister Rabain and the Ministry of Education as they implement procedures that allow teachers and students a safe return to school. School attendance and classroom learning is critical to the success of our students and the provision of regular lateral flow testing will allow for our children to return and remain in the classroom.
"ABIC's mission is to promote and preserve a sound business environment for international business and the community and we recognize the impact of Covid-19 on the Bermuda community, particularly on parents and students, and believe that the provision of lateral flow tests will support the safe return of teachers and students."
Sylvia Oliveira, Chair of BILTIR and Chief Executive Officer of Wilton Re Bermuda, said: "The closure of our schools has had a detrimental effect on many Bermudian families, and we are delighted to support Government's efforts to reopen our schools safely. I am very proud that our members, alongside our colleagues in the international business sector, responded quickly and generously to help this important initiative."
The following companies donated funds: AIG, Argo Group, Ariel Re, Arch, Athene Life Re, Awbury, AXA XL, AXIS, Bacardi, Canopius, Catalina Holdings, Conduit Re, Convex, FIL Limited, Global Atlantic Re, Granite Management, Hannover Re, Hiscox, IQEQ Bermuda, Jardine Matheson International Services, KPMG, Kuvare Re, Lancashire, Markel Bermuda, Milliman Inc., Orbis Investment Management, Pacific Life Re, PartnerRe, Prosperity Life Assurance, PwC, RenaissanceRe, Resolution Life Holdings/Resolution Re, SIGCO, Vantage Risk, Wilton Re and Zurich.
Comments
comments