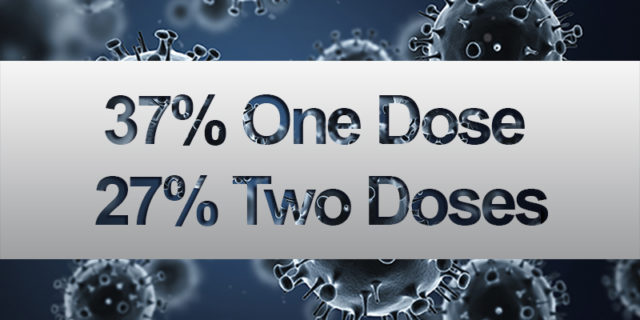 As of April 3rd, Bermuda has administered a total of 41,152 Covid-19 vaccinations, so 37% of the population has received one dose, while 27% of the population has received 2 doses.
Speaking at last night's [April 6] press conference, Minister of Health Kim Wilson said, "We have completed the twelfth full week of vaccinations. From January 11 to April 3, 2021, Bermuda has administered a total of 41,152 vaccinations – a figure that rises to 42,038 if you include yesterday's vaccinations as well! – all of which is very good news and ranks us as 8th in the world for vaccinations.
"Of the 41,152 vaccinations administered for the period we are reporting on, which ends April 3rd;
54% are women, and,
46% are men.
"Bermuda's goal of "herd immunity" will be achieved when 70% of the population [64,054] has been immunised. To date, 37% of the population has been vaccinated [with 1 dose], and 27% of the population has been immunised [with 2 doses].
"3,364 vaccinations were delivered during the week of March 28 – April 3rd. The public has accessed these vaccines as follows:
the Vaccination Centre at Bermuda College administered 25,440 or 62% of vaccinations,
14,692 or 36% were administered at the Bermuda Hospitals Board Vaccination Centre, and,
1,020 or 2% were administered at Other Vaccination Sites.
"Significant progress has been made in vaccinating our population and, especially, our most vulnerable.
"64% of all residents over the age of 65 years have had at least one vaccination with 54% being fully immunised.
"52% of individuals between 50 and 64 years of age have received at least one vaccination with 39% being fully immunised.
"22% of residents less than 50 years of age have been vaccinated with at least one dose which represents 1,728 vaccinations in this age group this week. This lower overall number is what we would expect as this group falls into Phase 3 which has just been open for two weeks. Uptake among this younger age groups is strong but I want to encourage all those under the age of 50 to register to get vaccinated. At present, only 41% of those in this group eligible to register have done so.
"Vaccinations are continuing at a steady pace and we are seeing both the number vaccinated and the number immunized climbing steadily each week.
"These are excellent results so far, and I would like to thank all those who have taken the step to get their vaccination to protect themselves, their families and our community.
"I want to remind residents that we need everyone who can, to get vaccinated! Anyone 16-years-old or older can get a vaccination appointment as we are now in phase 3. Anyone who is between 16 and 18-years-old must be accompanied by a parent or guardian. Priority will continue to be given to our more vulnerable populations, including seniors and those with medical conditions. If you have not already registered, please do so by completing the registration form at: vaccine.resqwest.com/web.
"Please remember that you will not be vaccinated if you have travelled in the last 14 days. You MUST have a day 14 negative test result to get either your first or second dose.
"Also, if you are in quarantine, do not attend your vaccination appointment. Let the Vaccine Programme know that you are in quarantine and will miss your appointment. The appointment can be rescheduled, and if it is your second appointment, it can be rescheduled up to 12 weeks from the first appointment.
"Every dose of the vaccine is extremely important, so if you are unavailable to make your appointment, please call the Hotline at 444-2498 [Option #2] or email vaccine@gov.bm. You may also email vaccine@gov.bm if you require a Vaccine Certificate.
"We are doing a tremendous job administering vaccinations, now ranking 8th in the world, but we cannot rest on our laurels. The more often people take non-essential trips abroad or take unnecessary risks in group gatherings, for example – the longer it will take our community to get vaccinated and protect ourselves. This is because we cannot vaccinate recent travelers or people who are in quarantine or isolation. However, the faster we get to herd immunity, the less likely COVID-19 can get a foothold in our community and the quicker we get back to a new normal.
"The question has been asked many times by members of the public whether or not people who have been vaccinated can test positive for COVID-19. If you have been immunized, the risk of you getting the disease is low but vaccinations don't completely stop you from getting it. However, the COVID-19 vaccine does lessen the severity of the disease and its symptoms.
"A person who has been vaccinated can have the coronavirus but show no symptoms or have only mild symptoms of the disease, and that person might pass the virus on to family, friends and colleagues. The research on this is still underway. However, it would appear that those who are immunised do have a lower viral load of the coronavirus. Notwithstanding, and because the science is not yet conclusive, it is important that everyone continues to follow the guidelines of wearing a mask, practicing good hand hygiene and maintaining physical distance," the Minister added.
Comments
comments