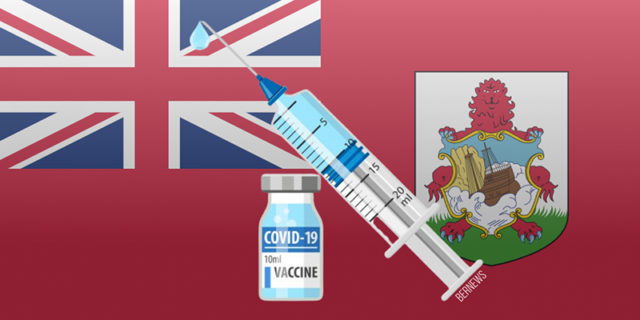 As of May 1st, Bermuda has administered a total of 58,193 vaccinations, with 39% of the population having received two doses thus far.
As the overall vaccination numbers increase — at this time only people over 16 can be vaccinated so some of the population cannot be vaccinated and as of this time 51% of the entire population has received at least one dose — the rate of vaccinations per day is slowing.
The statistics this week show an increase of around 2870 from the week prior, while the previous week saw an increase of just over 4320, and the week prior to that had an increase of just over 5200. The island remains in the top 10% of the world as far as vaccinations per capita, a position we have been in since shortly after starting the vaccination programme.
Speaking during tonight's press conference, Health Minister Kim Wilson provided vaccination statistics saying, "We have completed the sixteenth full week of vaccinations. From January 11 to May 1, 2021, Bermuda has administered a total of 58,193 vaccinations – a figure that rises to 60,207 [which is 52% vaccinated] if you include vaccinations administered from Sunday to Wednesday of this week as well! – all of which is excellent news.
"Of the 58,193 vaccinations administered for the period we are reporting on, which ends May 1;
52% are women, and,
48% are men.
"Significant progress has been made in vaccinating our population and, especially, our most vulnerable.
"74% of all residents over the age of 65 years have had at least one vaccination with 64% being fully immunised.
"To date, 51% of the population has been vaccinated [with 1 dose], and 39% of the population has been immunised [with 2 doses].
"The Bermuda College vaccination centre will continue to be open for walk-ins from 9 am to 1 pm daily. For those with appointments, the vaccination hotline is doing phone follow up calls to confirm those appointments as well as sending emails.
"For those persons who have registered and are waiting for their first appointment, you will receive the information by email. In both cases, please read your confirmation emails carefully to ensure that you get the correct information regarding the time and location of your vaccine appointment.
"Additionally, to increase the avenues available to members of the public who wish to protect themselves and others by getting vaccinated, the "Close to Home" Vaccination Initiative will continue in the following locations, from 10 am until 2 pm:
Saturday, 8 May at the National Sports Centre in Devonshire
Tuesday, 11 May at the Shelly Bay Marketplace
Thursday, 13 May at the TN Tatem Middle School
"These sites are for people who have not yet registered for the COVID-19 vaccine, do not have access to the internet, and prefer to register in person or have additional questions about the COVID-19 vaccine.
"Our current supplies of Pfizer and AstraZeneca vaccines expire at the end of June. For Pfizer, which requires a three week period between doses, we anticipate the last first dose will be administered on June 8. For AstraZeneca, the period between doses can be as great as 12 weeks, so we will continue to administer that vaccine until June 30, and administer the second dose when we receive our next COVAX delivery.
"I can assure you, we have the capacity to vaccinate anyone who wants to get vaccinated and plenty of supply to reach community protection."
Comments
comments