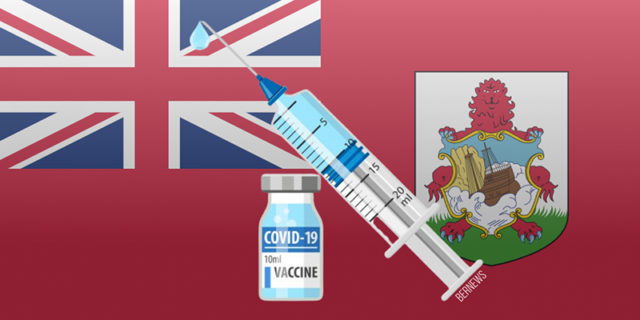 As of May 8th, Bermuda has administered a total of 62,161 vaccinations, with 44% of the population having received two doses thus far.
Speaking during tonight's press conference, Health Minister Kim Wilson provided vaccination statistics, saying, "We have completed the seventeenth full week of vaccinations. From January 11 to May 8, 2021, Bermuda has administered a total of 62,161 vaccinations – a figure that rises to 63,994 if you include vaccinations administered between Sunday May 9th and Wednesday May 12th as well! – and this is excellent news.
"Of the 62,161 vaccinations administered for the period we are reporting on, which ends May 8;
52% are women, and,
48% are men.
"Good progress continues to be made in vaccinating our population and, especially, our most vulnerable.
"79% of all residents over the age of 65 years have had at least one vaccination, with 67% being fully immunized.
"To date, 53% of the population has been vaccinated [with 1 dose], and 44% of the population has been immunized [with 2 doses].
"We are making excellent progress. However, time is running out.
"Bermuda's current supplies of Pfizer BioNTech and AstraZeneca vaccines expire on June 30. The Pfizer vaccine requires three weeks between doses. This means we can give the last first dose on June 8. The AstraZeneca vaccine can be given up to 12 weeks after the first dose.
"Therefore, the first doses of AstraZeneca will be administered until June 30, with the second dose administered from a new batch of vaccines received from COVAX. We currently have enough of the COVID-19 vaccines available in Bermuda for anyone who wishes to be vaccinated. I strongly encourage those that wish to get vaccinated to do so.
"There are people in our community who have said that they probably will or that they do plan to get vaccinated but have not done so – now is the time.
"Anyone wishing to get vaccinated can go to Bermuda College, which is open Monday to Friday, 9:00 am until 1:00 pm for walk-ins.
"Additionally, appointments at the College are available between 11:00 am and 1:00 pm.
"Also, the Bermuda Hospitals Board vaccine centre is open daily between 8:00 am – 8:00 pm for anyone with an appointment.
"We have also made it easy to get vaccinated by going out in our community. There are mobile vaccination centres available three times a week in various locations around the island.
"On Sunday, May 16, our Close To Home mobile vaccination programme will be at Victor Scott Primary School, Glebe Road, from 10 am – 2 pm.
"Next week our mobile vaccination programme will be at the following locations:
Tuesday, 18-May, Penno's Wharf in St. George's from 10 am – 2 pm
Thursday, 20-May, The Southampton Princess from 10 am – 2 pm
Saturday, 23-May, TCD in Hamilton from 10 am – 2 pm
"These sites are for people who have not yet registered for the COVID-19 vaccine, do not have access to the internet, and prefer to register in person or have additional questions about the COVID-19 vaccine. There will be doctors on site to answer any questions you have, and you don't need an appointment. You can just show up and roll up your sleeve.
"For those people who want to hear about the COVID-19 vaccine from a trusted source, we recommend the Close to Home programme as an ideal opportunity to learn more.
"A mini-bus service is available to take people from their homes to the mobile vaccination sites and back to their homes afterwards. Anyone wanting to use the service should call 533-5903 between 10 am and 1:30 pm.
"As part of the Ministry's outreach, we are very pleased to report that yesterday a team from the Bermuda College vaccination centre vaccinated 10 homebound people with the AstraZeneca Covid-19 vaccine in the west of the island – from Southampton to Paget. This was done in partnership with St John's Ambulance who kindly donated the use of their emergency response car – thank you!
"The team plans to go out again this Saturday morning to vaccinate those who have requested home visits in the east of the island from St David's to Devonshire.
"Anyone who feels they need a home visit for the COVID-19 vaccine, please contact vaccine@gov.bm, and the team will arrange a visit in the coming weeks.
"As many people will know, the Food & Drug Administration and Health Canada have both approved the Pfizer vaccine for children aged 12 to 15 years old. Parents are encouraged to register their appropriately aged children on gov.bm so the Ministry of Health can appropriately gauge interest in being vaccinated.
"As the Memorandum of Understanding between the Bermuda Government and the Foreign, Commonwealth & Development Office specifies the vaccine can be used on youth aged 16 to 18, we are working on a resolution of this issue before we can begin to administer the vaccine on the lower age group.
"Also, there have been questions regarding the AstraZeneca vaccine being administered to persons under 30 years of age. The Chief Medical Officer is available for technical questions on this, but the Bermuda Advisory Committee on Immunisations has approved the use of this vaccine on that younger age group, taking into consideration the benefits, incidence of adverse effects and the availability of alternatives."
Comments
comments