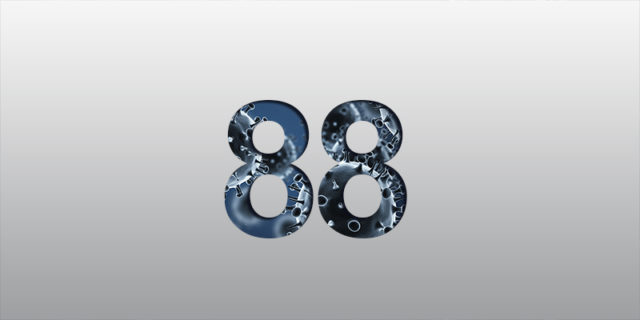 The Ministry received 3063 test results — spanning three days — and 88 were positive, so there are now 272 active cases, of which 12 people are in hospital, and the Ministry confirmed the sad news that the island has recorded another coronavirus related death, marking the 120th since the pandemic began.
"Bermuda has recorded another coronavirus related death since our last update," said Minister of Health Kim Wilson. "My thoughts and prayers are with the family, friends and loved ones of the deceased."
"Since the last update, the Ministry of Health received 3063 test results, and 88 were positive for the coronavirus, giving a test positivity rate of 2.9%.
"These results are from testing done on:
Sunday: 6 positive out of 715 results [0.8% positivity]
Monday: 44 positive out of 1376 results [3.2% positivity]
Tuesday: 38 positive out of 972 results [3.9% positivity]
"12 of the new cases are classified as imported with a history of travel in the previous 14 days.
"The additional 76 new cases are classified as either local transmission [38] or under investigation [38]. Additionally, there were 126 recoveries.
"There are 272 active cases, of which:
260 are under public health monitoring; and
12 are in hospital, with 0 in intensive care.
"Since March 2020, Bermuda has recorded 11146 coronavirus cases, out of which 10754 have recovered, and sadly there have been 120 coronavirus-related deaths.
"The source of all active cases is as follows:
32 are Imported
111 are classified as local transmission
129 are Under Investigation
"Information regarding active cases by vaccination status, transmission, and type is unavailable.
"The source of all confirmed cases is as follows:
2221 are Imported
7321 are classified as local transmission of which:

4011 are Local transmission with known contact/source and
3310 are Local transmission with an unknown contact/source

1604 are Under Investigation
"As investigations proceed, transmission categories may change. For age distributions and overall transmission categories, please refer to https://www.gov.bm/coronavirus-Covid19-update. The seven-day average of our real-time reproduction number is 0.55.
"Since January 11, 2021, Bermuda residents have received 123,082 vaccinations.
"Of the 123,082 vaccinations given as of February 5, 2022:
52% are women and,
48% are men
"87.1% of all residents over 65 years have had at least one vaccination, and 85.7% are fully immunised.
"To date, 73.1% of the population has been vaccinated [1 dose], and 71.9% of the population has been immunised [2 doses].
"Additionally, 69.4% of those eligible have received their booster.
Minister Wilson said, "as defined in the Quarantine [Covid -19] [Number 3] Order 2020, an immunised traveller is someone who has received the full course of a Covid-19 vaccine manufactured by Pfizer BioNTECH, AstraZeneca, Serum Institute of India, Jansen/Johnson & Johnson, Moderna or Sinopharm/BIBPSinovac.
"A full course of a vaccine means a Covid-19 vaccine administered according to the manufacturer's recommendation or the recommendation of a stringent regulatory body recognised by the Ministry of Health, with at least 14 days from the date of the final dose of vaccination. For most vaccines, this means 14 days after the second dose, however for the Johnson & Johnson vaccine a full course is one dose."
"As a reminder, the Bermuda Government mass vaccination programme will end on March 31st. The Covid-19 vaccine is currently available for free, and first, second and booster doses will continue to be available at Pier 6 until March 31st, either by appointment or you can walk in.
"Following further considerations, the Booster is now being offered to those who have had their second dose 5 months prior.  Those that this applies to are now permitted to book their booster appointment.
"Starting on Monday February 14th, Pier 6 hours of operation are 2 – 6 pm on weekdays and 10 am – 2 pm on Saturdays. After March 31st, the Covid19 vaccine will be available through physicians' offices, as well as participating pharmacies. However, there will likely be a charge for this service.
"On another note, the CDC recommends people who are infected with Covid-19 not travel for a full 10 days after their symptoms start or after the date their positive test was taken if they had no symptoms. CDC updated the guidance for travel given the increased incidence of Covid-19 in the United States and globally.
"Additionally, I would like to encourage employers to welcome their employees back to working in the office. With our more relaxed restrictions, workers can return to the office with appropriate public health guidelines in place. Especially, we recommend that proper ventilation is ensured and fully support those employers who wish to put in place a twice weekly antigen testing regime.
"As we cautiously move forward with less coronavirus related restrictions, we must keep doing our part to keep each other safe and to help stop the spread of the coronavirus," concluded Minister Wilson. "Remember that to decrease the odds of getting the coronavirus; you should increase fresh air ventilation wherever possible when indoors and avoid the three "Cs": closed spaces, crowded places and close contact settings. Follow Public Health guidelines, wear a mask, practice good hand hygiene, and maintain physical distance."
Comments
comments