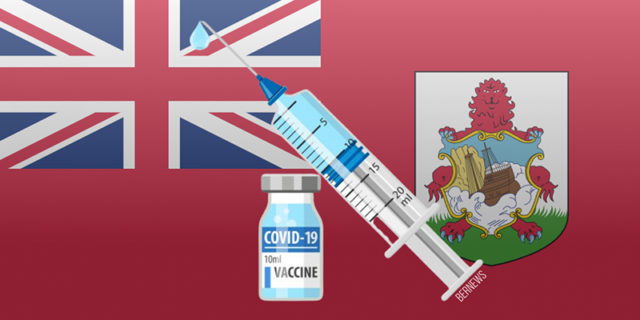 As of October 9th, Bermuda has administered a total of 88,417 vaccinations – an increase of 694 since the previous week – and 67.1% of the population has received two doses thus far.
A Government spokesperson said, "We have completed week 39 of vaccinations since January 11, and Bermuda has administered a total of 88,417 vaccinations.
"Of the 88,417 vaccinations given as of October 9:
52% are women and,
48% are men

"85.2% of all residents over 65 years have had at least one vaccination, and 83.0% are fully immunised.
"To date, 69.6% of the population has been vaccinated [1 dose], and 67.1% of the population has been immunised [2 doses].
"From January 11, 2021, when Bermuda's vaccine campaign began, to Epi Week 40 ending October 9, 2021, Bermuda's Covid-19 hospitalisations and deaths of vaccinated and unvaccinated persons are as follows:
"292 hospitalisations [including repeat admissions] of which:
260 or 89% were persons who were not fully vaccinated, and,
32 or 11% were fully vaccinated.
"To October 9, Bermuda has also sadly had 79 deaths, of which:
66 or 84% were not fully vaccinated
13 or 16% were fully vaccinated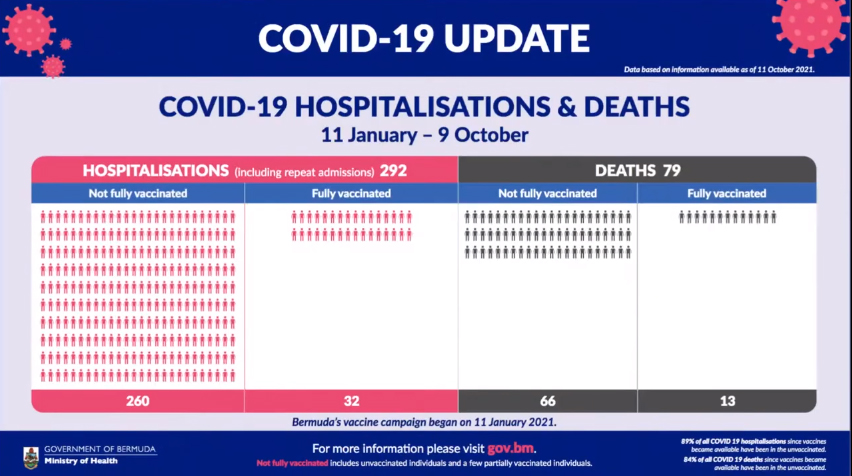 "As I have repeatedly said, the Covid-19 vaccine is our best defence in preventing the spread of this virus. The vaccine will decrease symptoms and severe illness and, in most cases, prevent death.
"I encourage anyone who has decided to get vaccinated to book an appointment or walk into the KEMH Vaccination Clinic on Tuesday and Thursday, 4 to 8 pm, and Saturday, 8 am to 8 pm. Medical doctors will be there to answer any questions about Covid-19 and the vaccines. To request an appointment, click "Covid-19 Vaccine Registration", on www.gov.bm or contact the vaccine call centre at 444-2498 option #2.
"Bermuda's Covid-19 vaccine booster programme was launched last Saturday, October 9, servicing local rest homes and on Sunday, October 10, at KEMH for immunosuppressed persons. KEMH will also service the immunosuppressed today from 8 am-8 pm.
"If you have one of the following conditions, you are considered immunosuppressed:
Blood cancers
Advanced HIV/AIDS
Recipients of organ transplants
Treatment for cancers
Recipients of stem cell transplants
People born with conditions that depress their immunity like Sickle Cell Disease, Down Syndrome
Treatment with drugs that depress immunity, for example, high dose steroids, cancer drugs, and drugs for advanced arthritis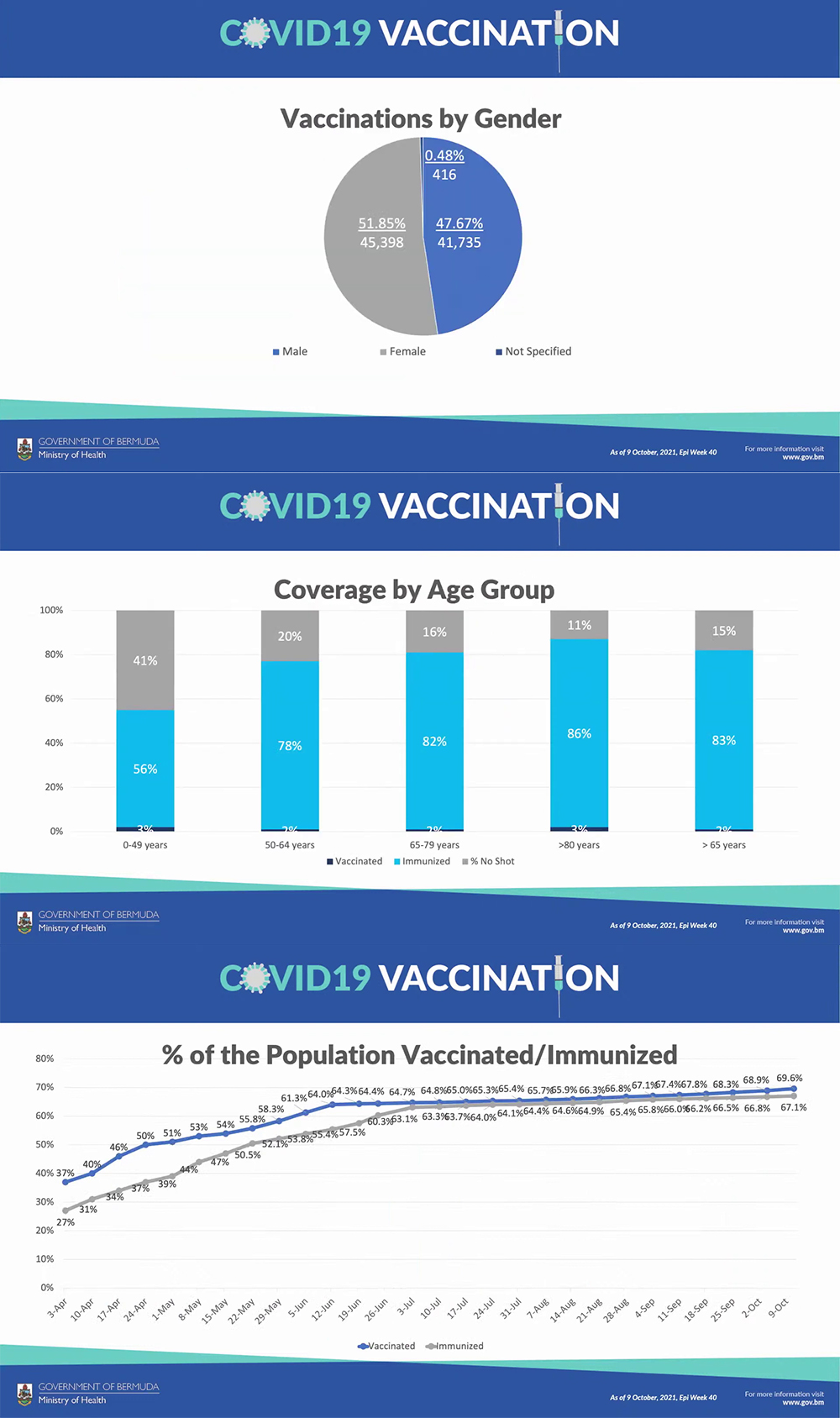 "Starting today, October 13, a second vaccination centre was launched at the National Sports Centre to accelerate the booster programme.
"The dates and hours of operation for the next three weeks are:
Wednesday, October 13 to Friday, October 15 12pm -6:30pm
Tuesday, October 19 to Friday, October 22 12pm -6:30pm
Monday, October 25 to Friday, October 29 12pm -6:30pm
"Those 65 and over as well as pregnant women who have had their second dose at least six months prior, are eligible to make their own appointments. To book your own booster appointment, please visit https://www.gov.bm/vaccine-booster or click the link at the top of gov.bm that says "Book a Booster Vaccine Appointment".
Comments
comments