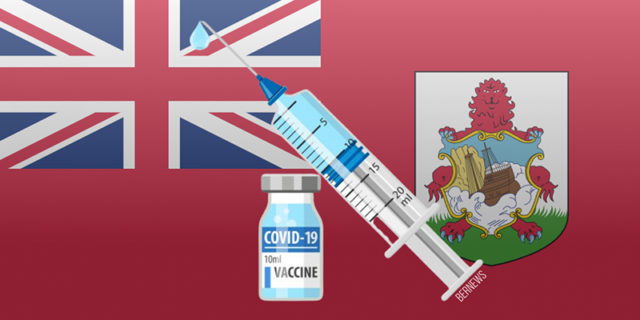 As of October 23rd, Bermuda has administered a total of 92,770 vaccinations — an increase of 3,741 from the week prior – and 70.4% of the population has received one dose.
The increase of 3,741 from the week prior is substantially higher than past weeks — which have been under 1,000 per week for some time — and while not stated, we assume the total increase is as booster shots are underway, so the 3rd doses are included in the total.
In releasing the latest test results, a Government spokesperson said, "We have completed week 41 of vaccinations. Since 11 January, Bermuda has administered a total of 92,770 vaccinations.
"Of the 92,770 vaccinations given as of 23 October:
52% are women and,
48% are men
"85.9% of all residents over the age of 65 years have had at least one vaccination, and 83.8% are fully immunised.
"To date, 70.4% of the population has been vaccinated [1 dose], and 68.1% of the population has been immunised [2 doses].
"From 11 January, 2021, when Bermuda's vaccine campaign began, to Epi Week 42 ending 23 October, 2021, Bermuda's Covid-19 hospitalisations and deaths of vaccinated and unvaccinated persons are as follows:
"Hospitalisations [including repeat admissions] totalled 302 of which:
269 or 89% were persons who were not fully vaccinated, and,
33 or 11% were fully vaccinated.
"To 23 October, Bermuda has also sadly had 84 deaths, of which:
71 or 85% were not fully vaccinated
13 or 15% were fully vaccinated
"Those who have decided to get vaccinated can book an appointment or walk into the KEMH Vaccination Clinic on Tuesday and Thursday, 4 to 7 pm, and Saturday, 8 am to 4 pm. Medical doctors will be at KEMH to answer any questions about COVID-19 and the vaccines.
"COVID-19 vaccinations are also available at the Hamilton Health Centre, 67 Victoria Street, every Tuesday from 2 – 4 pm. These vaccinations are by appointment only, no walk-ins. You can get your 1st, 2nd or 3rd dose. Call 332-8906 for assistance in scheduling an appointment, or you can book online at www.gov.bm/vaccines.
"I encourage anyone who wants to get vaccinated to register their interest as soon as possible on gov.bm/vaccines. The COVID-19 vaccine remains our best defence in preventing the spread of this virus. It will decrease symptoms and severe illness and, in most cases, prevent death.
"This week, there is also a second vaccination centre at the National Sports Centre for those eligible for the booster dose, Monday – Friday, 12 pm -6:30 pm.
"Those 65 and over, as well as pregnant women who have had their second dose at least six months prior, are eligible to make their own appointments. To book your own booster appointment, please visit https://www.gov.bm/vaccine-booster or click the link at the top of gov.bm that says "Book a Booster Vaccine Appointment.
"Those persons who are not in the above eligibility category, will be unable to book an appointment at this time.
"For persons who do not have access to the internet or need assistance in making appointments, please call the Vaccine Centre on 444-2498-option #2, where the team will assist with booking an appointment. You can also contact your doctor for assistance."
Comments
comments