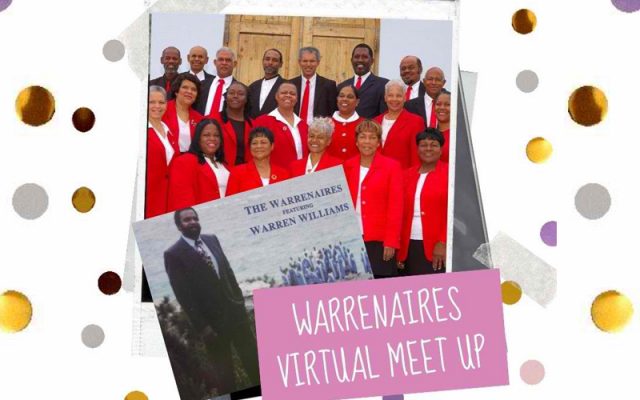 With the 'Shelter In Place' still in effect due to the ongoing Covid-19 pandemic, a virtual gathering of Bermuda's Warrenaires – co-organized by Dr. Ty-Ron Douglas – was recently held.
Dr. Douglas said, "I had the privilege of co-organizing a virtual gathering for one of Bermuda's most popular gospel groups of yesteryear: the Warrenaires.
"My grandmother, Marguerite Bean, is a member of the Warrenaires. During this coronavirus, I realized that she had become a little disconnected from some of her friends after she misplaced her black book with her friends' telephone numbers in it.
"I began to reach out to some of her friends and then the idea came to connect a larger nucleus of her social network: the Warrenaires is a major foundation of that nucleus.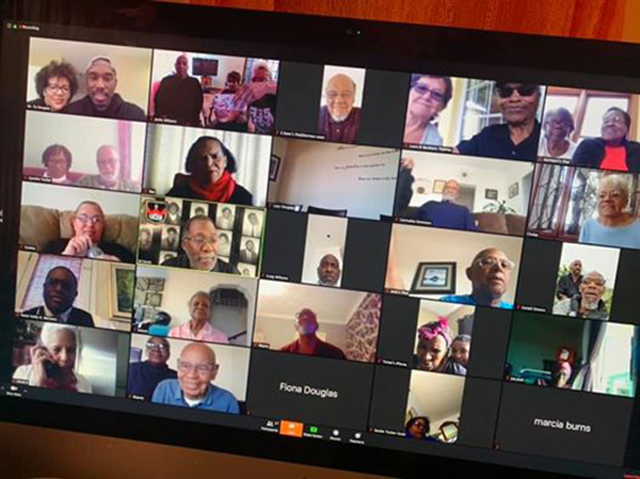 "Additionally, I was aware that some of the members of the Warrenaires, like all of us, have been dealing with obstacles caused by the coronavirus and social distancing. I know one member who faithfully visited a spouse at the hospital who cannot do so at this time due to the coronavirus lock down. Another group member is navigating transporting a spouse to dialysis.
"All of them are from an era of social closeness – I know this personally, having spent numerous hours with them in my youth at camps on various islands, at rehearsals, and other social gatherings, and more.
"We became family over the years. And while my generation of Warrenaire affiliates can remain in contact via social media and the Inspirational Choir chat, reduced mobility [for some] and now social distancing make connecting more difficult for the Warrenaires these days.
"I reached out to my sister, Fiona Douglas – CEO of Care Connect Bermuda – to partner on a vision and venture to connect the Warrenaires/our seniors. She provides support to families to help them take care of their aging loved ones and family members in transition. Her company co-sponsored the meet up and coordinated and paid for the online platform that we used.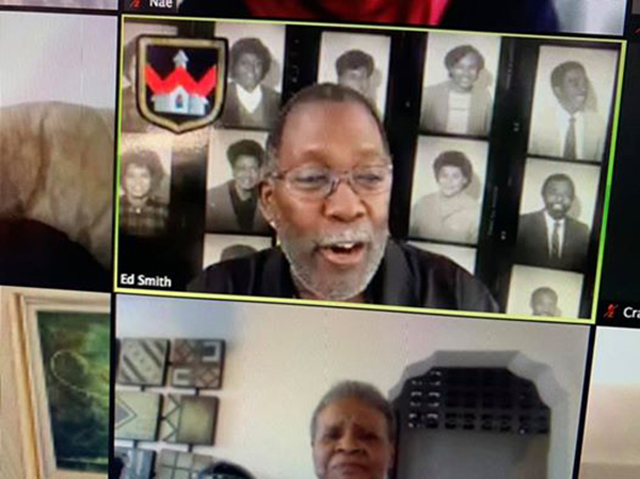 "I also communicated with Joelle Williams [educator, play director, and daughter of group founder, Warren Williams and Catherine Williams – a group member] and Shawnette Simons-Smith [educator and daughter of Raymond Simons—Warrenaire, member and sister of Bermudian musician/director of the Inspirational Choir Owen Simons].
"On Saturday, April 11th, we had over 35 individual participants join the virtual meet up: Warrenaire members who hadn't seen each other for weeks and months!
"You should know that many gospel groups and musical artists over the years have connections to the Warrenaires, including the aforementioned Southampton Inspirational Choir, Dynamic Praise of Oakwood University, The Chorale Dynamics, The Harmony Four [in fact, the Harmony Four were on the Zoom call too and sang a song], Diamonds in the Rough, Voices of Triumph, Harmony, the Revelations, the late Steve Easton of Just Platinum Studios, Canjelae Taylor, and numerous others.
"Their children and grandchildren continue to influence the music scene in Bermuda today.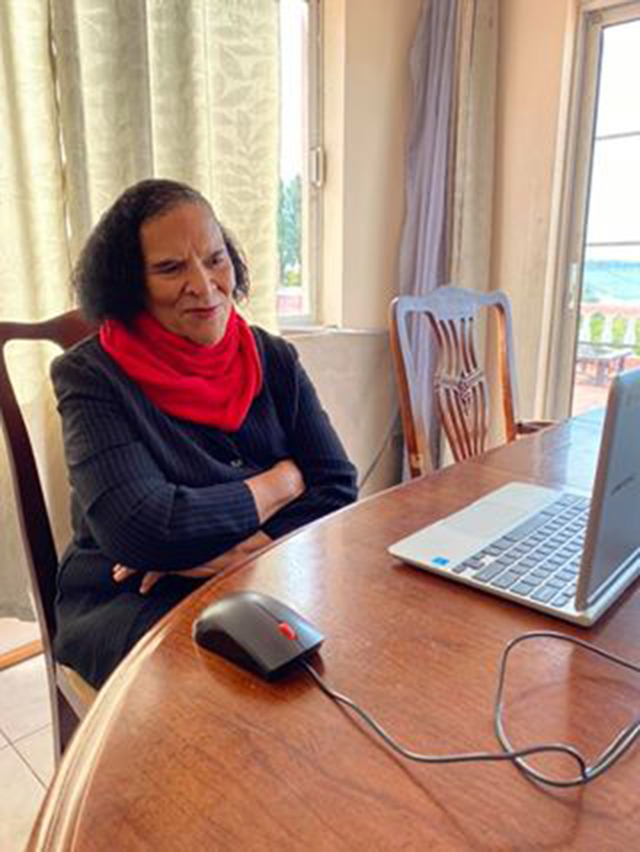 "I draw from my Facebook post to note, in sum, why this virtual gathering was a big deal for many reasons:
1. "The Warrenaires were the premier gospel music group of their era in Bermuda; they traveled internationally, recorded albums, and were regularly featured at the Willowbank Resort; in fact, there may not have been a Dynamic Praise Gospel Choir without the Warrenaires, as many Bermudian DP members' parents or grandparents were members of the Warrenaires.
"Many other singing groups across generations have connections to the Warrenaires. Many of us spent countless hours at their rehearsals, weekend camps and social gatherings.
2] "This was the first time many of the Warrenaires used Zoom; most of them are less familiar with technology, though willing to learn. It was beautiful to see their faces light up as they saw their friends, sang, told jokes and reminisced.
"It was inspiring to see them engage WhatsApp, navigate email correspondence, and embrace a new era of technology with the reward of connecting with a group that helped sustain their faith for generations. We were proud of them!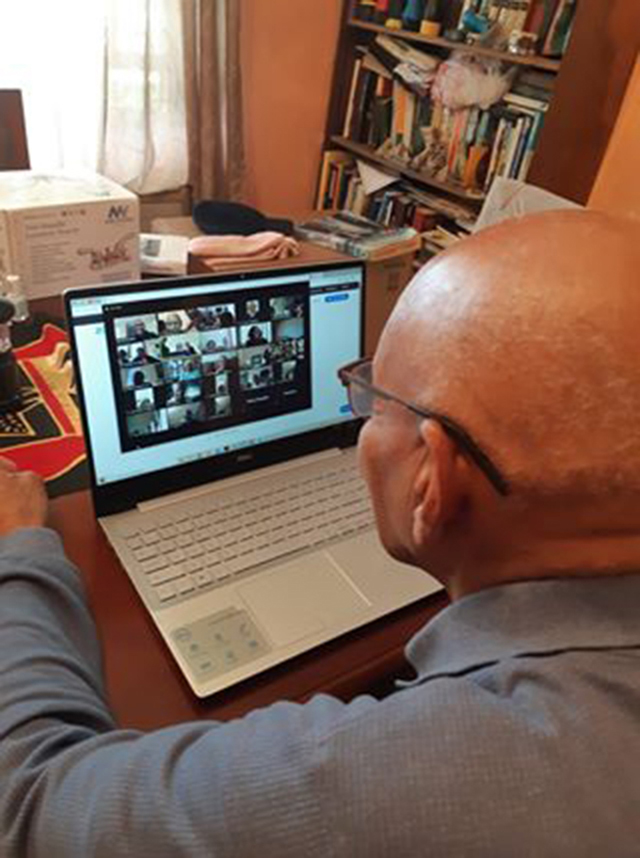 "Notably, Warrenaire members cross generations, which translates to varying levels of comfort with technology. For example, Eddie Smith – renowned Bermudian artist and educator – was one of the youngest members of the Warrenaires and he, like some others in the group, is not yet a senior.
"He noted that he joined the Warrenaires fresh out of college and appreciated the opportunity to be part of a bass section that he describes as the best ever in Bermuda, with the likes of Barry Richardson, 'Blossom' Edwards, Eugene 'Fifi' Richardson, Sherman Swan, Wayne Watson, and others.
"Eddie Smith has a vast and impressive collection of artistic work. In fact, he notes that he was the one who created "The Warrenaires featuring Warren Williams" cover picture we used for the virtual meet up promotional flier; being sure to note he crafted that cover "without Photoshop back in the day."
"So it was no surprise to see Eddie able to have a fancy green screen backdrop of a retro Warrenaire's picture during the virtual meet up as he reconnected with his compatriots, some of whom are still learning how to email and have no idea what a green screen is. Eddie Smith was the Warrenaire's media expert before there was social media. He remains a trailblazer in this space.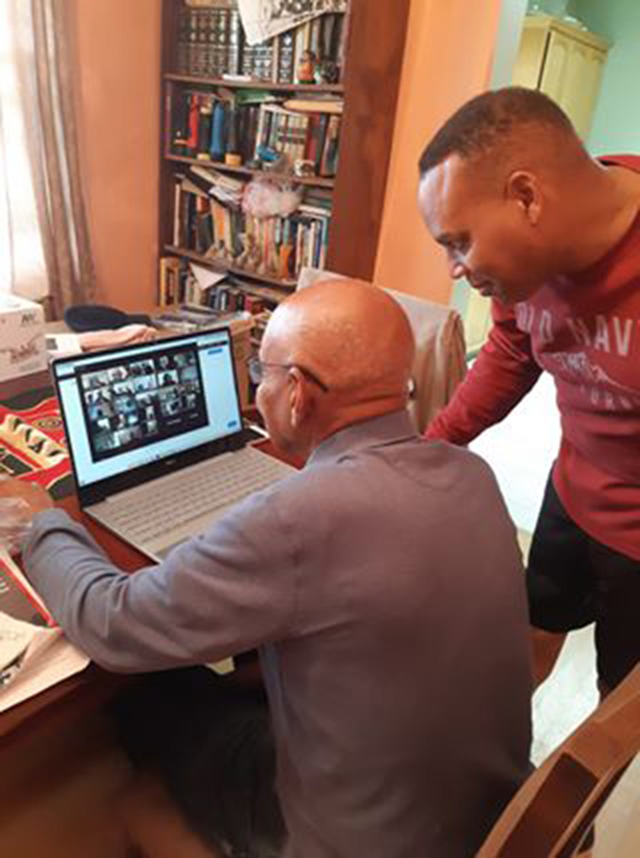 3] "In this time of quarantine and social distancing, the Warrenaires were tangibly reminded through their songs and testimonies that they have community and have no need to fear [Psalms 91]. God is on their side. We also shared resources with them and their families via Care Connect Bermuda.
"Some of the Warrenaires shed tears of joy as they saw their friends. We, their children and grandchildren, were simply excited to see them glow at the sight of their friends. It was a refreshing time for family members of the Warrenaires to see our loved ones back with their "cronies," as some of them affectionately call each other.
"We had a flier to promote the gathering and it was beautiful to see families connect virtually while observing social distancing – some children of the Warrenaires had to get innovative to help parents without computers access the virtual gathering, such as putting telephones on speaker phone etc. They recounted funny stories and mentioned the names of members who have now passed.
"In some instances, children of deceased members joined the gathering in honor of their parents. It was truly an intergenerational, moving moment!
"The virtual meet up lasted well over two hours, though it was only scheduled to be one hour. We began with prayer, roll call and check in [where members shared what section of the choir they were in, whether alto, soprano, tenor, baritone, or bass; they shared who they used to stand next to in the group; and they mentioned where they were zooming in from – some members were as far away as Virginia and Bahamas, and family/overseas guests included Pastor Craig Williams and Pastor Kelby McCottry joining from Denver, Colorado]; we shared scripture, and of course they sang!
"We initially tried singing along with audio recordings; however, the best singing experience fittingly was when Sherman Swan [a group director] pulled out his pitch pipe and had the group sang acapella as they typically did over the years. Even with the sound delays caused by internet connectivity, the special musical blend remained.
"Notably, on a call in the lead up to the gathering, "Uncle Sherman" was pleased to let me know that he was familiar with Zoom, having recently participated in a virtual board meeting for his church, Southampton Seventh Day Adventist Church. In Bermudian lingo, I told him that makes him a 'Wetran' – 'Veteran' with a 'W,' as many older Bermudians would pronounce it.
"We closed out with prayer, but of course there were some who hung around in the virtual space for a bit longer, laughing, calling each other by special nicknames and simply basking in the presence of their friends and the Lord.
"Not surprisingly if you know this gentleman or have seen his joyful sanguine exploits at Cup Match supporting St. Georges, Gerald 'St George' Simons was the last person to leave the Zoom conference. And why not? Everyone is in quarantine and there is nowhere to go; but more than that, he was enjoying his Warrenaire family and they could tangibly feel that they are never alone.
"As a scholar who studies culture, leadership, education, critical spirituality and community-based spaces like churches, barbershops and athletics, I was moved to and by this experience. The Warrenaires were part of my village. They modeled excellence. I heard harmonies that impact my song writing today. I saw friendship and families that loved each other.
"As a young man, I had a front row seat to Bermudian excellence, and, in particular, every Saturday afternoon at Warrenaire practice I was in the presence of Bermudian men who were brilliant masons, carpenters, entrepreneurs and leaders, many of whom could also cook; for example, my uncle Barry [Richardson] was responsible for bringing the fish to Warrenaire fish fries.
"This was a man who had the deepest bass voice I knew yet he could bake bread than rivaled Roman Meal and make fish chowder that "makes your hair curl," as my nana would say.
"I write and speak about being a "Border Crossing Brotha." Yet, the truth is that I am because they are. I grew up in the presence of these Renaissance Men and Women, border crossing brothas and border crossing sistahs, who modeled a blueprint that remains with me today.
"The virtual meet up was a way to give back. But in truth, I get something from seeing these living legends reconnect. I may live in Missouri but there is a Bermudian boy that will always be inside of me that begins looking around for marbles on Good Friday and flies a kite in the Midwestern sky with my 12 year old.
"Moreover, I think I also needed a reminder of and reconnection to my village – particularly during this time of social distancing.
"The feedback from the virtual gathering has been overwhelmingly positive! It has been warming to see posts and pictures of Warrenaire members at their computers watching the virtual gathering. Last summer, the group got together for the first time in a while for an old school fish fry and they were beaming. This virtual gathering will go down in their history as another special moment.
"In their prime, they've traveled the world and were on the cutting edge of the music and technology scene. Now, they can add a virtual meet up/choir rehearsal to their list of accomplishments. This gathering and the smiles that it instigated are proof that laughter really does do the soul good like medicine and good music, good friends, and a great God can sustain you through every season of life and every obstacle, including the coronavirus lockdown.
"There is still good news in these difficult times. These seasoned singers and members of our community are proof of this. They are as exemplars of the resilient Bermudian spirit and Christian graces that help us transcend and triumph over adversity.
"Be encouraged!"
Comments
comments