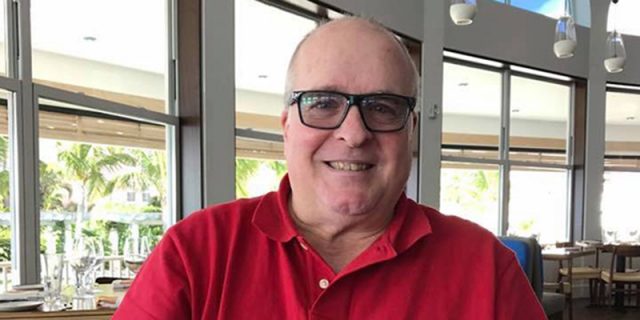 [Written by Don Burgess]
Gerry Collins hasn't lost faith despite being diagnosed with Covid-19.
The 67-year-old Bermudian moved to Grantville, Georgia in mid-February and has battled several different diseases over the past few years but remains upbeat in his circumstance. This includes being separated from his wife Michelle, who is stuck in Bermuda.
Gerry told Bernews that he had gone to church on March 1 and was in contact with another man who was later diagnosed with the coronavirus.
"My friend sat behind me in his wheelchair, and he put his hand on my shoulder as we were singing." Gerry added, "And, we're a hugging church. When the pastor started to preach, he started speaking about the coronavirus."
He recommended the parishioners use hand sanitizer and to avoid hugging.
"But we had already done it," Gerry said. "Two days later, we found out that he had tested positive for the Covid-19 virus."
Gerry said he is well-aware that older people and those with existing preconditions are at risk. "I have a very light case of diabetes, and have mild kidney disease, serious heart disease." He laughed, "I have brain damage as well, but people have said I've had that my whole life. I also have one functioning lung."
Gerry also has sleep apnea and is on a CPAP machine to help him when he has trouble breathing, which he uses four times a day.
He immediately asked his doctor if he should be tested and was told no and to self-isolate. He added, "but after church, I took my nephew and his girlfriend to lunch at Subway. I met another friend there and shook his hand. I had some contact on that Sunday."
He said when his symptoms developed, he had a dry cough, a fever over 101 degrees, and pus coming out the corners of both eyes.
"It was a bit concerning," Gerry said. "I'm not a worrier. My life motto is to pray about everything and worry about nothing."
It took a week to get a test scheduled at a drive-through facility. "A security guard made sure I had an appointment, and I drove through and rolled down my window where a nurse in full protective gear sticks a swab up my nose and turns it around. I had a chance to pray with her and thank her for being on the front lines."
People from his church are delivering food to his door and contacting him through various video messaging apps. "Michelle was worried I would fall over on the floor and die because I am alone in the house, but I have enough people checking on me daily. My church family here is brilliant."
His best friend also lives across the street and checks in on him regularly.
He received a message from his doctor to get some chest x-rays. It was initially scheduled at the Piedmont Hospital, but after hearing that a nurse from there had been found dead at her home by a five-year-old child, he requested the x-ray was done elsewhere.
It was rescheduled for another facility, and as he was sitting in his wheelchair in a hazmat suit in front of the machine to get it done, he received a call from his doctor telling him not to get it done and go out to his car immediately.
She told him the test was positive and would order for a nebulizer machine to be sent to his house.
And now he waits for that to be delivered and waits to see what happens, but he remains upbeat.
"I am trusting in God in this," Gerry said. "I have no fear whatsoever. It's a nuisance, but people have to take this seriously. People are doing stupid things out there that 'I can't get it,' but they're wrong because touching one thing is all it takes."
Comments
comments