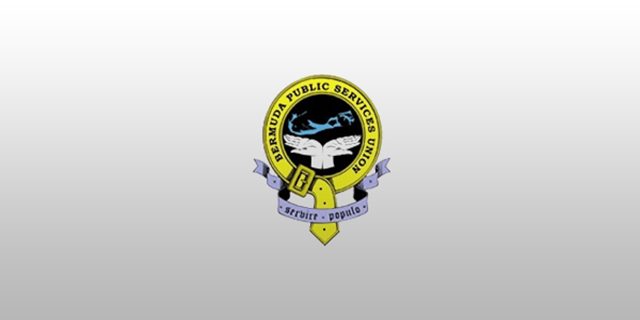 "The BPSU recognizes the challenges our Island face with the division that exists between persons who are vaccinated and unvaccinated," President of the Bermuda Public Services Union Armell Thomas said, adding that "as a Union, we advocate a message of personal choice, safety and responsibility during these times."
He added that while "the BPSU recognize that this is a personal choice" they "are supportive of the Government's vaccination efforts."
Mr. Thomas said, "Brothers and Sisters, first and foremost, on behalf of the Executive, General Council and Secretariat of the Bermuda Public Services Union [BPSU], we extend our deepest condolences to those who have lost family and friends during this global pandemic.
"The BPSU recognizes the challenges our Island face with the division that exists between persons who are vaccinated and unvaccinated. As a Union, we advocate a message of personal choice, safety and responsibility during these times.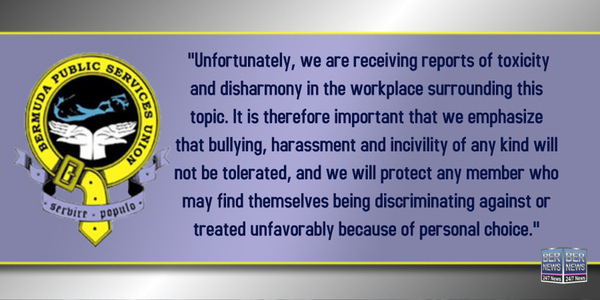 "It is with this backdrop that we encourage our members to carefully conduct your own research, utilizing respected and validated scientific sources and speak with your personal physician to assist in making the best-informed decision that works for you. Individual measures should also be taken to assist you to bolster your immune system. In these times, we must seek to employ measures that work to keep you safe and healthy, both physically and mentally.
"When considering protecting yourself and others from this virus, we are supportive of the Government's vaccination efforts. The BPSU recognize that this is a personal choice, however, please remember that above all, we advise against adopting the perception that you will be fine by just doing nothing!
"For some, the decision of what best works for their own health is causing great levels of anxiety and stress. Our position is to support our members no matter the personal choice they make. As a Union, we represent a large group of diverse members and respect their personal choice regarding navigating this pandemic.
"Unfortunately, we are receiving reports of toxicity and disharmony in the workplace surrounding this topic. It is therefore important that we emphasize that bullying, harassment and incivility of any kind will not be tolerated, and we will protect any member who may find themselves being discriminating against or treated unfavorably because of personal choice.
"Brothers and Sisters, this is not the time to pit the vaccinated against the unvaccinated. The BPSU will continue to ensure that we provide representation and information for our members. The BPSU Education Committee is committed to facilitating educational forums and our popular Lunch and Learn sessions that will allow our members to better informed, ask questions and ultimately feel comfortable with whatever decision they make.
"Our community must begin to rebuild from the losses attributed to this virus. This cannot be achieved without collaboration, unity and understanding of one's personal choice. We stand with you."
Comments
comments