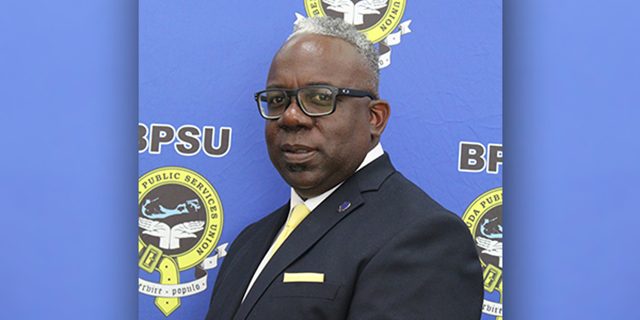 "The BPSU is actively monitoring this rapidly changing situation," BPSU President Armell Thomas said, adding that "if we remain united with the best interest of Bermuda's health and socio-economic future in mind and action the ILO's recommendations, I have no doubt that we will weather this storm."
Mr. Thomas said, "The Bermuda Public Services Union [BPSU] stands in solidarity with all members and workers, particularly those who are on the immediate Covid-19 frontline or in high-risk positions.
"The BPSU does not take lightly the role it plays in protecting both labour rights and the occupational health and safety of all workers. As a community partner, the Union is committed to providing support to the Island as together we work through this crisis.
"The Covid-19 pandemic has created an unprecedented situation for both Bermuda's public health and its economy with the International Monetary Fund [IMF] warning that Covid-19 could cause an economic crash similar to or greater than the 2008 recession.
"The International Labour Organization [ILO], in a report released on March 18, 2020 titled Covid-19 and World of Work: Impacts and Responses, predicts that the pandemic would have far-reaching impacts on the labour market including:
"A significant increase in global unemployment and underemployment [as high as 24.7 million unemployed as a result of Covid-19],
"A decline in labour income [overall loss of global labour income is estimated to range between $860m to $3,440m], and
"A disproportionate impact on a country's most vulnerable, leading to worsening inequality.
"The ILO recommends the implementation of policies in three [3] key areas focused on achieving a sustained and equitable recovery:
1. "Protecting workers in the workplace including:
"strengthening Occupational Health & Safety measures especially for health and care workers
"adapting working arrangements e.g. teleworking
"prevent discrimination & exclusion
"provide healthcare access for all
"expand access to paid leave
2. "Stimulating the economy and labour demand through economic and employment policies to stabilize economic activity by implementing:
"active fiscal policies surrounding social protection measures e.g. unemployment benefits
"accommodative monetary policy e.g. interest rate reductions
"targeted lending & financial support to specific sectors
3. "Supporting employment and incomes for businesses and workers by:
"social protection for workers,
"employment retention schemes e.g. short-time work arrangements, paid leave protection, temporary cuts to payroll tax, training leave, etc.
"tax relief to support business continuity and the self-employed.
"In Bermuda, Covid-19 is already having an unparalleled effect on working life and workers' livelihoods with large numbers of the workforce likely to be absent at any one time.
"This will include not only those who become ill or in self-quarantine, but also employees who stay home to care for their partners or dependents who become ill. Likewise, many workers with children will find it impossible to go to work as a result of school closures.
"All workers in Bermuda are covered by the Employment Act 2000 which sets out the minimum standards as it relates to sick leave entitlement as well as the parameters for lay-offs and redundancies. Additionally, the wellbeing of workers is covered under the Occupational Health & Safety Act [1982].
"Union workers have the additional protection of their Collective Bargaining Agreement [CBA] which were negotiated on their behalf by their respective Unions. CBAs often affords Union workers additional sick leave, dependency leave, special leave and added protections during lay-off and redundancy. Members unsure of their rights are encouraged to seek guidance from their Union representative. For all non-unionised workers, Government has stated that it is working to implement an anonymous method so employees could report work problems.
"The BPSU applauds the many employers who are finding creative ways to keep workers working, including utilising technology to facilitate employees working from home and implementing policies in support of teleworking. Efforts such as these help to protect both jobs and the viability of businesses. The Union also supports the Government's recent announcement that it was exploring the option of compelling businesses to support employees to work from home.
"While an employer has a responsibility to pay employees who are ready and willing to work, a significant portion of Bermuda's labour force will not have the option to work from home given the nature of their type of work.
"According to the 2019 Bermuda Employment Brief, the combined total of workers employed in Retail Trade & Repair Services [2,797 employees], Hotels [2,383 employees], Restaurant, Cafes & Bars [2,164 employees] and Construction [2,136 employees] equates to 28% of Bermuda's total labour force; most of whom have seen their workplaces closed in response to Covid-19.
"The BPSU was gratified to see Government's quick response to the implementation of the unemployment benefit of up to $500 per week to those workers – Bermudian and migrant workers – out of work as a result of the Covid-19 pandemic. It is imperative that concerted efforts are made to protect those workers who are most vulnerable to lay-offs, especially those low-income workers.
"Misinformation regarding the pandemic and employment rights can cause undue stress to workers, and potentially lead to potentially dangerous actions. In response, the Union is playing its role by actively providing our membership with up-to-date, reliable information and have requested that employers do the same.
"The BPSU is actively monitoring this rapidly changing situation and we are in regular dialogue with both Government and the management of all of its bargaining units to ensure that we keep abreast of any decisions effecting the membership and workers in general.
"It is essential that the Government, Unions, employers and employees actively work together to ensure that the effects of the outbreak are minimized.
"International lessons learnt from previous economic crises and endemics have shown better outcomes in jurisdictions where Unions and Governments have collectively work together. With this in mind, the BPSU encourages the Government to bring together a taskforce of the Island's Unions and employers to help co-ordinate the national effort.
"If we remain united with the best interest of Bermuda's health and socio-economic future in mind and action the ILO's recommendations, I have no doubt that we will weather this storm."
Comments
comments