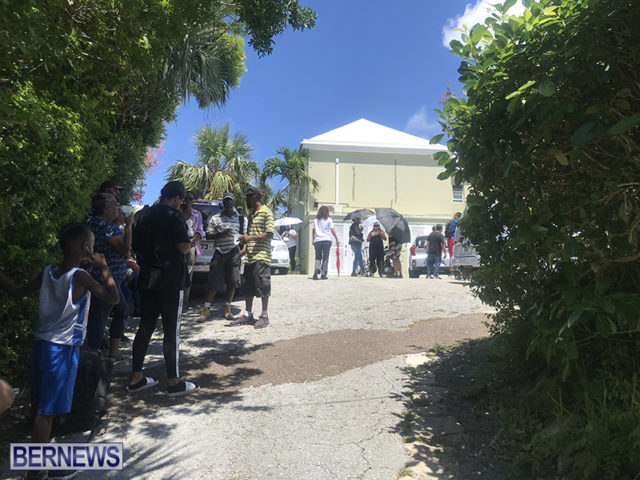 Sophia Cannonier and Michael Watson have extended their thanks to the community for the support they have received since their arrival home this weekend.
The couple, who are expected to virtually appear in court, arrived home on Sunday and later that night a number of police officers were seen outside of their residence, which was followed by the Health Ministry and Police stating that the couple "are in breach of section 27[1][ab] of the Quarantine [Covid-19] [No. 3] Order 2020 for refusing to comply with a requirement to quarantine."
Since that time, they have had what they termed a '24 hour police guard' outside their residence and they have not left their property since returning to the island.
People have been gathering outside of their house over the past few days, and we also visited twice to take images, and the police were present each time we went.
They said when they flew back to the island from the UK they both tested negative in their pre-arrival test and also tested negative on their arrival test, and Ms Cannonier explained that like all travelers, they are supposed to get a Day 4 test, however their current position has created an issue with getting further tests.
The couple — who are both very health conscious individuals who have over 25 years experience working in the holistic health and fitness fields — hold the view that since they have had tests which show they have "robust levels of antibodies" there should be consideration made to treating them equally as people who have been vaccinated.
They previously had Covid and said they have had two antibody tests — in January and May 2021 — .which they said indicated the level of antibodies in their system.
Mr Watson said, "The Government is making it sound like getting the vaccine is a choice, when they put in measures like this, it's clearly punitive.
"We understand and recognize the importance of quarantine, this is not what this debate is about, the debate is we should be able to, as Bermudian residents, quarantine at home without the additional expense of hotel fees."
The police outside their residence at around 1.00am on Monday:
They stressed that they are not against quarantining itself — just the aspect of having to incur hotel fees — and also wanted to send a "huge, huge thank you to everyone who came out in support" of their family.
"We just wanted to come home," they said.
Comments
comments