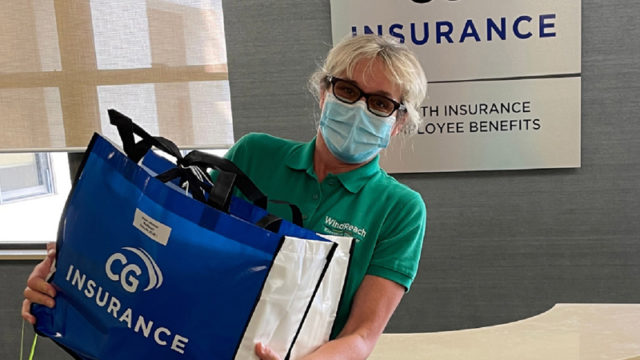 CG Insurance has distributed more than 75,000 rapid antigen test kits free of charge since late October in an effort to help curb the spread of Covid-19 in Bermuda.
A spokesperson said, "The kits, which are authorised by the MHRA for use in the UK and approved by the Bermuda Government, offer a quick and easy way for people to test for the presence of the Covid-19 virus. The company has made them available to charities, essential workers, CG Group medical clients and CG employees.
"Group recipients include the Bermuda Community Foundation, the Bermuda Heart Foundation, the Bermuda Diabetes Foundation, Bermuda Red Cross, The Hospitals Auxiliary of Bermuda, WindReach and the Ministry of National Security.
WindReach Executive Director Mrs. Tina Nash said protecting the health and safety of the WindReach Team and its many participants has been paramount throughout the pandemic.
"We are so appreciative of our partners at CG Insurance for their outstanding and generous donation of 295 Covid Antigen Rapid Tests," she said. "They've helped us maintain our operations and to continue delivering our vital educational and therapeutic programmes to our participants."
Similarly, Simone J. Barton, The Bermuda Heart Foundation's CEO and Founder, reported that the gifted kits "provided continuity of care to clients while also providing the extra safeguard we all require these days as we rebuild our lives and strive to be a heart smart and healthy community."
Beth Frazier, CG's Chief Operating Officer for Health, said CG's aim with the test kit programme is 'to help people avoid spreading the virus to others.
"We are very concerned about the strain the virus is placing on the Island's health care system, particularly at the hospital," she said.
A spokesperson noted, "The test kits can be used as a personal screening tool to help people make responsible day-to-day decisions such as whether to visit an elderly relative, meet with friends, go to work or school or seek medical advice.'
"Rapid antigen tests, which can be completed at home in as little as 15 minutes, can help identify the presence of the virus in people who show no symptoms but who are still infectious to others. UK Government pandemic data shows that about 1 in 3 people with confirmed Covid-19 are asymptomatic but can still infect others.
"If an individual tests positive, they should get a PCR test to confirm the result, contact their physician for guidance and follow Bermuda Government Covid-19 guidelines.
"CG Insurance also introduced the Covid testing programme in Cayman and is monitoring its extension to other jurisdictions where it operates pending government approvals."
'We initiated this programme because the pandemic requires any entity that's in a position to help the community,' Ms Frazier said.
'For CG, it's about living up to the values and principles we hold as a people-first company. Our work as an insurer, when you boil it down, is to provide solutions to people, to deliver them peace of mind and, further, to support the communities in which they live and work. That's what this testing programme is all about and it will continue as long as supplies last.'
Comments
comments