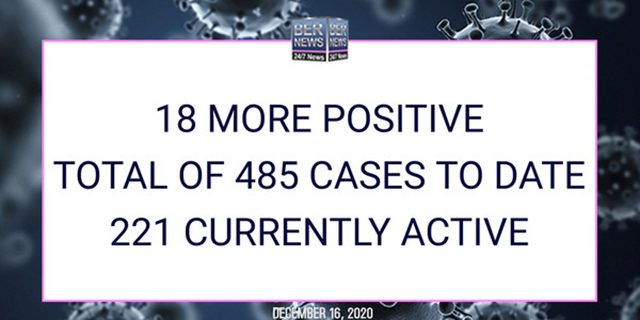 There were 1208 test results received and 18 were positive for Covid-19, so Bermuda now has 485 total confirmed positive cases to date, with 221 active cases.
A Government spokesperson said, "There were 1208 test results received by the Ministry of Health since the last update and 18 were positive for COVID-19.
"Two of the new cases are classified as imported, testing positive on their arrival test, having arrived on DL 584 from Atlanta on 14 December 2020, and both having negative pre-arrival tests
"Two of the new cases are classified as local transmission with known contact/source as associated with known cases/clusters.
"The remaining new cases are classified as under investigation. These cases are among residents with no currently identified links to other known cases or clusters or history of travel in the past 14 days.
"Additionally, five persons have recovered since the last update.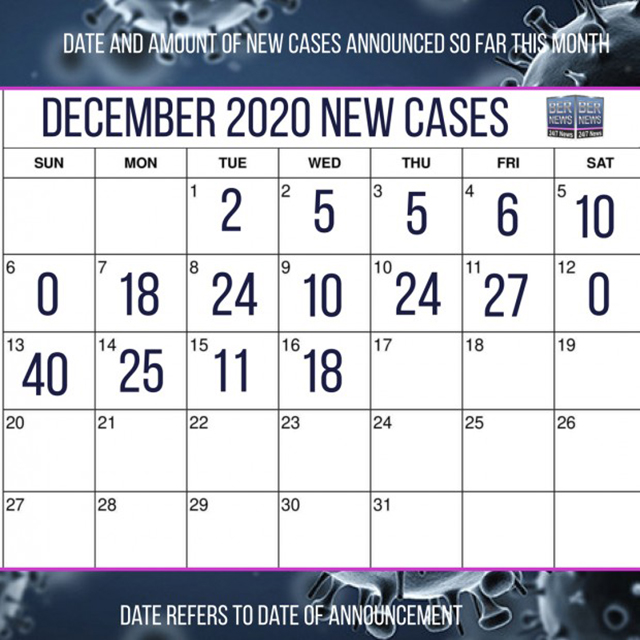 "Bermuda now has 485 total confirmed positive cases. Their status is as follows:
1. there are 221 active cases, of which
2. 219 are under public health monitoring and
3. 2 are hospitalized with 1 in critical care;
4. a total of 255 have recovered, and
5. the total deceased remains 9.
"The mean age of all confirmed positive cases is 44 years (median: 40 years) and the age range is zero to 101 years. The mean age of all currently active cases is 35 years (median: 31 years) and the age range is zero to 77 years. To protect privacy and confidentiality, the average age and age range of the hospitalized cases will not be provided. The average age of all deceased cases is 74 years and the age range is 57 to 91 years.
"The source of all cases is as follows:
1. 139 are Imported
2. 246 are Local transmission, with known contact/source
3. 21 are Local transmission with an unknown contact/source, and
4. 79 are Under Investigation
"As investigations proceed, transmission categories may change. The seven-day average of our real time reproduction number is (1.85) and Bermuda's current country status is "Clusters of Cases".
"The Quarantine (COVID-19) (No. 3) Amendment (No. 7) Order 2020 was gazetted today and, therefore with effect from Friday, those arriving without a pre-arrival test will be subject to a fee of $300. This fee will be assessed at the airport on arrival.
"The Ministry of Health has received a number of questions about when an employer can ask an employee to get tested and if they can or cannot ask for COVID-19 test results from that employee.
"While the Ministry is not in a position to provide legal advice to an employer – each employer should seek his or her own – the public is reminded that test results are considered personal health information.
"As such, they can only be shared by an employee, if the employee wishes to do so. Ministry guidelines do not state that employees are required to provide a negative test to their employer to come to work.
"When a confirmed case is identified, the contact tracing team and Environmental Health will conduct a risk assessment on the place of employment. As part of the process, the Ministry of Health teams will be able to identify and isolate people in the organization who have had direct contact with the confirmed case.
"The Ministry of Health team will also advise an organization if they have to be closed for a period of time for deep cleaning or if an adjustment to their workplace protocols is recommended.
"We are finding that employers are making the decision to close their establishment without being notified by the Health team that they must do so. We recognize it is an employer's choice to do so but acknowledge, also, these decisions create hardships for many employees.
"In summary, I ask employers and employees, to follow public health guidance as each case, each circumstance is different.
The Minister of Health, the Hon Kim Wilson is also appealing for assistance in staffing nursing homes.
"Since early on in this pandemic our care homes have been working hard to keep our elders and vulnerable persons safe, said Minister Wilson.
"Shielding requirements resulted in a restriction preventing staff from working at multiple homes. This vital intervention has remained in place; however, in part due to this, homes are struggling to find qualified staff. In particular, registered Nursing Associates and Registered Nurses are needed by many homes. We are trying to assist the homes in their ongoing search for staff. For this purpose:
1. If you are a registered Nursing Associate or Registered Nurse and have interest or experience in care home work, please email your resume to covid19resumes@gov.bm . Your resume will be shared with care homes across the island looking for staff.
2. COVID19resumes@gov.bm also remains the location to send your resume for the government Covid-19 related staffing needs. Please note, anyone who sends a resume to this address, starting tomorrow, will have their resume forwarded to care homes, as appropriate. If you don't want your resume forwarded to care homes you must state this when you email it.
"We also ask family and friends of care home residents to work with the homes to find creative ways to maintain connection with their loved ones while visiting restrictions are in place. Please remember that the scheduling, frequency and type of visits possible are not only set by Government guidance and restrictions but also by the homes ability to accommodate such, which includes having sufficient staffing levels."
Comments
comments