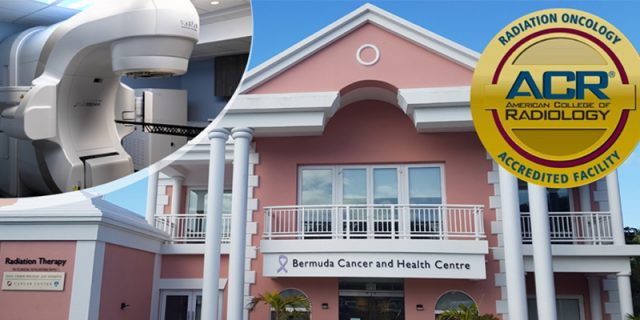 The Bermuda Cancer & Health Centre [BCHC] will be implementing protective measures to limit the probable risks associated with the spread of Covid-19.
A spokesperson said, "At Bermuda Cancer and Health Centre, our number one priority is the health and safety of our patients, supporters, staff members and the community we serve. With the risk of Covid-19 to Bermuda, we seek to reduce any potential threat to our patients, especially those who are elderly, have underlying medical conditions or have compromised immune systems. Therefore Bermuda Cancer and Health Centre will be implementing protective measures.
"Our cancer patients are vulnerable to Covid-19. For this reason, we are committing to increased precautions," said Lynne Woolridge, chief executive officer, Bermuda Cancer and Health Centre. "By limiting exposure to known and probable risks associated with the spread of Covid-19, we hope to contribute to the containment of this disease in Bermuda."
"For your Health & Safety – Bermuda Cancer and Health have implemented the following changes:
"Reduced general opening hours. The Centre will temporarily shift to reduced opening hours for non-clinical business. Effective March 23, the Centre will be open between 8 am – 12 noon, Monday through Friday. Operating hours for clinical appointments will differ, and patients will be advised on how to access the building. Subject to change, please visit www.chc.bm for week to week updates or call 236-1001.
"All screening services postponed. In line with our clinical affiliation and partnerships, Dana-Farber/Brigham and Women's Cancer Center and Bermuda Hospitals Board, our Centre is delaying annual screening mammogram and bone densitometry appointments. The intention is to re-evaluate this weekly and contact patients to discuss what this means and answer any questions they may have. All diagnostic appointments will continue to be scheduled and conducted.
"Limiting access to the Centre. Unless you have a confirmed appointment or delivery, we are asking patients and supporters to refrain from coming to the Centre. Everyone who does enter will be subject to screening questions. Anyone with symptoms is asked to call 236-1001 before entering the building.
"Changes to our workforce. Employees whose physical presence at the Centre is not deemed essential are transitioning to work remotely. Email may be the most efficient method to reach staff initially. If you do not have a direct email to contact someone, use info@chc.bm, and your email will then be directed to the appropriate personnel for follow-up.
"Cancelling all volunteer shifts. All volunteer shifts through to April 20 are cancelled.
"Cancelling all Events through April 20. All Reduce Your Risk, Know Your Lemons, SunSmart and LungSmart presentations are cancelled until April 20, at which time circumstances will be reviewed. Email events@chc.bm if you have questions.
"Relay For Life. Whether the physical 24-hour event on May 15-16 is held or an alternate virtual experience is possible, the $700,000 raised each year is vital to our Centre's ability to assist those who cannot afford our services. The majority of us do not have a rainy day fund of $100,000+, just in case we need cancer treatment. As many of you know, Relay For Life is more than just a 24-hour event; it is a year-long movement. So we ask you not to waiver in your support, your $10 registration fees and the funds you raise throughout this Relay For Life season are still needed!
Diagnostic Imaging Services and Radiation Therapy Treatment Continue
"Bermuda Cancer and Health Centre will continue to provide diagnostic imaging services and radiation therapy. Appointments will be confirmed by Centre staff and instructions will be provided for alternative building access should your appointment be outside of the new temporary opening hours.
"However, if you have the following symptoms: shortness of breath, fever, cough or have travelled in the last 14 days, call 236-1001 for diagnostic imaging appointments or 236-7035 for radiation therapy, to discuss your options with your clinical team.
Worried About Coronavirus [Covid-19]?
"The Government of Bermuda is providing all official, relevant and timely updates and information on their website. This should be everyone's source of information regarding Covid-19 in Bermuda. To find the latest Centre news, including updates for opening and operating hours, appointments, patient services and events, visit www.chc.bm."
Comments
comments