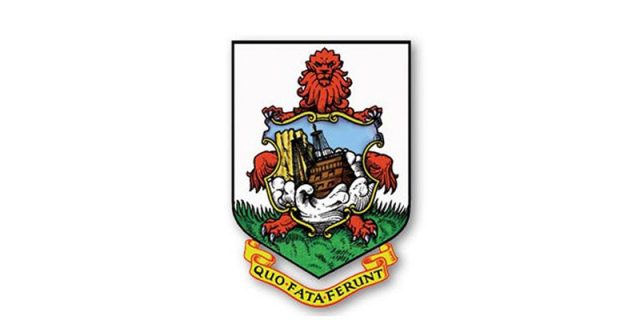 The curfew time changing to 11pm until 5am and the permitted gathering size being reduced to 10 persons are among the new regulations just announced, which are set to come into effect from 6am tomorrow morning [March 21] – with the Government also confirming that there are 16 new positive cases.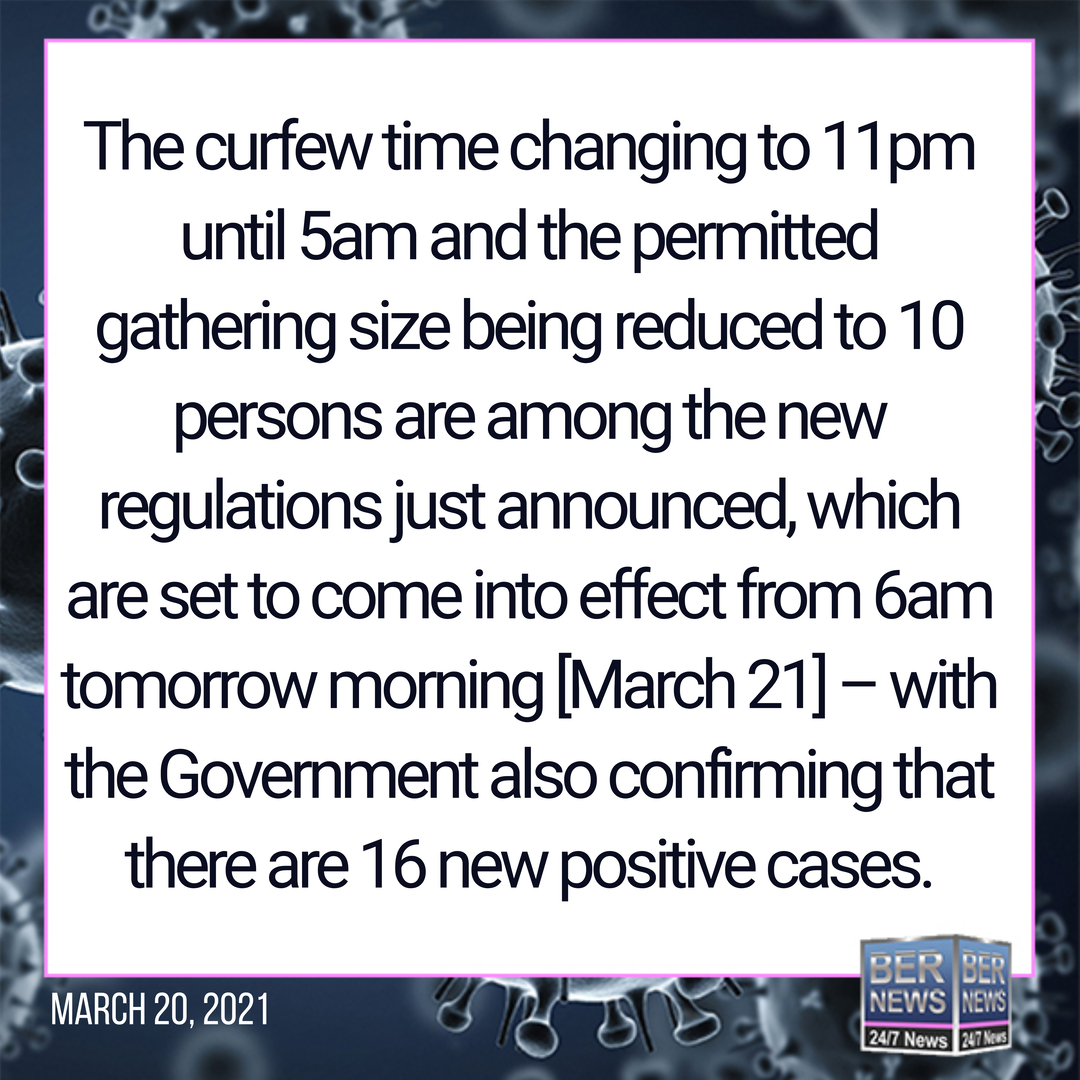 "We must act now," said Premier David Burt today, announcing changes in the Public Health Regulations which will come into effect from 6 am tomorrow morning. "Cabinet met earlier today and following a full briefing from the Minister of Health determined to roll back the current measures to what was in place in mid-December."
"The Premier confirmed that:
The curfew would now be in place from 11pm until 5am
Clubs and bars will be prohibited from serving patrons indoors, and outdoor service is for table service only
Restaurants, bars and clubs are permitted a maximum of 6 persons at any one table
All personal care services will require a mask to be worn at all times
Gyms must ensure patrons keep 10ft apart when indoors
The permitted gathering size is reduced to 10 persons
Indoor religious services will reduce to 20% of the site's capacity, and outdoor services, including funerals, would be restricted to 20 persons.
The current 8 pm boating curfew would remain in place
Minister of Health Kim Wilson said: "As the number of active cases is increasing so significantly, these proactive measures are required from a public health perspective to prevent further cases. The epidemiological results of the most recent cases indicate that almost all of our cases are of the UK Variant, which we know to be more contagious and more virulent.
"We cannot risk this current outbreak powered by the UK strain becoming the 3rd wave of infections in Bermuda. The measures are serious, but this action will enable us to slow the transmission of the virus while we work to continue our vaccination programme, which is vital in defeating the virus. "
The Premier added: "The increased number of children now testing positive is concerning, and the swift action taken to test entire schools reflects our determination to do all we can to keep our young people safe. It is beyond frustrating to think that we are still dealing with the consequences of the reckless actions of a few in the community.
"Thankfully, one year on from the start of this pandemic, we not only have the testing capacity to isolate positive cases, but we have a vaccination programme that is steadily providing much-needed protection to the most vulnerable."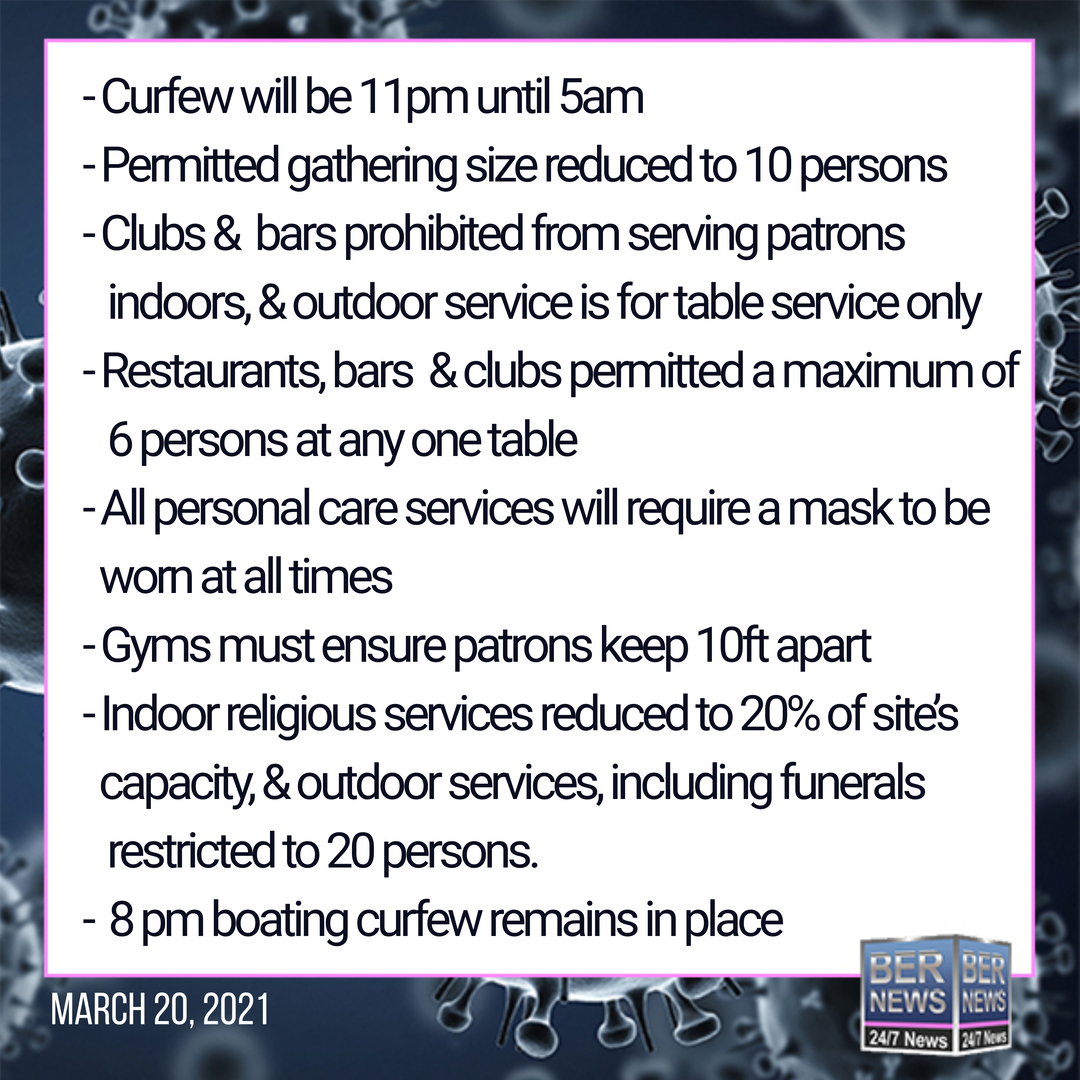 Minister Wilson noted: "The public health advice for the safe operation of schools has mostly been followed, and I commend our teachers and principals who have supported the recent testing effort and through whose leadership we have been able to quickly isolate positive cases and continue with classroom learning."
Recognizing the potential economic impact of these changes, Premier Burt indicated that he had asked the Minister of Finance to renew the supplementary unemployment benefit support for affected workers. "All affected employees of businesses that are unable to open will receive payments up to a maximum of $1500 this week, which will cover the 3 weeks of closure. Any affected businesses will be eligible for grants to cover expenses and overheads as was done by the BEDC in December."
The Premier concluded: "Our whole approach is about balance. We have to strike the right balance between protecting the Island and keeping this economy open, and moving towards recovery. We can and must do both. The actions we are taking today are proactive, and this pandemic has shown that early action prevents longer periods of restrictions.
"The highly contagious UK strain, which is the source of this outbreak, must be met with early action, and that is the action we are taking today. The restrictions announced today will be in effect for at least three weeks. I continue to salute the people of Bermuda who have summoned the inner strength to meet the demands of these unique times.
"We are doing well as a country, and our successes are in no way diminished by our current circumstances. The Ministry of Health, from the Minister to those vaccinating our people, is leading an effort on all fronts to ensure that we can achieve that balance. We are well-positioned to meet this most recent challenge and to continue the work of rebuilding this economy."
Note I: One line [about benefits] of the text above has been amended with officials sending a clarification, explaining that "affected employees of businesses that are unable to open will receive payments up to a maximum of $1500 this week for the three week closure."
Note II: The Government sent another clarification, text above amended to reflect that "Gyms must ensure patrons keep 10ft apart when indoors."
Update: The full Public Health COVID 19 Emergency Powers Amendment No. 5 Regulations 2021 follow below [PDF here]:
Comments
comments