[Updated] The curfew order takes effect this evening [Sunday, March 29] from 8pm – 6am and is set for three days, with the Government planning to "review matters every three days as the situation requires."
Yesterday the Minister of National Security Wayne Caines explained, "For the avoidance of doubt, a 'highway' is defined as any public road, street, lane, alley, wharf or any public place in Bermuda. The curfew will be imposed for three days.
"We will review matters every three days as the situation requires. However again, we are stressing that during non-curfew hours, people are encouraged to stay at home except to purchase essentials or for medical emergencies."
The Minister added that Police and Regiment personnel will be deployed and "there will be a combination of static Roadside Community Advisory points at key junctions across the island and roving patrols."
"Drivers and persons using the highways will be stopped and advised to return immediately to their homes. Persons who have written permission of a Police Officer of the rank of Chief Inspector or above will be allowed to proceed. Persons who fall into the professional categories listed in the orders will also be allowed to proceed.
"Any persons who are found to be contravening the Curfew will be arrested and on conviction will be fined $2,880 or imprisoned for 6 months or both."
Those exempt from the curfew include
Police and Reserve Police Officers;
Bermuda Fire & Rescue
Royal Bermuda Regiment
Department of Customs
Department of Immigration
Corrections Officers
Premier, Cabinet Ministers
Cabinet Secretary, Public Service Head, and Permanent Secretaries
Deputy Governor and Government House staff
Judges of the Supreme Court, Magistrates and Court Associates
US Consul General and Staff and Aall Honorary Consul;
Registered medical practitioner, registered nurses, ambulance drivers and crew
Medical practitioner employed with the BHB
Licensed security officers, Stevedoring services and dock workers
Department of Child and Family Services
Staff of BELCO, Digicel, One Communications
Members of the press
"Persons with exemptions who are in public must have a copy of Valid Driving License and or Valid Employment ID," Minister Caines said.
"Those persons listed in the above mentioned are exempt. Any other individual not included in the exempted listing will be required to submit a request to the Bermuda Police Service, who will vet and approve or deny the request. The online form can be found on the Government website.
"In the case an emergency please e-mail rcardwell@bps.bm," the Minister said.
"As the public can appreciate, these measures are being taken to reduce the movement of people around the Island so that we, have the best possible opportunity to reduce the risk of community transmission of this virus."
Update: The 'Summary Offences [Curfew] Order 2020' from Government House is below [PDF here]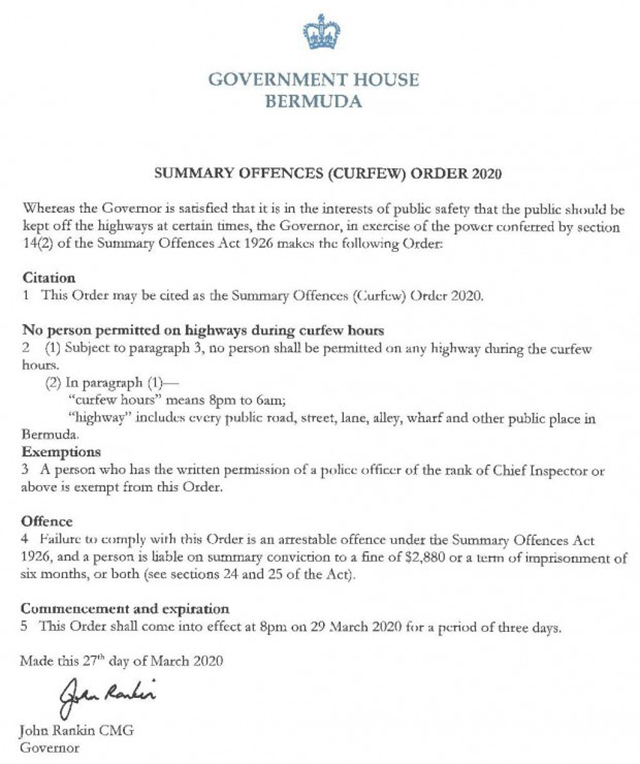 Comments
comments