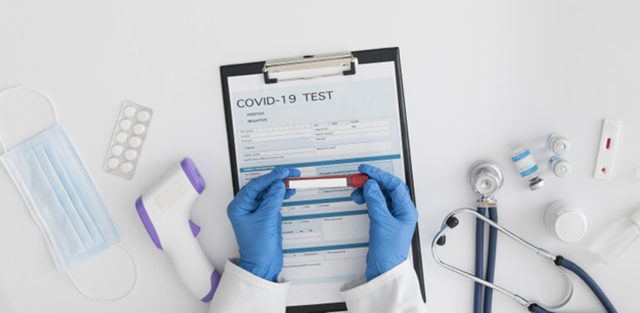 The Government has confirmed the "termination of short-term contracts of some of the MDL team," while the former MDL Director Dr Carika Weldon has noted that a policy could have been implemented where some people paid for tests, as the cost per test at MDL equated to around $5 each.
Government:
A Government spokesperson said, "Since 2020 the Government of Bermuda has paid $4.5 million in salaries and wages in support of the Molecular Diagnostics Laboratory [MDL] team.
"After $35m in total public expenditure on Covid-19 response resources, we have a responsibility to craft a testing regime as well as manage resources mindful of the competing priorities for which the Government is responsible. With all community testing being provided free of charge, no revenue has been generated to offset these costs.
"A Cabinet Office spokesman said that the termination of short-term contracts of some of the MDL team is required as the Government conducts less testing and continues to move beyond the pandemic.
"Vaccination and booster levels, public compliance with basic preventative measures mean that we simply do not need the levels of testing staff required at the peak of the pandemic and the outbreaks experienced since 2020. Staffing approached a high of 60 persons, a level that is neither sustainable nor reflective of where we are as an Island in this phase of the pandemic.
"The transition of staff to alternate employment will be assisted in conjunction with the Department of Workforce Development and the Ministry of Health. The skills gained by these individuals through their work with MDL ideally position them for private sector opportunities where testing is required.
"All efforts will be made to marry them with these employment opportunities where the need for their skills have been identified. These matters have been the subject of consultation with the BPSU who termed the transition arrangements fair in representing the staff.
"Dr. Carika Weldon's work on behalf of the pandemic effort in Bermuda is a matter of public record and has been rightly saluted as critical to the success we have enjoyed as a country. Dr. Weldon resigned on 31st December 2021, giving 30 days' notice as required by her contract. Three days later, at 1147am on 3rd January 2022 Dr. Weldon was advised that the administrative team would be instructed to ensure that this process is appropriately handled. Later that same day at 740pm Dr. Weldon purported to rescind her resignation and was advised in a reply the following day [at 1045am] that her resignation had been actioned as previously indicated.
"With this unexpected resignation, immediate action was required to ensure the Lab would be covered and an accelerated transition plan actioned. Dr. Weldon prepared an instructive handover guide for the Bermuda Health Council team, who were asked to step up quickly to manage the Lab transition, and worked through her notice period continuing to provide the expert and professional work for which she has been known.
"The staff contracts in question were approved for an extension through 31st March 2022 to coincide with the end of the fiscal year and the publicly confirmed transition of the Lab to the Ministry of Health. The offer of a contract extension through 30th June 2022 was made without authority and did not accord with the instructions given to the Accountant General for the extension.
"Accordingly, it should be noted that paying the staff through 30th April 2022 is a compromise position agreed with the BPSU, recognizing the staff were not made aware of the correct position by their management and signed their contracts in good faith.
"Maintaining a staff in 2022 that reflects where we were in 2020 and 2021 is not fiscally sustainable. Decisions like this are never easy and is in no way minimizing the work done by the whole team, and every effort will be made to ensure that alternate employment is secured."
Dr. Carika Weldon
In response, Dr. Weldon — the former MDL Director — said that some of the Government's comments were "misleading" and also noted that a policy could have been implemented where some people, for example those with insurance, paid for tests, as the cost per test — the lab has done over 800,000 — works out to be around $5 each.
She told Bernews, "Revenue has been generated by the lab in the form of travel authorizations [TAs] as "TAs has no basis without testing."
She also noted that was the case with expedited testing, and said that for the "Government to suggest that the lab made no revenue is false," and said that she suggested charging for some of the testing, however "Cabinet refused to entertain the idea."
"Even right now PCR testing is optional but free," she said, adding that a policy could have been created where it could have been free for some people, and paid for by others, for example those who have insurance.
"Why has MDL not transitioned to do revenue generating tests, which has always been the direction and was left clearly stated and discussed prior to my departure?" she asked.
"PLP MPs have argued with OBA about the need for the TA and said that MDL staff were being paid out of this. With the price dropping 46% from $75 to $40, why is 80% of the MDL staff being cut?
Dr Weldon also spoke about the costs of tests as it relates to the overall costs and volume of testing, saying, "The $4.5 million was all approved by the finance officer of MDL, which is the CS.
"For the main defense to Covid to costs 12.9% of the entire budget is not what should be vilified. That is a feat when we are talking about around 900,000 tests, this equates to $5 per test, which is great success of the model MDL used to do most testing.:
She pointed out that tests "could have been charged at a very low price of $10", which would then have made a profit, and "the fact that this was not done is completely on the Financial Officer of MDL."
As far as the Government's statement that '"staffing approached a high of 60 persons," Dr Weldon said that "MDL has never had 60 staff at once. At most we have had 37 paid full time staff."
She also said that it appears there has been no written indication of staff being let go getting help from WFD, and asked why it was not in their termination email, and noted that previously statements of employment had been renewed for 6 months.
"I feel the team understands that changes are needed, but it's the lack of communication and indecisiveness of those making decisions that has been stressful and frustrating," she explained.
There has also been conflicting information about exactly how much notice the staff were given, for additional information and comments from Dr Weldon, please see ZBM's broadcast on the matter.
Comments
comments