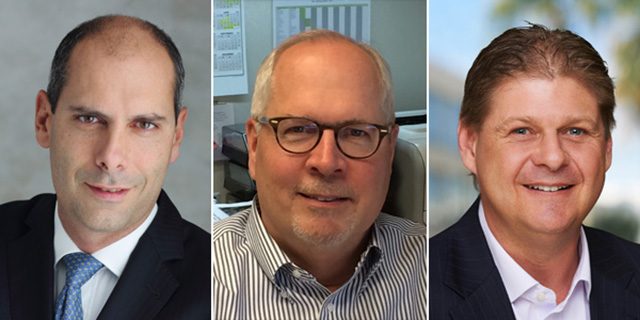 The Covid-19 pandemic should be a wake-up call to companies which must think beyond short-term performance and build greater resilience across a range of areas if they are to adapt and succeed, according to a partner in one of the world's leading management consulting firms, McKinsey & Company.
Aleksander Petrov will be speaking at the Institute of Directors, Bermuda branch, virtual conference tomorrow [November 3] with Alan Gier, Global Director, Risk Management & Insurance, General Motors, to discuss 'Covid 19 – Resilience and innovation'.
Resilience is the ability of a business to withstand, adapt, and thrive in the face of internal and external, known and unanticipated shocks," said Mr Petrov.
"Many companies across industries have been more persistently focused on near and medium-term earnings, typically assuming ongoing smooth business conditions. The Covid-19 pandemic is a global wake-up call to think beyond short-term performance."
He said the first step toward building resilience was to understand your current state, and where investment can prevent risk, across five dimensions:
Financial resilience: Maintain a solid capital position and liquidity to weather decreases in net interest income and credit loss;
Operational resilience: Build strong and secure working models and supply chains to address increase in cyber, fraud and technology risks as well as increasing supply chain disruptions;
Organizational resilience: Enable careful business planning, people management, and flexible technology to ensure business continuity and continued improvement in organizational strength;
Reputational resilience: Ensure flexibility and scale to anticipate and respond to stakeholder demands all consistent with company-level purpose, and
Business model resilience: Prepare business models to adapt to significant shifts in customer demand, competitive landscape, and regulatory terrain.
Mr Petrov added: "Additionally, Covid-19 has shown that companies can do incredible things, much faster than they imagined.
"The pandemic has introduced a golden age in organization design; businesses should embrace it by reimagining the organization for speed, investing in leaders' energy, and learning, and making bold moves to reshape the portfolio, especially divestitures.
"Technology is another front requiring action; companies need to review technology plans and talent, to cut through the IT backlog and identify the projects that will generate most value.
"Businesses should also reset their global footprint. Manufacturers are well advanced on this idea; service companies also need to think it through. Finally, companies may need to rethink their values, using three actions: lead on climate and sustainability, reset the posture toward regulators, and embed purpose in everything they do."
The panel moderator is Brett Henshilwood, the Risk Advisory Partner at Deloitte in Bermuda, who said that in a crisis, the hardest things can be the softest things.
"Resilient leaders are genuinely, sincerely empathetic, walking compassionately in the shoes of employees, customers, and their broader ecosystems. Yet resilient leaders must simultaneously take a hard, rational line to protect financial performance from the invariable softness that accompanies such disruptions," he said.
"Resilient leaders are also skilled at triage, able to stabilize their organizations to meet the crisis at hand while finding opportunities amid difficult constraints and they take decisive action—with courage—based on imperfect information, knowing that expediency is essential."
Mr Henshilwood added: "We believe that a typical crisis plays out over three time frames: respond, in which a company deals with the present situation and manages continuity; recover, during which a company learns and emerges stronger; and thrive, where the company prepares for and shapes the next normal'.
"Boards have the substantial and added responsibility to nimbly consider all three time frames concurrently and allocate resources accordingly."
"The virtual conference, which is being sponsored by Washington Properties, the Bermuda Business Development Agency, Deloitte and Meritus Trust Company Limited is tomorrow. It costs $50 for IoD members and $75 for non-members.
"Details on registration are here."
Comments
comments