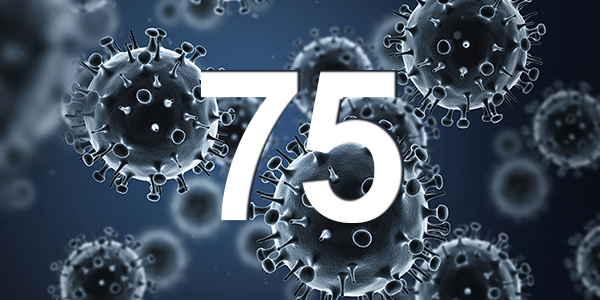 The 75 confirmed active Covid-19 cases the island currently has is the highest we have ever recorded, exceeding the past high amount, which — according to the records we have been keeping — was 65 active cases on April 25th.
We have been charting all the test results the Government has released since the start of the pandemic for our dedicated coronavirus website BermudaCovid.com, and also to be sure, checked with Ministry if the 75 active cases is a new high, and they confirmed that it is.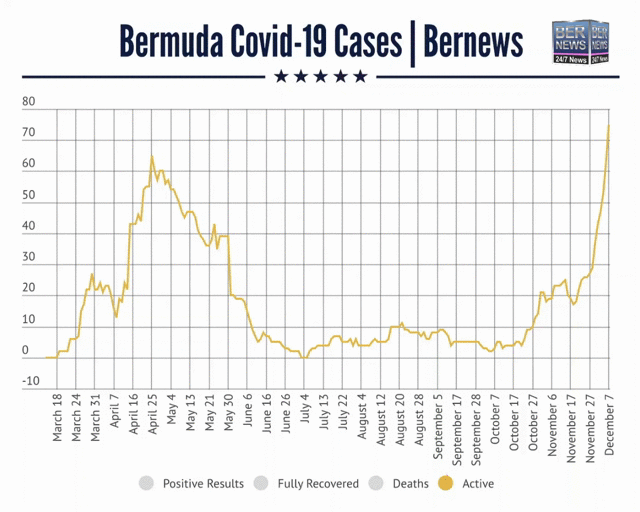 The line chart above dips down to zero in July which reflects a brief time when the island had no active cases at all, and went some two weeks without any new confirmed cases.
The term the officials always use is 'confirmed cases', and it is generally accepted there could be more cases that are not confirmed, so the island currently having 75 confirmed active cases means just that, they are confirmed via testing.
There is a substantial testing difference between April and December, with the island having greatly increased testing capability over the past few months, and as of today, the island has done over 113,000 tests in total. A chart showing a brief comparison of the total tests, total positives to date, and active cases on April 25 and December 7th, is below.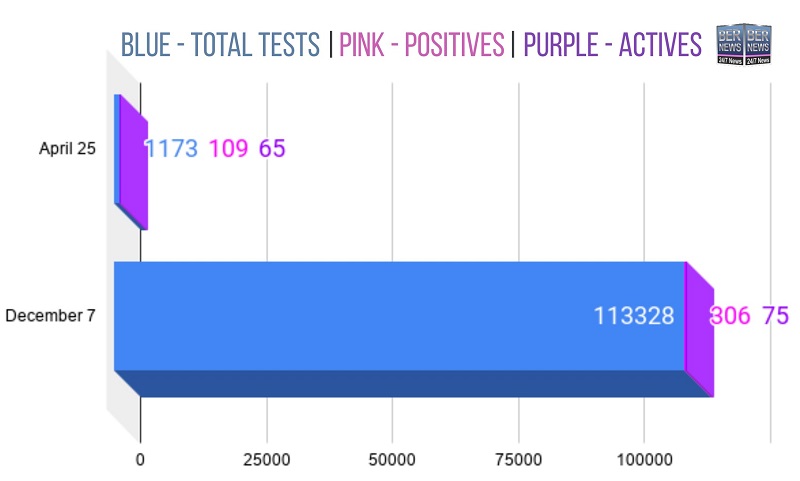 The amount of confirmed Covid-19 cases has been increasing in recent weeks, with the Government already announcing over 40 new confirmed cases during the first week of this month, and an animation showing the new cases announced each day so far this month is below.
The new cases are also increasingly classified as local transmission, rather than imported, with 13 of the 18 yesterday classified as "local transmission with known contact/source," while the remaining 5 new cases announced are classified as "under investigation.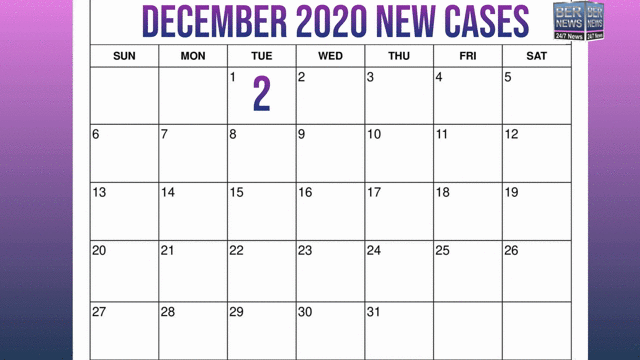 The island has been experiencing an increase for weeks — we have recorded 100 new confirmed cases since early November — and on November 24th, Bermuda's status was changed from 'sporadic cases' to 'clusters of cases', and Premier David Burt confirmed that "we have had an outbreak of the novel coronavirus in Bermuda."
Due to the increase in cases, Premier David Burt announced "additional measures required to arrest the current outbreak," with indoor bars and clubs set to close starting from today [Dec 8] with the number of people allowed to gather will be reduced to a maximum of 20 people, and churches to revert back to 20% capacity.
Everyone has been strongly urged to follow all public health guidelines including, but not limited to, wearing a mask, washing your hands, social distancing, and adhering to your quarantine if relevant.
The three charts above are short and specific, for a more comprehensive look and understanding of the test results over the course of the past year, please see the interactive chart below or the test results page on BermudaCovid.com.
Comments
comments