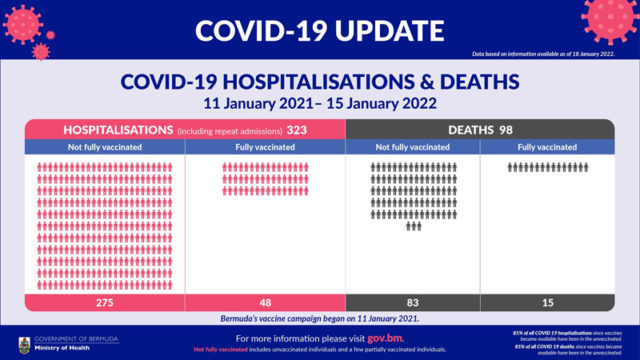 [Updated] The Government has released updated statistics on the vaccination status of hospitalisations and deaths, with the latest data covering up until January 15, 2022.
The chart shows that as far as the 323 hospitalisations [including repeat admissions] 275 were "not fully vaccinated" while 48 were "fully vaccinated," and of the 98 deaths, 83 were "not fully vaccinated" while 15 were "fully vaccinated." As of the latest vaccination statistics, 71.5% of the overall population has had two doses of the vaccine.
The change from November 2021 statistics — you can view the past eight charts the Government has released here on BermudaCovid.com under the 'Vaccination Status' dropdown — include new data spanning 17 additional hospitalisations and sadly, four more deaths.
Since the statistics go up to January 15 2022, it means they do not refer to the four coronavirus related deaths announced this month, as they were announced after January 15th, so the four additional deaths would be the ones announced on December 29th, 2021, which were from September 2021 [1], November 2021 [1] and December 2021 [2].
As a note, there have, unfortunately, been 114 deaths in total since the start of the pandemic in 2020, however these particular statistics provided by the Government start from January 11, 2021, as that is when vaccinations began in Bermuda.
Update 5.20pm: The Government released updated statistics at todays press conference, spanning another week and another three deaths, with the three deaths added on this version all listed as "not fully vaccinated".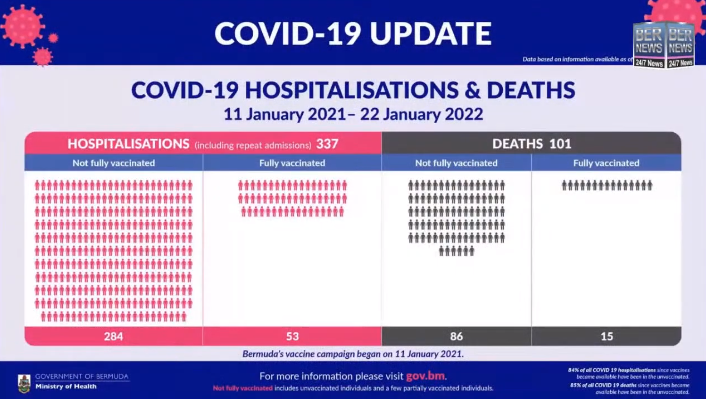 Comments
comments