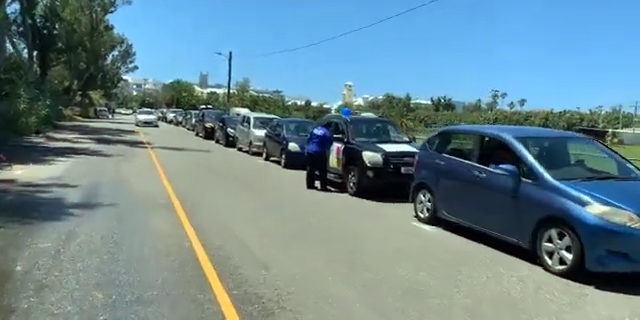 [Updating] Another car/bike rally has been scheduled for today [May 16], with the event set to get underway at around 12 noon from the central area.
The first rally — dubbed the 'Bermuda Freedom Car/Bike Rally' and held to protest various aspects related to the pandemic — was held on Sunday, May 2nd, with the event seeing over 200 vehicles take part, traveling all over the island for over three hours.
The vaccination is optional and always has been, and the group's main objection appears to be related to the plans for quarantine for those returning from overseas, with that policy set to take effect next month.
Update | Live Replay | Second Bermuda Freedom Car Rally Passing Flatts
Update | Live Replay | Start Of Second Bermuda Freedom Rally
Speaking in advance of today's rally, a statement from the organisers said, "The Bermuda Freedom Alliance is a large group of individuals of like-mind, from a cross-section of communities within Bermuda. Our current mission is to exercise and expose the constitutional and inalienable rights allowed to all citizens of Bermuda, for the protection of our choices, expressions, and way of life.
"We welcome people from all walks of life and do not discriminate in any way, shape, nor form. Currently, we address the upcoming regulation changes for individuals returning to the island who are not 'vaccinated' and who do not support the Government's decision to impose Mandatory Quarantine at a Government-Supervised facility.
"We are reminded during each press conference that the decision to take this shot is a personal choice," they said, adding that they feel the "Government contradicts the option given with arbitrary and tyrannical restrictions demanded of those who do not support or comply with its request."
"Although we appreciate the Government's efforts to keep our borders safe, we simultaneously feel its actions and requests are too extreme and we seek an immediate rescindment of the upcoming 'Mandatory Quarantine' regulation changes on June 6, 2021."
Live updates/videos will begin later today and your screen will automatically refresh:
Comments
comments