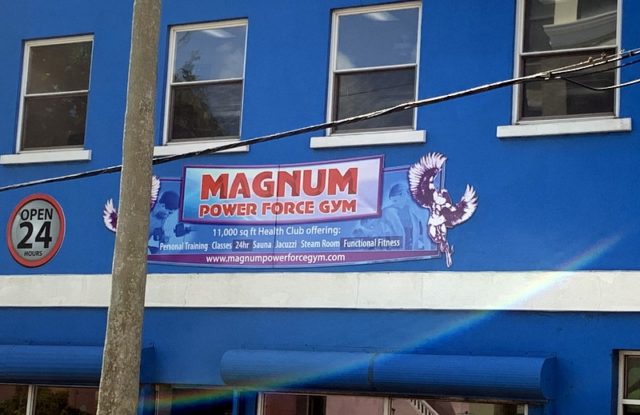 [Written by Don Burgess]
A Hamilton gym was closed tonight for breaching Covid-19 health regulations.
At around 7.00pm the Bermuda Police Service closed down Magnum Powerforce Gym & Diet Centre for 14 days with the Closure Order stating there was a breach of the Public Health [Covid-19 Emergency Power] regulations.
The gym was cited for breaching regulations on September 28 and October 4.
The Closure Order said they "did not take reasonable steps" to ensure that staff members, trainers, and patrons were wearing masks while not working out, "ensure that all customers and service users follow the Covid-19 Safekey guidance by ensuring that customers and users have a valid Safeky that match their identification" and have a sign indicating "We use Safekey signage" in a visible location.
Karen Hodgkins, the owner of Magnum Force, told Bernews the Health Department came by on September 30, but she could not come to the gym to address their concerns as she was at home on a 14-day quarantine.
"They came by today, but it's the same thing. I'm sick and I'm not out until Thursday and they've booted everybody out of the gym," she said.
She did speak briefly to a person on the phone who told her she wasn't following protocols.
Extract of text from the Closure Order:
"Therefore you are hereby ordered to cease and desist operations for 14 days beginning on the 4th October 2021, and are not permitted to resume operations until the expiration of such period, up to and including the 17th October 2021."
Ms Hodgkins said, "My gym is one of the safest gyms. I have so many hand sanitisers. We're taking temperatures. People are supposed to wear their masks. We can only do so much. I was told someone wasn't wearing their mask in the gym, but they're not supposed to be when they're exercising; only when they're walking around."
"I'm just really upset as they haven't really discussed the matter with us. We are not trying to do anything against the law, but some things do not make sense."
She added that Safekey is "not workable" for members' clubs because of the backlog of testing and getting the results.
"We tried to have a meeting with the Premier but he didn't want to meet with us [the Gym Coalition] so then they sent us to the Deputy Premier. The Deputy Premier sent us to the Health Minister. No one has still met with the gyms," she said.
She said the Gym Association has been reaching out to the Government since August 15.
"That's the biggest thing for us is nobody has bothered to meet with us. We have been trying to get someone to meet with us since August. All we ask is for somebody to hear us out that Safekey isn't going to work for our gyms. We're doing everything else: masks, temperature checks, hand sanitisers, temperature checks, and six feet distancing."
She said she believes that hers isn't the only gym that does not have up Safekey signage. "They said the other gyms are following it, but that's not true at all."
Does she feel the Ministry is targeting Magnum Force? "Oh, definitely. I do. I do," she said. "I'm the one who sent the letter on behalf of the Gym Coalition."
Bernews has reached out to the Health Ministry, Government and the Bermuda Police Service for comment and will update as able.
Comments
comments