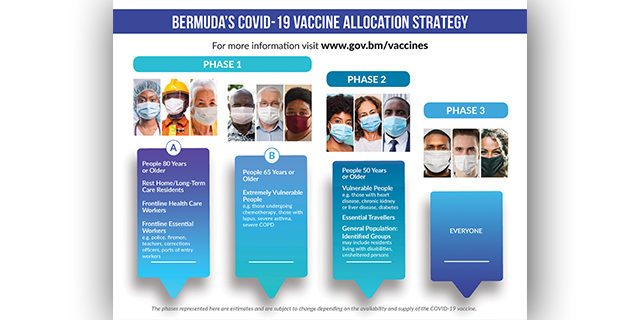 Minister Kim Wilson provided information on Bermuda's Covid-19 vaccine allocation strategy, with the priority to be given to "groups most at risk from getting sick from Covid-19."
Speaking at last night's [Jan 12] press briefing, Minister Wilson said, "Our vaccine strategy has been developed based on international best practices, and it has prioritized groups who are most at risk from getting sick from COVID-19.
"Our first phase, Phase 1A, is the staff and residents of our long term care facilities such as residence of the Extended Care Unit of the Hospital. For nursing homes and assisted living centres, we are training their nurses to administer the vaccine to those who volunteer to be vaccinated.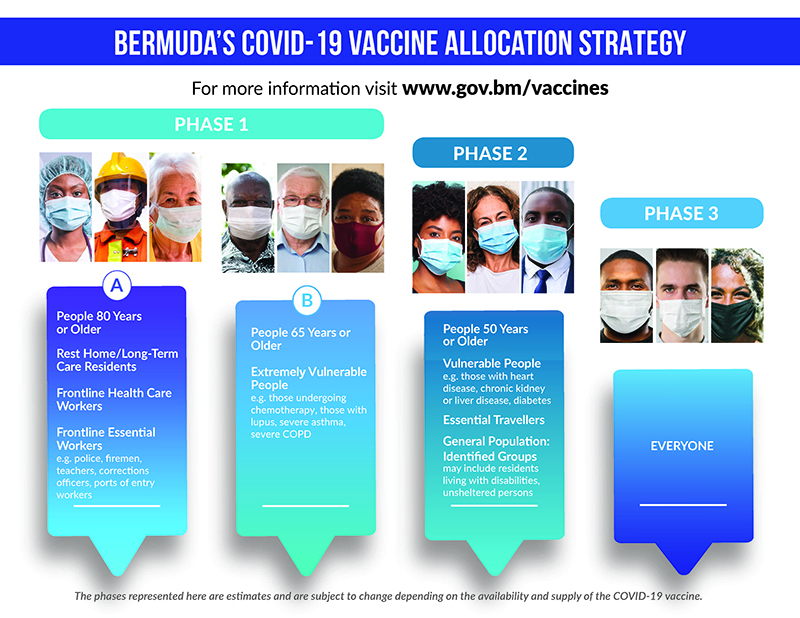 "This group has had to sacrifice, even more than most during the pandemic. Our elders have struggled with extreme restrictions on their activities, visits from their families, and social activities we take for granted. The staff has also made tremendous sacrifices for their jobs, and we wish to ensure that the vaccinations are given to this group who truly can benefit so much from the protection that the vaccine can provide.
"We will also prioritize our frontline healthcare and frontline essential workers. In this context, healthcare workers include all employees of the Bermuda Hospitals Board along with frontline workers from the Department of Health and those employed in the private healthcare industry.
"Frontline essential workers are those who provide services which prevent social disruption and allow society to function, and who are at risk for higher levels of exposure to COVID-19. These include firemen, police, corrections officers, personnel at the ports of entry, and teachers. People who are 80 years or older are also encouraged to be vaccinated in this first group as well.
"Phase 1B: the second group will comprise those over the age of 65, but priority will continue to be given to those who are over the age of 80. This group will focus on those who are clinically extremely vulnerable and the clinically extremely vulnerable people who have:
a suppressed immune system such as during and after chemotherapy or after an organ transplant,
lupus,
severe asthma,
Severe COPD.
"Phase 2: The third group will be those over the age of 50, again prioritised by those who are clinically vulnerable. Clinically vulnerable are those who suffer with:
heart disease,
chronic kidney disease,
liver disease, and,
diabetes.
"Following that, the vaccine will be available to everyone over the age of 18 [or over 16 with parental consent] in Phase 3."
The Minister also noted, "As of 4:30pm today, the vaccine teams had received 1885 online registration forms and more than 800 email registrations. This does not include vaccine registrations being facilitated by key contact persons representing the fire, the police, corrections offices, ports of entry staff and teachers.
Comments
comments