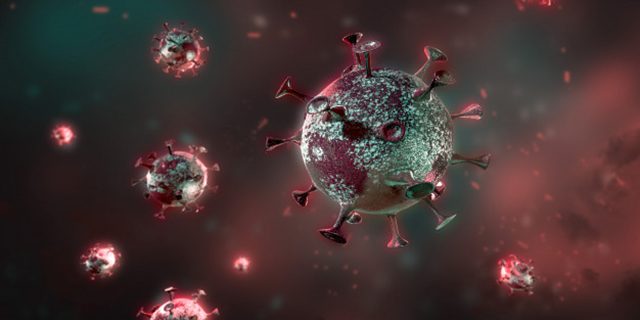 Last month saw an increase in confirmed positive Covid-19 cases, with more than 50 new cases recorded in November, and the island's status changing from 'sporadic cases' to 'clusters of cases'.
On November 1st there were 206 total cases to date, and as of November 30th, there are 260 confirmed positive cases to date.
The first confirmed cases of Covid-19 in Bermuda were back in March 2020, and the highest amount of confirmed cases occurred in April, when approximately 30% of overall cases to date were confirmed, and November is now the second highest month, with approximately 20% of overall cases to date being confirmed during the month.
In April the testing capacity was far lower, with approximately 2,300 tests done in total that month, and local officials have substantially increased testing capability since that time, with almost 9x as many tests done in November as compared to April.
There were some 88,217 total tests done as of November 1st, and 107,890 total tests as of November 30th, meaning the island did close to 20,000 tests during last month alone.
According to data from WorldoMeters, Bermuda currently ranks as the 5th most tested per capita, putting us in the top 2.5% of the 219 nations and jurisdictions that they rank.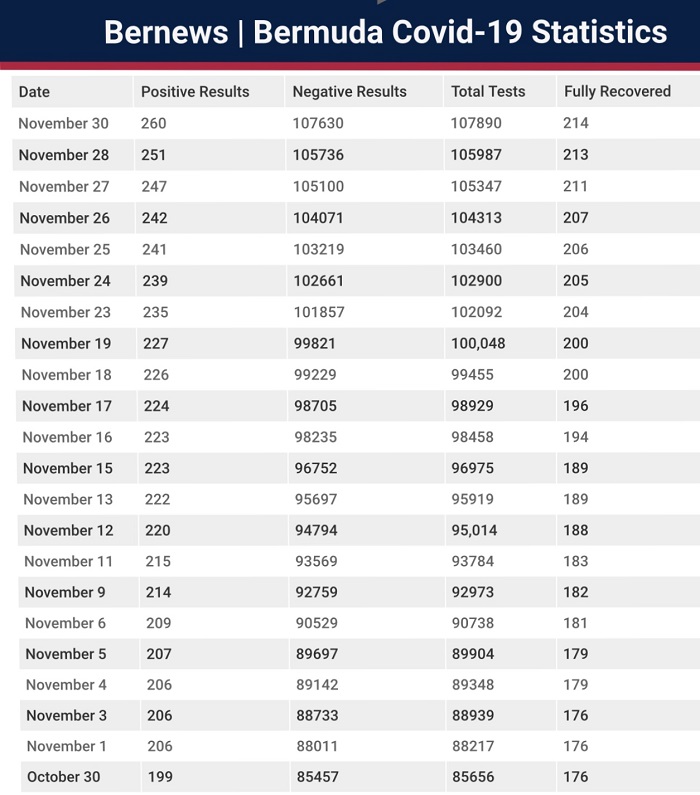 On November 24th, Premier David Burt said, "As the Minister of Health has now indicated, and the last few days have made clear – we have had an outbreak of the novel coronavirus in Bermuda. We are hopeful that we have it contained, but the fact is that we cannot do it alone – it requires everyone's assistance. Every single resident of the country."
"We have seen in other countries small outbreaks turn into larger outbreaks. That is not what we will have here, and I trust that the people of our country will cooperate so that we can constrain this outbreak," the Premier said.
The information above is just a brief summary of the past month, for a look at the developments spanning the past few months please see a timeline here, and for a look at all the test results going back to March 2020, please see this page on BermudaCovid.com.
For official guidance on matters like mask wearing, workplace safety etc, please see the official Government website, and you can also book an appointment to be tested here on the Government website.
The Government is also aiming to try and use technology to assist, with Minister of Health Kim Wilson previously urging people to use Bermuda's self-reporting website Healthiq.bm. HealthIQ helps us, as a community, to track symptoms based on COVID criteria.
"HealthIQ provides the island with more insight into where potential cases of COVID-19 may be and gives us a proactive way to address them, giving us tens of thousands of eyes so that we can all stay safe. We are asking that each household go to healthiq.bm and enter your information and update it often; it only takes a moment and is completely private," she said.
The Government has also launched the WeHealth Bermuda app — a free smartphone application that provides anonymous Covid-19 exposure notifications — which is now available for download in the app store.
However while much work is being done as far as testing and utilizing technology, officials have repeatedly stressed that the main thing the community can do to assist is to follow public health guidelines, including but not limited to, wearing a mask, washing your hands frequently and adhering to social distancing and any quarantine rules that may be applicable to you.
Comments
comments