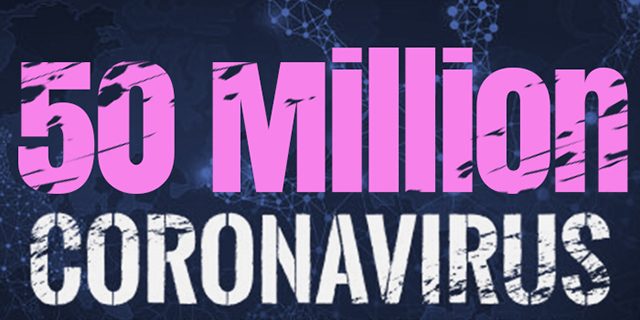 With the Covid-19 pandemic continuing to affect countries around the globe, the number of confirmed cases worldwide has now surpassed 50 million, with over 1,263,000 deaths worldwide, and the United States continuing to have the most confirmed cases and deaths in the world.
A CNN story said, "Drugmaker Pfizer said Monday an early look at data from its coronavirus vaccine shows it is more than 90% effective — a much better than expected efficacy if the trend continues.
"The so-called interim analysis looked at the first 94 confirmed cases of COVID-19 among the more than 43,000 volunteers who got either two doses of the vaccine or a placebo. It found that fewer than 10% of infections were in participants who had been given the vaccine. More than 90% of the cases were in people who had been given a placebo.
"Pfizer said that the vaccine provided protection seven days after the second dose and 28 days after the initial dose of the vaccine. The final goal of the trial is to reach 164 confirmed cases of coronavirus infection."
A BBC story said, "The NHS is ready to start providing the new coronavirus vaccine "as fast as safely possible", Health Secretary Matt Hancock has said.
"Asked whether it could be available by Christmas, he said that was "absolutely a possibility" – but he expected the mass roll-out "in the first part of next year".
"Mr Hancock said vaccination clinics would be open seven days a week, and he was giving GPs an extra £150m. But he urged people to be patient.
"We just don't know" how many people will need to be vaccinated before life can return to normal, Mr Hancock added.
"It comes as figures showed the number of people dying continued to be above normal levels for this time of year, with 1,597 deaths mentioning Covid on the death certificate in the last week of October – up from 1,126 the week before."
Comments
comments