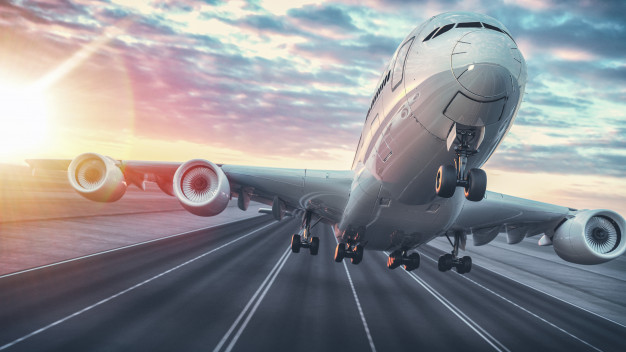 Bermuda, in conjunction with other Overseas Territories, is looking to "organize an air bridge to bring students home" the Premier said, adding that any students coming home on an air bridge operation from the UK "will be not allowed to self-quarantine but will be required to stay in a government approved quarantine facility. "
Work To Bring Bermudian Students Back Home
Speaking at last night's press briefing, Premier Burt said, "The government continues to work to bring Bermudian students who are stranded due to no fault of their own back home. There has been some concern expressed that Bermuda is letting people into the island which means that we may be admitting additional positive cases.
"Let me be perfectly clear. Bermuda was closed and the airport was closed to regularly scheduled commercial traffic from last Friday. Scheduled cargo flights, Medevacs [or air ambulances] and private jets are still operable as they are not scheduled commercial flights.
Moral Obligation To Take Care Of Our People
"I think it is important to note, I want to say this because I know there has been public criticism that has been leveled at the government for advertise the fact that we are looking to bring stranded Bermudian students back home. I have to state this. I consider it our moral obligation to take care of our persons who are stranded, some of them in very desperate situations.
"Imagine being overseas, your dorm being closed. Persons around you being able to travel home back and you are by yourself. Food service for your dormitory is ending. This is the situation some of our students overseas have found themselves in.
Looking In Conjunction With Other Overseas Territories
"It is a situation that is being faced by myself and is being faced by a number of other Overseas Territories leaders. We are looking, in conjunction with the other Overseas Territories, to organize an air bridge. Nothing has been confirmed yet. But I want all persons to know, if you are a Bermudian student overseas then the Government is working to make sure that we can bring you back home.
Will Be Required To Stay In Government Approved Quarantine Facility
"However, it should be noted that the Cabinet on Friday decided that any person who is returning back home, in any future air bridge operation from the United Kingdom will be not allowed to self-quarantine but will be required to stay in a government approved quarantine facility.
"Which most likely will be a hotel. So Government approved and Government monitored facility. These are the same arrangements that are being made in other Overseas Territories. The fact remains, that the Government wants to bring Bermudians home who are stranded due to no fault of their own.
Private Jets
"There has also been a lot of commentary regarding private jets. I want to make it clear that private jets are able to enter the airport. There have only been, since the airport has closed, three private jets that have come in that are bearing passengers. Two arrived on Thursday and that was previously mentioned.
"That was organized by international companies to bring persons who missed the previously scheduled Delta flight and one arrived earlier today. The flight that arrived earlier today brought home the family of a resident, a doctor from the Bermuda Hospitals Board who was stranded overseas and wasn't able to get back home and a Bermuda student.
"It should be noted that any private plane that requires permission to land has to get permission from myself in order to do so. Permission is being given only if extra seats are made available for Bermudian students who may be stranded to come home. Some people have said this is kind of like Uber jets. If there is extra space, then it makes no sense for those flights to come here when there are Bermudians who need to return home. The Bermudian student who returned home on that flight today is entering a government quarantine facility.
No Final Information On UK Air Bridge Yet
"Regarding the UK air bridge, as I indicated earlier, we do not have any final information for that. We are continuing to work with the Foreign and Commonwealth Office and other Overseas Territories to make this a reality. As soon as we have the information on how much this particular trip will cost, we'll make sure to provide that at the earliest opportunity. I would ask that persons go ahead and go online to fill out the form, to register your interest, if you are a Bermudian student that is stranded overseas.
"A number of students have contacted the London Office. The Government put out a statement on Friday with a website with a link if you are a Bermudian student at home and you can find that link on coronavirus.gov.bm."
Former Premier Tweets Support For Idea
Following the Premier's statement last night, former Premier Michael Dunkley tweeted his support for the idea, with the current Premier tweeting back a note of thanks.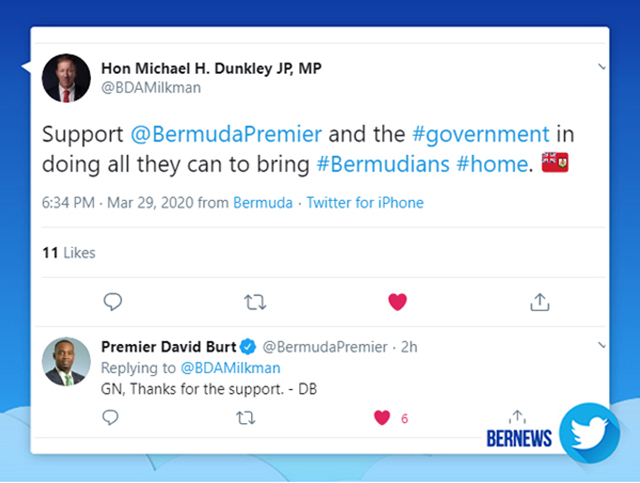 Comments
comments