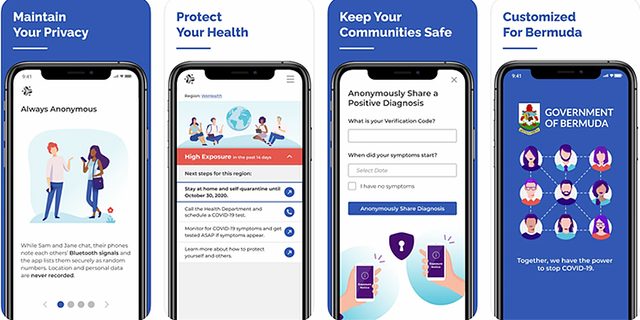 Bermuda's Privacy Commissioner Alexander White said that his office "engaged with Government early" in the process of developing the WeHealth Bermuda Covid-19 notification app, and said that he has downloaded the app himself, as "it was developed to protect privacy along with public health. "
Commissioner White said, "In my anecdotal conversations with Bermudians about whether they intend to download the recently launched WeHealth Bermuda app, the issue of trust is the first topic. People are worried that their data might be shared or used in ways they haven't thought of – or that they might even be signing themselves up for surveillance.
"Bermudians can feel confident in WeHealth Bermuda as an example of trust being earned," he said.
"My office engaged with Government early in this process, and the technologists and civil servants with whom I worked were quick to realise the privacy risks that could come into being with these sorts of apps. We reviewed these issues and risks together, and throughout the app design process they addressed all of my recommendations.
"From early days, this app aimed to earn your trust through privacy protections. Government took what I would call a "Privacy-By-Design" approach, which means intentionally planning out for and selecting the most privacy-friendly of the many, varied possible options. WeHealth Bermuda avoids the riskier [from a privacy perspective] approaches that other countries have tried.
"The app is designed to prevent misuse of data by not collecting it in the first place unless it is absolutely needed – and then keeping all of that data on the phone itself. It remains in your hands, under your control.
"Not only that, but even if WeHealth Bermuda wanted to collect more data or to use data in different ways, your phone would not let it. This is because Google and Apple, working together in an historical collaboration, put limits on what contact tracing apps might do – precisely to assure people worried about "creeping" permissions.
"It is a fair thought to worry about data privacy in modern times, when technology issues feel more complicated by the day. You can often feel like you don't even understand enough to make an informed decision.
"I hope you have confidence that the WeHealth Bermuda app is designed so that you stay in control. I chose to download the app myself, because it was developed to protect privacy along with public health. It represents the kind of solutions that we should strive for and support."
As the irony could present itself in announcing someone downloaded an app which is designed to be anonymous, we should note that we only know the Privacy Commissioner  downloaded the app as he publicly said so!
Comments
comments