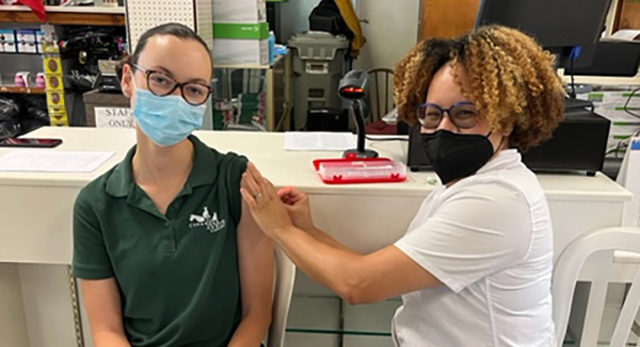 Somerset Pharmacy is now offering Covid vaccinations, with appointments available at the west end location on Tuesdays.
A spokesperson said, "On Tuesday, May 17th, Somerset Pharmacy became the first pharmacy in Bermuda to offer Covid vaccinations. For now, Somerset Pharmacy is offering vaccinations on Tuesdays from 9:30-3:30pm by appointment. Appointments are required because there are only 6 doses per vial and once compounded vaccines are viable for only six hours. Therefore, we need to know who is coming and when, to avoid wastage."
"Melissa Butler of Somerset Pharmacy, states demand is great and even the Health Department sent eager residents their way. Some came from St. George's. Dr. Butler had several clients receiving their first vaccine, many of whom were expecting to travel this summer. She noted pharmacies may only vaccinate adults 18 years and older.
"Anyone looking for a 4th dose [second booster] should note the Ministry of Health's eligibility criteria. Vaccine administration costs $29.95. Some insurers will cover the cost. Anyone interested in scheduling an appointment should email clinservice@somersetpharmacybda.com.
"Dr. Butler is appreciative of the Ministry of Health and the CMO's office for expanding pharmacists' scope of practice to include Covid vaccinations as it will expand access across the island."
Comments
comments