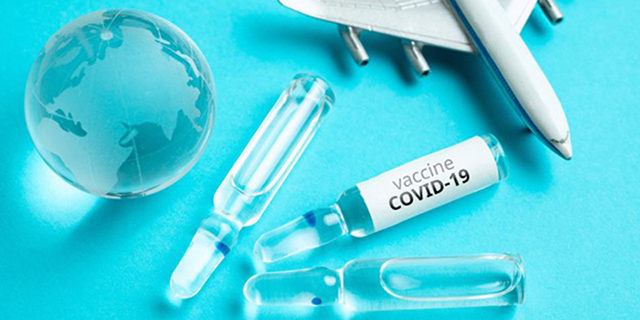 The first phase of the new United States travel policy that requires foreign nationals to be vaccinated will reportedly begin on November 8th.
White House Assistant Press Secretary Kevin Munoz tweeted, "The US' new travel policy that requires vaccination for foreign national travelers to the United States will begin on Nov 8. This announcement and date applies to both international air travel and land travel. This policy is guided by public health, stringent, and consistent."
CNN reported, "Foreign visitors who are fully vaccinated against Covid-19 will be able to travel to the United States starting on November 8, the White House said Friday.
"The move would relax a patchwork of bans that had begun to cause fury abroad and replacing them with more uniform requirements for inbound international air passengers. It will come as welcome news to the travel industry, which had been lobbying the federal government to lift some of the rules preventing international tourism, as well as airlines, hotels and hospitality groups.
"A White House official told CNN further guidance on "very limited exceptions" to the requirements, along with what Covid-19 vaccines will be accepted and other operational details in advance of the November 8 date.
"The new rules, the White House said, would be rolled out in a phased approach. The first phase will kick off in early November and will allow fully vaccinated visitors traveling for nonessential reasons, like visiting friends or for tourism, to cross US land borders.
"The second phase will start in early January 2022 and will apply the vaccination requirement to all inbound foreign travelers."
As everyone knows, many Bermudians frequently travel to the United States for various reasons, including vacation, business, shopping, medical treatment, education, to compete in sports events and more, with the United States also used as a transit point as we have to fly through to their gateway cities get to other nations such as those in the Caribbean.
Speaking at a recent press conference, Minister Kim Wilson said, "As we are aware, the US has implemented a new policy that will not allow visitors to enter the US if not vaccinated.
"There have been no developments on how those that require medical care in the US will be treated. Therefore, I encourage those who are not vaccinated to start to consider their options if the US determines that exemptions will not apply for unvaccinated person with medical needs."
"We have no indication that the US and Canada will make exemptions for unvaccinated patients who require emergency care in their jurisdictions," a Bermuda Hospitals Board spokesperson told Bernews for our report looking into the impact of the policy on overseas medical treatment options for unvaccinated people.
"This will greatly limit the options for unvaccinated patients who require this service. Air ambulance lift to other countries may not be a viable option for many of the conditions we transfer patients for. This is due to length of time for transport and/or the ability of the overseas facility to accept our patients."
As of the most recent vaccination statistics, 67.1% of Bermuda's population has received two doses of the vaccine.
Comments
comments