[Updating] The Government is holding a Covid-19 technical briefing at 4pm this afternoon [Sept 15] to update the public on Covid-19 and we will live stream the press conference.
This comes as the island is experiencing a major surge in cases, with a record high 948 active cases, with 43 people in hospital, with 10 in critical care.
"948 active cases is far too many for an island our size," Minister of Health Kim Wilson said last night. "The Delta variant is spreading quickly throughout our community, and this surge is overwhelming every segment of our healthcare system."
Last night, the Government tweeted, "Starting tomorrow, the Ministry of Health will increase the frequency of coronavirus statistical updates to Monday, Wednesday and Friday," meaning we may also get new test results in today's briefing, although we do not know that for sure, they may be released via a written statement.
Update 4.55pm: The press briefing just concluded, we will have more information shortly, as a super brief summary for now the Minister announced new restrictions including a curfew from 12.30am – 5am, large group sizes being reduced from 50 to 20 and a ban on raft ups – they take effect this Friday.
The Minister announced 150 new positive test results, and BHB Chief of Staff said 12 people are now in ICU, which is the highest since the pandemic began.
Update: The Government media posted this image below on the Government media social media accounts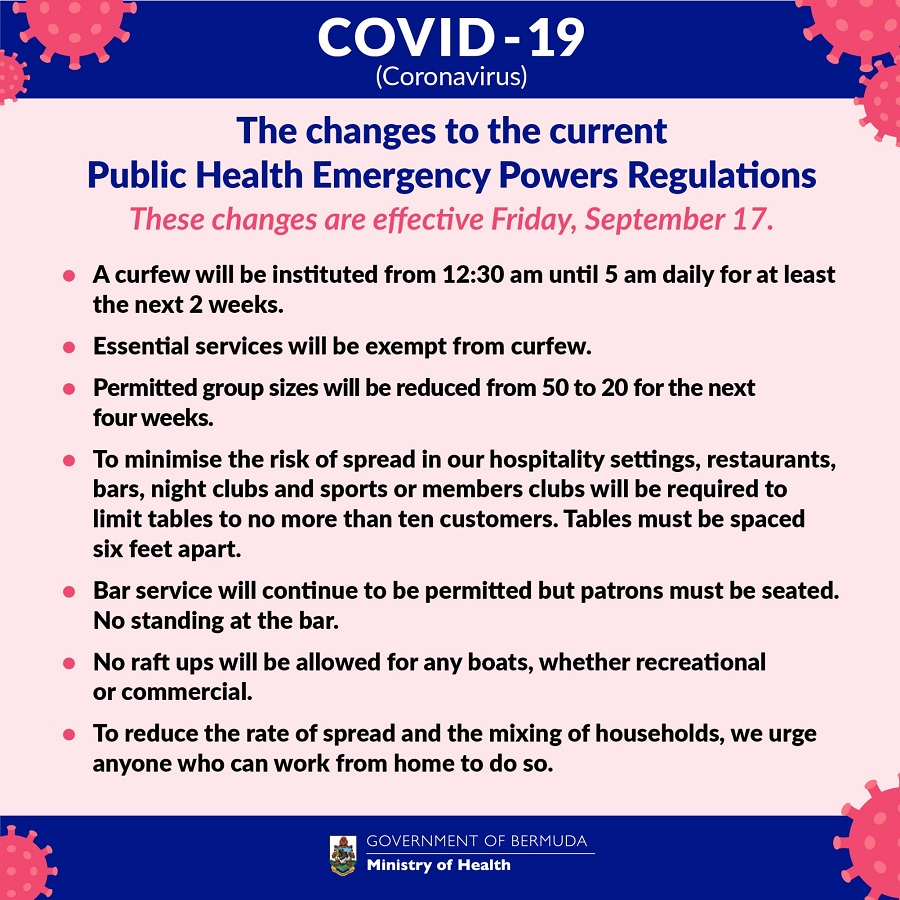 Update 7.03pm: Minister of Health Kim Wilson said, "Good afternoon.
"I begin my remarks today by offering sincere condolences to those who recently lost a family member, a friend, a neighbour or a colleague in circumstances related to the coronavirus.
"And I ask everyone to keep in your prayers those persons currently in hospital with Covid-19 related illness.
"The Ministry of Health received 2949 test results since the last update, and 150 were positive for Covid-19. This gives a test positivity rate of 5.1%.
"As the number of active cases increases significantly, primarily through community transmission, the Government must take proactive measures, from a public health perspective, to prevent further cases. We must put measures in place to slow the transmission of the highly contagious Delta variant.
"This afternoon I am announcing the following changes to the current Public Health Emergency Powers Regulations.
"These changes take effect Friday, September 17.
"The updates are as follows:
"To protect against future rises in hospital admissions, a curfew will be instituted from 12:30 am until 5 am daily for the next two weeks. While the essential services will be exempt, as they and others have been exempt during previous curfews, the expectation during this night-time curfew is that the general public will be in their home.
"Due to the transmissibility and severity of the Delta variant, the large group's size will be reduced from 50 to 20 for the next four weeks. The mitigating change is a preventative measure to assist in evading spread.
"To minimise the risk of spread in our hospitality settings, restaurants, bars, night clubs and sports or members clubs will be required to limit tables to no more than ten customers and to space these tables six feet apart. Bar service will continue to be permitted but you must be seated. No standing at the bar.
"The legislation will be amended to include the power for the Police to close a premise where there is non-compliance with public health directions.
"Additionally, no raft ups will be allowed for any boats, whether recreational or commercial.
"Wearing face masks indoors continues to be required, and must be worn in crowded outdoor settings as well where a six feet physical distance cannot be maintained.
"To further reduce the rate of spread and the mixing of households, we urge anyone who can work from home to do so. There are many businesses in Bermuda that can manage their workloads and workflows from home, and they should do this.
"Work environments are a source of transmission. Let me repeat, this includes driving in the same car or truck to get to a work site.
"Your colleagues are not part of your personal household bubble. If you must go to work, do not mix and mingle with your co-workers without wearing a mask.
"Sharing a lunch or break room without adequate protection has also led to outbreaks.
"This happened in December, in April and it's happening again now. When will we learn?
"I will now turn my attention to the enforcement of the Public Health Regulations.
"The Ministry of Health's team of compliance officers is working closely with the Bermuda Police Service and Department of Public Prosecutions to progress cases that involve non-compliance with public health directions.
"Since June, we have prepared six case files for the Police and Prosecutions. There are four more in progress now. Also, the Police are fully prepared and ready to issue fixed penalty tickets for breaches such as leaving a place of isolation or quarantine.
"I would like to remind people who must isolate or quarantine to take it seriously. Because of the high volume of positive cases, the Ministry of Health's Epidemiology and Surveillance Unit [ESU] cannot contact everyone who has been identified as having a risk of exposure. If you are informed that you are a close contact of a positive case, quarantine for 14 days and then get tested to ensure you are not still infected; the virus can incubate for up to two weeks.
"Bermuda, we understand the economic and emotional strain this pandemic and further restrictions is having, but this outbreak is spreading quickly in our community – in closed settings with mixed households, people not following the guidelines, getting out and about in the community with symptoms, and not adequately using personal protection equipment [PPE].
"These restrictions are necessary to protect our community. They are not designed to make people's lives harder. We must strike a balance between protecting the Island and protecting our economy. I urge everyone to please be patient for the next couple of weeks, be extra vigilant and follow the regulations and guidelines.
"Whether you are vaccinated or unvaccinated, everyone in our community has an individual responsibility to help stop the spread of the coronavirus.
"If we do not follow public health guidelines and safety measures, our community spread will continue, hospitalisations will increase and sadly, we will see more Covid related deaths.
"Again, avoid closed spaces with poor ventilation, crowded places with many people nearby, and close-contact settings like close-range conversations. Wash your hands with soap and water frequently and use hand sanitiser when handwashing facilities are not available.
"Six feet must be maintained at all times, including during greetings, unless you are wearing a mask.
"As I have said since January of this year, your best protection is vaccination. Time is running out! One dose of the vaccine will be of help for people who are not vaccinated at all. However, the best protection comes after two doses of the vaccine – two weeks after that second dose, to be precise. The challenge is that the Delta variant is so easily transmissible and it is so widespread now, that the longer you wait to make a decision about vaccinations, the more likely it is you will be exposed to the disease and will be unable to fight it.
"We have about 230 first doses remaining until our next vaccine shipment.
"The UK has consistently supplied our vaccine needs, and the Bermuda Advisory Committee on Immunisations is meeting this week to make recommendations about boosters for those who are already fully vaccinated. Details around booster shots will be communicated in the future. At this time there is no need for persons who may wish to get a booster shot to register for the vaccine.
"Finally, I am extremely concerned about this outbreak's impact on our healthcare system, as we all should be. Every part of our healthcare sector is affected. It is overwhelmed, and our healthcare workers are working tirelessly, on long shifts under tremendous pressure. They are to be commended and we must all be grateful for everyone on the frontline and those behind the scenes working to manage this fast-spreading outbreak.
"I will now invite Dr. Wesley Miller from the Bermuda Hospitals Board to provide a few remarks. Dr. Miller."
Comments
comments