The Government will be holding a press conference at approximately 5.45pm this evening [Dec 17] to update the public on Covid-19. We will have additional coverage following the press conference, our continuous live updates on Covid-19 here.
Update 7.05pm: The press conference has just concluded, and we will be back with full statements/charts as soon as able, however in the meantime, a super small summary for now: 12 new cases, cases confirmed within Department of Corrections, restrictions to be extended through to January, and the island should receive the first batch of vaccines in January. You can also view our live updates here.
Update 8.20pm: Some points from tonight's statements:
12 new positive Covid-19 results
Cases confirmed in Department of Corrections
6 have recovered since last update.
 497 total  cases, 227 active
3 hospitalized, none in critical care
Current restrictions will be extended by another two weeks, into January
$1 million for business grant relief
Almost 16,000 have downloaded WeHealth Bermuda app.
Next Covid-19 press conference on Tuesday December 22.
Update 8.08pm: Minister Kim Wilson's full statement follows below:
Good Afternoon,
There were 1397 test results received by the Ministry of Health since the last update and 12 were positive for COVID-19.
One of the new cases is classified as local transmission with known contact as associated with a known case.
The remaining new cases are classified as under investigation. These cases are among residents with no currently identified links to other known cases or clusters or history of travel in the past 14 days.
Additionally, 6 cases have recovered since the last update.
Bermuda now has 497 total confirmed positive cases. Their status is as follows.
There are 227 active cases, of which
224 are under public health monitoring and
3 are hospitalized with none in critical care;
a total of 261 have recovered, and
the total deceased remains 9.
The mean age of all confirmed positive cases is 44 years [median: 40 years] and the age range is less than 1 year to 101 years.
The mean age of all currently active cases is 35 years [median: 31 years] and the age range is less than 5 years to 80 years.
To protect privacy and confidentiality, the average age and age range of the hospitalized cases will not be provided.
The average age of all deceased cases is 74 years and the age range is 57 to 91 years.
The source of all cases is as follows:
140 are Imported
269 are classified as local transmission of which:
248 are Local transmission, with known contact/source and
21 are Local transmission with an unknown contact/source
88 are Under Investigation
As investigations proceed, transmission categories may change.
Today's update has one case moving from under investigation to imported. This case is a resident who arrived on AC 942 from Toronto on 4 December 2020 and tested positive on their Day 8 test.
An additional case has moved from under investigation to local transmission with a known contact as associated with a known case.
The seven-day average of our real time reproduction number is greater than 1 [1.67] and Bermuda's current country status is "Clusters of Cases".
We have received many calls to our Mental Health hotline asking, "What are the coronavirus symptoms?"
From the World Health Organization:
The most common symptoms of COVID-19 are:
Other symptoms that are less common and may affect some persons include:
Loss of taste or smell,
Nasal congestion,
Conjunctivitis [also known as red eyes]
Sore throat,
Headache,
Muscle or joint pain,
Different types of skin rash,
Nausea or vomiting,
Diarrhoea,
Chills or dizziness.
Generally, anyone with three or more of these symptoms should please isolate and call your doctor who can advise you regarding resting. Likewise if your physician advises you that you are positive, isolate and prepare a list of your close contacts for ESU.
As mentioned in yesterday's release, since early on in this pandemic our care homes have been working hard to keep our elders and vulnerable persons safe. Shielding requirements resulted in a restriction preventing staff from working at multiple homes. This vital intervention has remained in place; however, in part due to this, homes are struggling to find qualified staff. In particular, registered Nursing Associates and Registered Nurses are needed by many homes. We are trying to assist the homes in their ongoing search for staff. For this purpose:
1. If you are a registered Nursing Associate or Registered Nurse and have interest or experience in care home work, please email your resume to covid19resumes@gov.bm .
2. Please note, anyone who sends a resume to this address, starting tomorrow, will have their resume shared with and forwarded to care homes, as appropriate. If you don't want your resume forwarded to care homes you must state this when you email it.
Please note COVID19resumes@gov.bm remains the location to send your resume for the government's Covid-19 related staffing needs.
At this time, we are appealing to family and friends of care home residents to work with the homes to find creative ways to maintain connection with their loved ones while visiting restrictions are in place. Please remember that the scheduling, frequency and type of visits possible are not only set by Government guidance and restrictions but also by the homes' ability to accommodate such, which includes having sufficient staffing levels.
Also, I would like to take this opportunity to repeat and further clarify the information that we released yesterday regarding employers asking employees for COVID-19 test results.
The Ministry of Health has received a number of questions about when an employer can ask an employee to get tested, and if they can or cannot ask for COVID-19 test results from that employee.
While the Ministry is not in a position to provide legal advice to an employer – each employer should seek his or her own, especially as it relates to obligations under the Occupational Safety and Health Act 1982 – the public is reminded that test results are considered personal health information.
As such, they can only be shared by an employee, if the employee wishes to do so. Ministry guidelines do not state that employees are required to provide a negative test to their employer to come to work.
With that said, the Ministry can also confirm a person who knows or has reasonable cause to believe he or she has a communicable disease and who exposes other persons to the disease, commits an offence under the Public Health Act 1949. It is also an offence to carry on working in such a situation.
There is a balance to be struck and the legal obligations are real.
When a confirmed case is identified, the contact tracing team and Environmental Health will conduct a risk assessment on the place of employment. As part of the process, the Ministry of Health teams will be able to identify and isolate people in the organization who have had direct contact with the confirmed case. The Ministry of Health team will also advise an organization if they have to be closed for a period of time for deep cleaning or if an adjustment to their workplace protocols is recommended.
We are still receiving many quires from people who have been in contact with a close contact of someone who has tested positive for COVID-19 or who perhaps work in the same office-but not in the same work area as a positive case. These concerns (although understandably justified) are leading to non- science based decisions regarding quarantine. Again I want to stress that the ESU will be in touch with you if we feel there has been the risk of exposure. I would again ask that workplaces please not made decisions in place of ESU: it is not helping and leads to increased demand for testing appointments by people who are not immediately in need of a test.
Again, if you are identified as a close contact and asked to quarantine, you need only quarantine if you have been advised to do so by the Ministry of Heaths Epidemiology and Surveillance Unit.
NOT your neighbor not your coworker and not your family member or your employer.
ESU will provide you with those instructions regarding quarantine if and only if they apply to you.
If you are asked to quarantine as a result of exposure to a positive case, again, asked by ESU, please do not apply the quarantine guidelines that travelers follow. These are two separate quarantine and testing regimes; and the difference is that travellers are not considered confirmed positive cases.
For workplaces, we are finding that employers are making the decision to close their establishment, and possibly quarantine employees without pay, even though they have not been notified by the Health team that they must do so. We recognize it is an employer's choice to make but acknowledge, also, these decisions create hardships for many employees. In addition, they result in a lot of understandable concerns on the part of the 'worried well' and casual contacts which requires significant time and resources on the part of the Health teams to unravel.
In summary, I ask employers and employees to follow public health guidance, as each case, each circumstance is different; and where it is necessary, follow the advice of legal counsel.
In closing, I would like to briefly cover two issues which we have received many queries on in recent days.
We have had numerous questions regarding the British Airways crew member who recently tested positive. It is not our policy to discuss individual cases – this is confidential information. However, the ESU has completed a risk assessment, and have provided additional information and guidance to those persons who required it, and all appropriate public health guidelines have been followed.
I will also remind the public that the Quarantine (COVID-19) (No. 3) Amendment (No. 7) Order 2020 was gazetted today and, therefore with effect from tomorrow, those arriving without a pre-arrival test will be subject to a fee of $300. This fee will be assessed at the airport on arrival.
Thank You.
Update 8.14pm: Premier David Burt's full statement follows below:
Good Evening Bermuda, and welcome to the members of the media.
I am joined today by the Minister of Health, the Hon. Kim Wilson, who will be providing an update on the latest from her Ministry. Following the Minister of Health will be the Minister of National Security, the Hon. Renee Ming who will give an update from her ministry.
Following Minister Ming, I will discuss the decisions of the Cabinet meeting which took place on Tuesday, and support that will be given to those employees and businesses who have been negatively affected.
As we enter the season of celebration, one that normally involves dining out, socializing, and shopping, we are painfully aware that the protocols employed to counteract the coronavirus have caused challenges in the economy.
For retail businesses, a bumper Christmas shopping period can make up for weeks or even months of slower sales. For businesses like in-home bakeries, Christmas represents their busiest period of the year. Making puddings, mincemeat tarts, fruitcakes, farine pies, and many, other delectable Bermudian treats, generates much-needed income, especially for seniors who are the guardians of old, treasured, delicious Bermudian recipes.
Spending our time with family and loved ones; sharing our time with neighbors and those in need; and giving our time to help churches, organisations, and people who care for the homeless and hungry.
Time is the one gift that we all can give, and at the end of an unprecedented and challenging year, we all need to know that someone is thinking of us; and someone cares enough to share their time on us.
Since this recent surge began our teams at the Ministry of Health have been working flat out to control this current outbreak. They have gone above and beyond. The scale of numbers over the past few weeks have been frightening, and it has required the coordinated efforts of many to control this outbreak.
It is working. We are testing more people than ever before. Our numbers while still too high are falling. Our R number, for today has now fallen below 1, but our 7 day average is still higher than where it needs to be.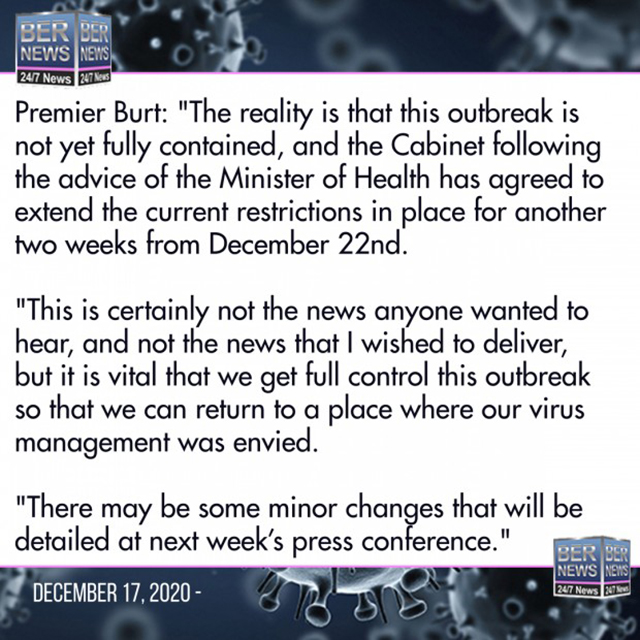 The reality is that this outbreak is not yet fully contained, and the Cabinet following the advice of the Minister of Health has agreed to extend the current restrictions in place for another two weeks from December 22nd. This is certainly not the news anyone wanted to hear, and not the news that I wished to deliver, but it is vital that we get full control this outbreak so that we can return to a place where our virus management was envied.
There may be some minor changes that will be detailed at next week's press conference.
A hasty exit from the restrictions could lead to us having to reimpose restrictions at a later date, and that is not something that any members of the Government wish to do.
We are actively managing the coronavirus, but I cannot stress how vital it is that we each do our part. The measures that we deployed have been targeted and they have been effective. However, we must continue to physically distance, wear masks, sanitise our hands, and downloading the WeHealth Bermuda app, if we do all of these things we will bring this outbreak under control.
There is no reason why we cannot emerge from this period of restriction, however it is essential that we cooperate with one another, cooperate with contact tracers, quarantine if advised, get tested if directed. We ALL have a role to play.
Assistance to those affected will be extended. Those who have been approved for benefits will received a 2nd 2 week benefit.
Assistance Paid – please go to gov.bm to apply.
Assistance to Business
During a press conference held yesterday afternoon, the Executive Director of the BEDC, Ms. Erica Smith announced that $1 million has been set aside to provide emergency grant relief for the businesses that have been impacted by mandatory closure and quarantine notices.
The funding will provide financial support to businesses that are members of the BEDC such as bars, nightclubs, member's clubs, and restaurants. The emergency grant will assist with the payment of the business' rent, utilities, social insurance, and health insurance premiums for employees.
To apply for the emergency grant, visit BEDC.bm and complete the application.
The grants given can range from $5,000 to $7,000 depending on the size of the business defined by its annual revenue generated over the last 12 months. The amount of funds allocated will also be determined by invoices and bills as part of the application process.
The BEDC is working hard to make sure the businesses that need the money receive the funds. They have expanded the existing COVID-19 Business Continuity & Sustainability Funding Programme launched in April. This programme has been expanded and the BEDC will consider all requests for financial support, including stimulus and innovative business ideas, and will use the available funds to support more small businesses that are in need.
Small and medium sized businesses are vital to Bermuda's economy, and as a country, we have to do all we can to support these organizations so they can weather the tough times and grow as the economy grows. The Government is happy to support these businesses and thanks the team at the BEDC for their continued work to support these businesses.
I want to touch on an announcement I made at a recent press conference. The Coco Reef hotel is offering a special rate of $79 per night plus applicable fees for residents who cannot quarantine in their homes. This rate is based on an eight night stay and only available for returning residents required to quarantine.
I will now move to the WeHealth Bermuda app.
As of this morning, almost 16,000 people have downloaded the WeHealth Bermuda smartphone app. That means almost a quarter of the entire island [which includes adults and children] have downloaded the app.
This is a very good start, I will urge those who haven't done so yet to download it. Visit the App Store or Google Play. You can find it by searching "WeHealth Bermuda."
Our families, our neighbours, our community depends on us to prevent the spread of the coronavirus. The WeHealth Bermuda app can help by providing anonymous exposure notifications to those who were close enough, for long enough, to have potentially been exposed to those who test positive for COVID-19.
As a reminder: when a person has received a positive confirmation, they will be given a randomized and anonymous code by the Ministry of Health. That person will then need to enter the code into the app on their phone, in order for WeHealth Bermuda to anonymously notify other WeHealth Bermuda app users.
WeHealth Bermuda does not use or collect personal information or track users' locations, these notifications will be completely anonymous. The technology behind WeHealth Bermuda has been designed to specifically protect app users' privacy and identities.
Instead of using personally identifiable information, the WeHealth Bermuda app uses secure Bluetooth signals to measure how long and how close app users were together. These Bluetooth signals do not carry identifiable data or information. They do not track your location. Your WeHealth Bermuda information and identity stays completely anonymous.
I downloaded the app on my phone during the testing stage. Since I've downloaded it I haven't had to do anything with the app. Once it is installed on your phone, there is nothing else to do.
Thank you to everyone who has worked to make the launch successful. Your hard work is truly appreciated.
If you have questions about the WeHealth Bermuda app, please visit www.gov.bm/wehealth or email covidapps@gov.bm.
We all look forward to celebrating the holidays. This year our celebrations will be different, as our family groupings may be smaller, we won't visit each other's homes as we normally would. Dropping off gifts may be just that – leaving them on the porch or by the kitchen door.
The goal for this holiday season is to ensure we don't spread the virus by moving outside of our social bubbles.
I urge our young people to not get together with their friends as they normally would at this time of year. Some have returned home already and many are returning this weekend. The temptation is to go and hang out with those you haven't seen since the summer. Don't. The simple message is, assume that every person you interact with could be a carrier of the coronavirus. Do not think only of yourself.
There are many in our community who are experiencing high levels of stress due to the impact of the pandemic, many are unemployed or worried about their jobs and the employment of family members. Others are caring for loved one. We are all facing high levels of stress. If you need help and someone to talk with, help is available. Call the Emotional Wellbeing Hotline – 543 1111. Someone will be there to help you.
The next COVID-19 press conference will take place next Tuesday December 22nd at 5:45pm.
Thank You.
Update 8.50pm: Minister Renee Ming's full statement follows below:
Good Evening Bermuda,
I wish to begin by speaking to matters to do with the Department of Corrections. This evening, the Ministry of National Security can advise that there are confirmed positive Covid-19 cases within the Department of Corrections. I can also confirm that all persons have been tested.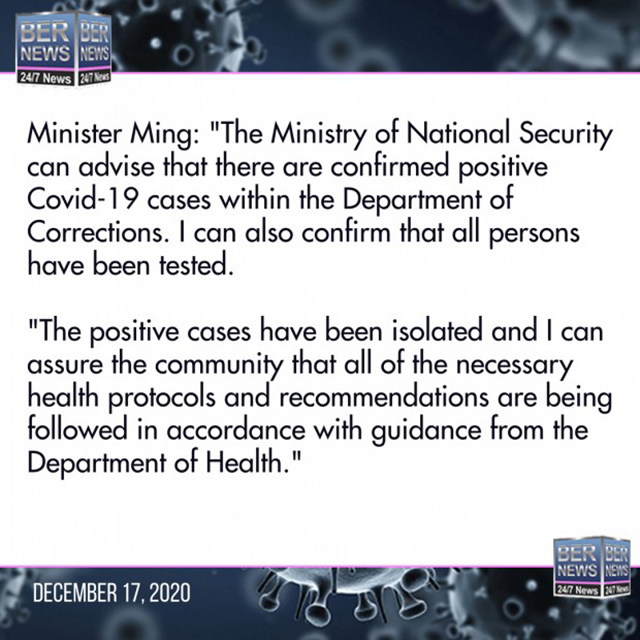 The positive cases have been isolated and I can assure the community that all of the necessary health protocols and recommendations are being followed in accordance with guidance from the Department of Health.
 
I want to stress this evening that the health and safety of the Officers, staff and inmates at the Department of Corrections is our paramount concern.
And while this is a concerning development, I want to assure the public that we are taking all of the necessary actions and precautions to ensure that those who work and reside at our correctional facilities are safeguarded and protected from the Covid-19 virus. 
 
As a note, the Department of Corrections has a specialised response team that is focused on dealing with the COVID-19 pandemic.
The team is tasked with ensuring that any risks associated with COVID-19 are mitigated in accordance with the department's pandemic plan.
I want to take this opportunity to commend our staff for working diligently under very stressful conditions throughout this pandemic.
We will continue to closely monitor the risk levels and put measures in place to ensure the wellbeing of all.
Switching to public safety, earlier this week, I addressed the recent crime related incidences in the East End which were cause for some concern for our entire community.
I'm referring to the home invasion and the three vehicle fires.
As I said in my recent public comments, few acts of crime can be more frightening than to have the safety and peace of one's home violently disturbed by someone brandishing a gun.
I can certainly empathize with the angst and anxiety that our community is currently feeling.
After 10 months of dealing with the COVID-19 pandemic, which has brought with it stressors that all of Bermuda is challenged with, the incidents of the past few days are quite disheartening.
This evening, I can offer the following update as it relates to the investigation into these incidents.
On Monday, December 14, I had an opportunity to discuss last weekend's home invasion and firearm incident with the Bermuda Police Service [BPS] and the Gang Violence Coordinator.
The BPS are treating the armed invasion as an attempted murder incident.
And as of today, I can report that the Serious Crime Unit is actively progressing investigations into recent events in St. George's, including the spate of car fires.
The Team is confident that a court appearance in the attempted murder incident is likely in the near future, and the BPS is working with the Director of Public Prosecutions [DPP] in this regard. I wish to assure our community these lawless acts by a few are being dealt with by those who are working around the clock to keep our communities safe.
In that regard, I wish to commend the Bermuda Police Service for working swiftly to arrest those responsible, as well as the Bermuda Fire & Rescue Service for their efforts in extinguishing the vehicle fires.
As we turn our attention to ensuring the community's compliance of the updated COVID-19 regulations, I wish to advise that the the BPS's COVID Compliance Team continue to be active in visiting various businesses, bars and restaurants to ensure that patrons and establishments are engaging in the appropriate health and safety protocols.
In addition to checking in on those licensed premises that remain open the Team is also making night-time visits to ensure that businesses and patrons are complying with the current curfew regulations in place. Additionally, next week the BPS will begin conducting their road sobriety checkpoints.
These will take place over Christmas and the New Year periods. So we're urging the public to be mindful and make sensible choices.
Lastly, as always, I wish to encourage our community to please exercise personal responsibly and common sense over this holiday period. While we understand that this is typically the time of year for hosting seasonal gatherings and "house-hopping", we simply cannot engage in this type of behaviour this year – for obvious reasons.
As the Premier and the Minister of Health have said repeatedly, please continue to keep your family and friend bubbles small. Please continue to follow the health guidelines to protect you and your families.
And finally, if you are in attendance at any establishment or location around the island and see any breaches of the COVID-19 regulations by persons or businesses – please do not hesitate to call 2-11 to report the violations.
Thank You.
Comments
comments