The Government will be holding a press conference this evening [June 29] to update the public on Covid-19.
Update 5.55pm: The Ministry received 7048 test results — spanning four days — and there were four new cases. Two imported cases and two local transmission with known contact. A total of 79,854 vaccines have been administered
Update 8.15pm: The Minister said: "Due to the transmissibility and severity of the delta & beta variant which are present on island, the large group's size will be reduced from 100 to 50 effective this Thursday 1st July. The mitigating change is a preventative measure to assist in evading spread"
At tonight's press conference they said there were 15 active cases: 6 of the Delta variant, 5 Beta and 4 Undetermined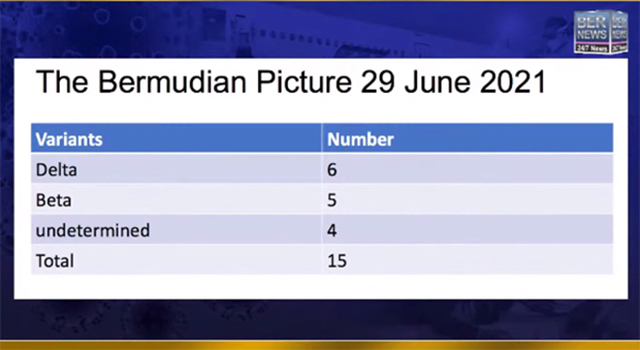 Update 7.47pm: Minister Dr. Ernest Peets' full statement follows below:
Good Evening Bermuda,
For the purposes of this evening's briefing, I will speak to the updated protocols for large group gatherings. As we advised the public recently, the responsibility for approving large group exemptions is now under my Ministry of Youth, Culture and Sport.
As of today [June 29], under the current Public Health Emergency measures legislation the maximum number of people allowed to gather is 100 persons.
However as indicated by the Minister of Health, this evening, on Thursday July 1, that number will move back to 50 people.
Therefore starting Thursday, requests for group gatherings larger than 50 people must be submitted for through the application online form, which can be found on the gov.bm coronavirus webpages under 'forms'.
I want to stress however, that while we are able to consider applications for large group exemptions, I'm reminding the public that Bermuda and the world are still experiencing a pandemic.
So, we will consider all applications, but remind prospective applicants that public health guidance must be followed. There is extensive guidance on how to apply for large group gatherings at www.gov.bm, but I will just highlight a few aspects of the process for our viewers:
Applicants must apply through the online form. The application must be completed in one session and takes at least 30 minutes or longer for complex events. Before you begin your application make sure you have all the information required, such as your site map. Incomplete applications can't be reviewed.
Following submission of the application, you will receive an automatic acknowledgment email with an ID number. Your application will be reviewed for completeness and you will be contacted if any information or documents are missing.
Once all the information is received, the Ministries of Youth, Culture and Sport and Health will review it and provide a response. Applicants should note that the Standard Large Group Conditions will apply to all large group exemptions, which include the use of SafeKey and collecting contact tracing information for all attendees.
For more information on Large Group Guidelines and conditions including SafeKey requirements, guidelines for the number of attendees including hosts, organizers, staff, volunteers, players, coaches, officials, spectators, vendors, food and beverage service, the public can visit www.gov.bm.
On a separate matter, I would also like to offer some comment on the recent matter concerning our national swimmers who were not able to gain certification to represent Bermuda at the Olympics.
The way this incident unfolded has been most unfortunate. The situation was politicised and the athletes were caught in the middle. As is common in these situations, there are at least three sides to a story and it saddens me to see the disappointment all around.
Nevertheless, I am confident that the Standards Committee has been consistent in the application of their criteria as voted and decided on in 2017.
I appreciate the disappointment fully; however, it is part of competition at any level, but in particular at this highest level of international representation.
I know Bermuda can get beyond this and certainly look forward to our athletes' continued development as we move forward.
Finally, I'd like to close by highlighting the upcoming Cup Match Classic, which is scheduled to take place at the end of July.
Cup Match is a truly special time for us as a community and as a Country.
It's a time of unity, camaraderie, national pride and of course, the reigniting of friendly rivalries between Somerset and St. George's fans.
It's also a time when the richness of our culture and heritage is on full display.
Sadly last year, for the first time in our history, Cup Match could not take place due to the effects of the pandemic.
But this year, thankfully, the two Clubs were able to come together to ensure that our Annual Classic could happen for our Country.
Ultimately, the Ministry of Youth, Culture and Sport is very pleased with this outcome.
And in less than a month, Bermuda will celebrate one of the most anticipated sporting events and holidays on the local calendar – Cup Match.
We know that it takes significant planning, preparation and organising in order to host an event of this magnitude.
For our part, we are working with the organizers to provide the support needed to help make the Annual Classic possible.
This includes providing funding and the necessary approvals to allow our two-day national past time to take place.
Yesterday, I was pleased to meet with the St. George's Cricket Club leadership, members of the Bermuda Police Service and various government departments to discuss how the Government can support SGCC as it prepares to host Cup Match.
Among the topics discussed were SafeKey requirements, numbers of attendees, venue logistics, Covid-safety protocols and club facility and field preparations.
Yesterday's meeting is part of a series of meetings being held with the St. George's Cricket Club and our government and community partners.
And we are we are committed to working with President Neil Paynter and the SGCC to ensure a successful event for all to enjoy.
On behalf of the Ministry we greatly look forward to recognizing and honouring the historical significance of this important holiday, which includes two days of great cricket being played and the observances of our Emancipation and Mary Prince Day holiday.
Thank You.
Update 8.02pm: Minister Kim Wilson's full statement follows below:
Thank You Premier, and Good Evening Everyone.
The Ministry of Health received 7048 test results since the last update, and four [4] were positive for Covid-19. This gives a test positivity rate of 0.1%.
These results are from testing done on the following dates:
Thursday, June 24: 2 positive out of 2051 results [0.1% positivity]
Friday, June 25: 0 positive out of 1902 results [0.0% positivity]
Saturday, June 26: 2 positive out of 1750 results [0.1% positivity]
Sunday June 27: 0 positive out of 1345 results [0.0% positivity]
Two of the new cases are classified as imported with details as follows:
1 resident who arrived on British Airways BA 159 from London on 22 June 2021 and tested positive on their Day 4 test
1 non-resident who arrived on American Airlines AA 2044 from Charlotte on 24 June 2021 and tested positive on an outbound test
The other two new cases are classified as local transmission with known contact as they are associated with a known case.
Additionally, since the last update, there were two [2] recoveries and no deaths.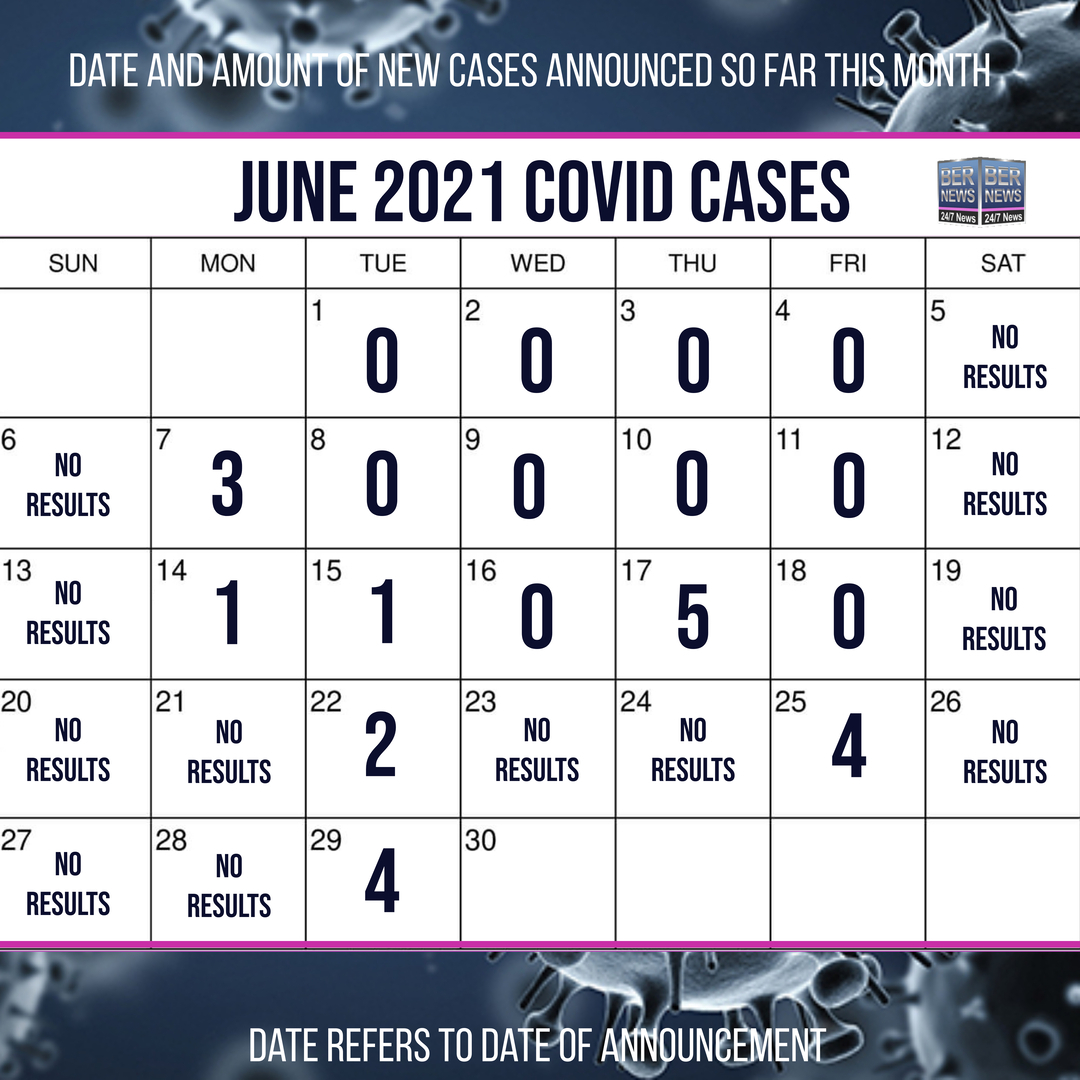 There are currently 15 active cases, of which;
15 are under public health monitoring and;
None are in the hospital.
Since March 2020, Bermuda has recorded 2514 total confirmed cases of Covid-19; out of those, 2466 persons have recovered, and sadly, there have been 33 Covid related deaths.
The source of all cases is as follows:
318 are Imported
2193 are classified as local transmission of which:

1697 are Local transmission with known contact/source and
496 are Local transmission with an unknown contact/source

3 are Under Investigation
As investigations proceed, transmission categories may change.
The seven-day average of our real-time reproduction number is less than 1.
Bermuda's current WHO country status remains "Sporadic Cases".
Before I give an update on the vaccination programme, I would like to send my heartfelt condolences to the family of Mr Ra-Che Williams, who unexpectedly passed away late last week. Mr Williams was a member of the Ministry of Health Covid Testing support team stationed at the L.F. Wade Airport and had been since his return from university last September. He served his country as part of the Ministry of Health team and we are ever so grateful.
I will now provide an update on our vaccination programme…
We have completed the twenty-fourth full week of vaccinations. Since January 11th Bermuda has administered a total of 79,854 vaccinations – a figure that rises to 80,722 if you include vaccinations on Sunday June 27th and Monday June 28th as well!
Of the 79,854 vaccinations given as of June 26th:
52% are women, and,
48% are men.
81.8% of all residents over the age of 65 years have had at least one vaccination and 79.1% are fully immunized.
To date, 64.4% of the population has been vaccinated [1 dose], and 60.3% of the population has been immunized [2 doses].
The vaccination centre at the Bermuda College will close as of tomorrow, June 30th. Additionally the last day to get an AstraZeneca vaccine at the Bermuda College is tomorrow 30th June. Further we invite nonresidents that are interested in getting an AstraZeneca vaccine to attend the Bermuda College tomorrow between 9 am and 1 pm. A first dose AstraZeneca can be provided however a second dose of AstraZeneca is not guaranteed. However, a comparable vaccine can be provided for second dose. The nonresidents must provide proof of arriving to Bermuda before 20th June 2021.
The KEMH Vaccination Centre will remain open Monday to Friday from 4 pm until 8 pm, and Saturday and Sunday from 8 am until 12 noon for appointments and walk-ins. Please visit gov.bm to make an appointment.
Although restrictions have relaxed significantly since June 20th, it is still recommended that persons remain vigilant and err on the side of caution as much as possible. Covid-19 continues to be a major threat globally and cases are rising significantly in many other countries.
Further, due to the transmissibility and severity of the delta and beta variant which are present on island, the large group's size will be reduced from 100 to 50 effective this Thursday 1st July. The mitigating change is a preventative measure to assist in evading spread of the virus.
Persons who are vaccinated should also remain vigilant because the vaccine does not guarantee that persons won't catch Covid-19. The vaccine is highly effective in protecting severe illness and death but the level of effectiveness does vary across the Covid-19 variants.
I strongly suggest that you do not use international news sources as a guide for the Covid-19 situation here in Bermuda. Our policies are specifically designed for the Bermuda context, and although they may be different from those of other countries, they are deemed most suitable for the safety of our community.
For travellers, it is important that you take extra care when filling out a Travel Authorisation before intended travel and have all documents ready before starting the TA process.
This includes Covid-19 PCR test results, vaccine certificates and hotel/exemption confirmations, if applicable.
The most common reason a TA is being rejected for residents is that they do not upload their vaccine certificates.
Additionally, TA's are being rejected because travellers PCR test results do not meet the approval criteria. For example, the test is an antigen test, or the result document does not contain the letters "PCR" on it.
The Bermuda Government will email your travel authorisation to you when it has been approved. So, you must provide the correct email address and check your inbox, spam or junk mail.
The Covid-19 helpline is operating from 8 am until 8 pm, seven days a week. In the last week, the volume of calls to the helpline has increased tremendously and additional staff has been added to answer calls as well as answer emails. If you do not have all of the information and your TA is rejected, please call the Covid-19 helpline at 444-2498 for assistance immediately.
Although some travelers are experiencing issues with Travel Authorisations, TAs have been a necessary tool in our border protection framework for the last year. I appreciate everyone's patience as we navigate through the recent additions to this process.
I want to remind returning Bermudian students who left the island between the periods of 1 July, 2020 and 6 May, 2021, who are required to quarantine at a designated facility, the cost of their stay will be covered by the Government. More information can be found on the Government portal, gov.bm.
I am pleased to report that our care homes have now moved into Phase 3 of visiting and activities. This move allows increased engagement with care home residents while mitigating risks tied to our current national Covid-19 status.
More specifically, indoor onsite, as well as off-site visiting, are now authorised. However, you must schedule your visits to enable the home to ensure appropriate space and support as required, so please ensure you call in advance and coordinate with the care home. In addition, appropriate PPE and physical distancing must be maintained during visits and off-site activities considering the risks to the resident, such as immunisation status or the location and type of off-site activity.
Other changes to care home restrictions include enabling direct care staff in care homes to now work onsite at one other healthcare location based on being immunised or participating in a 3-day testing regime. The purpose of easing the cross-site work restriction is to facilitate care homes increasing their staffing compliment, especially in light of the phase 3 changes. We move slowly and cautiously with easing restrictions in care homes due to the impact Covid-19 can and has had in these settings and how quickly our status can potentially change due to variants. Administrators will be communicating with residents, families and staff regarding the various changes. The Care home Covid-19 Guidance, version 2 is being updated and will be republished shortly.
In closing, I want to remind the public that the Epidemiology and Surveillance Unit in the Office of Chief Medical Officer is managing an outbreak of Covid-19 in the Swizzle Inn Restaurant in Hamilton Parish.
If you were at the Swizzle Inn between Tuesday, June 15 and Thursday, June 24, please get tested even if you have been vaccinated. You should also monitor yourself for symptoms daily for 2 weeks from the last time you were at Swizzle Inn. Symptoms of Covid 19 include cough, shortness of breath or difficulty breathing, fever, sore throat, new loss of taste or smell, muscle or body aches, headaches, congestion, nausea, vomiting and diarrhea. If you develop any symptoms, even minor cold symptoms, please stay home, quarantine yourself and keep away from others, seek advice from your GP, or you may contact case management at Covid19casemanagment@gov.bm."
Please remember, each of us must do our part to stop the spread of the coronavirus. It is essential that we all follow Public Health guidelines, as I stated before, and wear a mask, practice good hand hygiene, maintain physical distance and download the WeHealth Bermuda app. Do the research, talk with your doctor and make an informed decision about getting the Covid-19 vaccine. There is a wealth of information about the vaccines online at gov.bm.
Stay safe, Bermuda, and don't forget to avoid the three "Cs": closed spaces, crowded places and close contact settings.
Thank You.
Update 8.37pm: Premier David Burt's full statement follows below:
Good Evening Bermuda,
I begin tonight by offering my heartfelt condolences to the families of Ra-Che Williams and Quan-Marley Lowe who lost their lives recently. It is saddening to lose any life in our community, but the loss of young life bears a special sorrow.
While I know that my words alone are not enough to make up for the loss that the families and friends of these young men are dealing with, I wish for them to know that they are in our thoughts and in our prayers.
For well over a year now, we have consistently been reminded of the preciousness of life. We have worked hard and collectively sacrificed to protect our loved ones, our friends, the vulnerable, and those who are working on the frontlines.
Our sense of unity and social responsibility propelled us through some of the darkest days last year. We did this despite the fact that it was uncomfortable and despite differences of opinion. We came together in the name of defeating the coronavirus and protecting Bermuda.
That goal has not changed and the Government cannot shy away from the responsibilities and duties that we have sworn to uphold. We remain dedicated to protecting the people of this country, even if it means making unpopular decisions.
Today there was a protest at the grounds of the Cabinet Building, and I with my Cabinet colleagues went outside to accept a document submitted by the group for the Government's consideration. Peaceful demonstrations such as this are the cornerstone of a free society, and I am proud to lead a country where persons have the right to assemble for causes they support, and respect the rights and views of those who may have been in attendance today.
In order to continue to move beyond the pandemic, difficult decisions will still be necessary, and they, like mandatory quarantine, will not be decisions everyone agrees with. But, I and the Ministers of your Government will continue to make those difficult decisions in the best interest of the country. Strong leadership will be necessary in the face of criticism and differing views but the Government will remain focused to see Bermuda through the challenges ahead.
Strong leadership does not mean that we will make decisions without listening to the concerns of the people, but that we will listen as intently as ever to you in order to lead and to make decisions effectively. This not only includes listening to your concerns surrounding the coronavirus but also means addressing the social and economic issues that you elected us to tackle on October 1.
The Government is not perfect, as we are made up of humans, and we will make mistakes. We recognize the issues that took place with the revised travel authorization process when the mandatory quarantine commenced on June 20. We heard the frustrations and the obstacles faced by Bermudians who were traveling, and have worked diligently since then to improve our processes while doing what is necessary to keep our border secure.
And as was indicated last week I apologise for the challenges that were encountered.
Despite personal opinions, including my own, the science and data show that supervised quarantine is a necessary measure to protect our island from dangerous variants that could threaten the freedoms that we have worked so hard to get back. This progress cannot be taken for granted – as we have seen many countries who lacked border protections forced to move backward and be forced to re-implement restrictions.
Tonight, I am joined by the Minister of Health, The Hon. Kim Wilson, the Minister of National Security, The Hon. Renee Ming, the Minister of Youth, Culture & Sport, Dr. the Hon. Ernest Peets, and the Government's Chief Medical Officer Dr. Ayo Oyinloye.
First, we will hear from the Minister of Health, who will provide the country with an update on our latest coronavirus test results, vaccination progress, and changes to large group sizes as agreed by the Cabinet, as well as other matters from her Ministry.
Minister of Health…
Thank you Minister, and thank you to your team at the Ministry and all of the teams who continue to work on the frontlines of this pandemic which is not over. While it is disappointing to now have the Delta variant on our shores, it solidifies our need for vigilance. We are fortunate to have a sound and accessible testing programme for anyone who wishes to know their status. I encourage Bermudians to take advantage of this, get tested, know their status, and encourage their family and friends to do so as well.
Our strong testing regime has been possible thanks to the hard work of so many Bermudians, many of them from the Government's Molecular Diagnostic Laboratory. MDL serves as an excellent example of how publicly owned services can help to reduce the cost of healthcare in Bermuda.
To give us more insight into the Beta and Delta variants I now invite the Government's Chief Medical Officer Dr. Ayo Oyinloye to provide us with his informative presentation which will help us to better understand what we are dealing with here in Bermuda.
CMO…
Thank you very much Chief Medical Officer for that very informative presentation.
Next to share information with the people of Bermuda will be the Minister of National Security who will provide an update from her ministry and also an update on the details regarding supervised quarantine…
Minister Ming….
Thank you Minister Ming, and thank you and your team at the Ministry of National Security for managing this very important operation. It is necessary in this moment while dangerous variants continue to spread around the world.
By protecting ourselves at our borders, we also protect our current freedoms with very limited restrictions, we protect local businesses and jobs, and we protect our healthcare system. We also allow ourselves to enjoy the things that we have missed such as enjoying our local sports events and traditions.
In keeping with sport, we will now hear from the Minister of Youth, Culture, and Sport on large group exemptions, as well as changes to cricketing regulations..
Thank you, Minister Peets. I am sure I can safely speak for many in Bermuda when I say that it is a joy to have cricket back and to be able to enjoy it safely. This is yet another sign of our collective progress, that we can return to the events and activities that we have missed for some time, using tools like SafeKey to enjoy them with reduced risk of coronavirus, and a peace of mind that is so valuable to an enjoyable experience while the pandemic is still a part of our reality.
I look forward to the cricket season continuing, I look forward to Eastern Counties, and I certainly am looking forward to Cup Match.
As I said earlier tonight, and as the Government has said since January, vaccines remain the most effective tool we have against the coronavirus. We have been fortunate to have an outstanding vaccination programme, thanks to the hard work of many of our public officers and healthcare professionals, and volunteers.
We have seen 64% of the total population and 77% of the eligible population make the personal choice to get vaccinated, which combined with strong regulations helped to reduce local transmission and get us to a place where those regulations could be relaxed.
The Government's position remains, as the CMO said, that getting vaccinated is a personal choice and that persons should do so only after speaking to their doctor first. Please, I implore you to speak to your doctor before making the choice to get vaccinated to ensure that it is right for you and to minimize any possibility of an allergic reaction.
With the arrival of over 4,000 doses last week, there is an opportunity for anyone who has not received the vaccine yet to do so and to help get us to our goal of 70% of the population being fully immunised.
We have seen that as vaccinations increase, the effect of coronavirus decreases, and Governments grow in their confidence to relax restrictions, allow for more activity, and begin their return to normal as we have here in Bermuda.
To those who have already taken the steps to be vaccinated, I thank you for doing your part. To those of you who have chosen not to or cannot, but make the effort every day to follow the health guidance to protect you and others I thank you as well for all that you do.
In addition to vaccines, we must continue to manage and balance the risk for our entire community. We have seen an end to the majority of restrictions, but we have wisely held on to our indoor mask mandate as we must keep protections in place where there is an increased risk such as indoor spaces. We will continue to be cautious in our decision making, which will be led by the data.
The reduction in group sizes from 100 to 50 is a precaution, due to the new variants that the CMO outlined, it is important that we do not throw caution to the wind and rush on the road to normality which could set back our progress. We know that the pandemic is not yet over but we also know that as a country we are in a very fortunate position, and in a place where we can enjoy our summer, and spend time with friends and family, and enjoy our traditions. In order for this to continue, we must work together, recognize our collective priorities, and do what we can to achieve our goal that is a country united, moving beyond the pandemic.
Thank You…
Comments
comments