The Government will be holding a press conference this evening [May 11] to update the public on Covid-19.
Update 7.57pm: Minister Kim Wilson's full statement follows below:
Unfortunately, I begin my remarks today with the sad news that Bermuda has recorded another death of someone who was Covid positive. My deepest sympathies to the bereaved family and friends.
On behalf of the Government of Bermuda, I am sorry for your loss. We will keep you in our thoughts and prayers.
The Ministry of Health received 1155 test results since the last update, and one [1] was positive for coronavirus. This gives a test positivity rate of 0.1%.
This new case is classified as under investigation and is a resident with no currently identified link to other known cases or history of travel in the past 14 days.
Additionally, since the last update, there were 12 recoveries.
There are currently 196 active cases, of which;
189 are under public health monitoring and;
Seven [7] are in the hospital, with two [2] in critical care.
Since March 2020, Bermuda has recorded 2462 total confirmed cases of Covid-19; out of those, 2234 persons have recovered, and sadly, 32 are Covid-19 related deaths.
The source of all cases is as follows:
298 are Imported
1967 are classified as local transmission of which:

1559 are Local transmission with known contact/source and
408 are Local transmission with an unknown contact/source

197 are Under Investigation
As investigations proceed, transmission categories may change.
The seven-day average of our real-time reproduction number is 0.58.
Bermuda's current WHO country status remains "Community Transmission".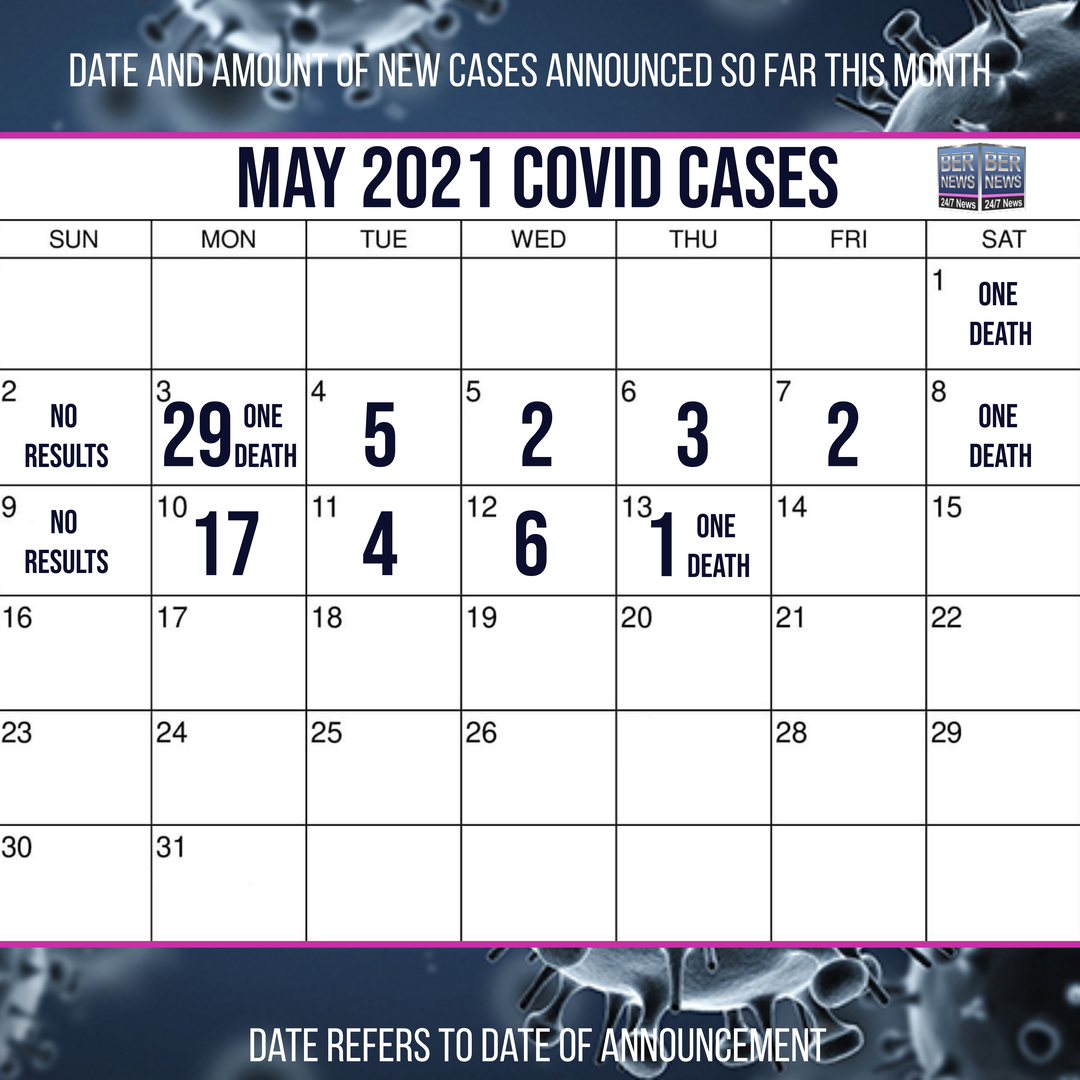 Although it is very disheartening to have another death, I am encouraged by the news that more and more people are recovering. Our hospitalizations are down, and we have fewer confirmed cases of the coronavirus. Our numbers are going in the right direction.
Let's all continue to be vigilant. If we continue to follow the rules, we will get to that safe place where we can return to more normal activities.
I will now provide an update on the vaccination programme…
We have completed the seventeenth full week of vaccinations. From January 11 to May 8, 2021, Bermuda has administered a total of 62,161 vaccinations – a figure that rises to 63,994 if you include vaccinations administered between Sunday May 9th and Wednesday May 12th as well! – and this is excellent news.
Of the 62,161 vaccinations administered for the period we are reporting on, which ends May 8;
52% are women, and,
48% are men.
Good progress continues to be made in vaccinating our population and, especially, our most vulnerable.
79% of all residents over the age of 65 years have had at least one vaccination, with 67% being fully immunized.
To date, 53% of the population has been vaccinated [with 1 dose], and 44% of the population has been immunized [with 2 doses].
We are making excellent progress. However, time is running out.
Bermuda's current supplies of Pfizer BioNTech and AstraZeneca vaccines expire on June 30. The Pfizer vaccine requires three weeks between doses. This means we can give the last first dose on June 8. The AstraZeneca vaccine can be given up to 12 weeks after the first dose.
Therefore, the first doses of AstraZeneca will be administered until June 30, with the second dose administered from a new batch of vaccines received from COVAX. We currently have enough of the Covid-19 vaccines available in Bermuda for anyone who wishes to be vaccinated. I strongly encourage those that wish to get vaccinated to do so.
There are people in our community who have said that they probably will or that they do plan to get vaccinated but have not done so – now is the time.
Anyone wishing to get vaccinated can go to Bermuda College, which is open Monday to Friday, 9:00 am until 1:00 pm for walk-ins.
Additionally, appointments at the College are available between 11:00 am and 1:00 pm.
Also, the Bermuda Hospitals Board vaccine centre is open daily between 8:00 am – 8:00 pm for anyone with an appointment.
We have also made it easy to get vaccinated by going out in our community. There are mobile vaccination centres available three times a week in various locations around the island.
On Sunday, May 16, our Close To Home mobile vaccination programme will be at Victor Scott Primary School, Glebe Road, from 10 am – 2 pm.
Next week our mobile vaccination programme will be at the following locations:
Tuesday, 18-May, Penno's Wharf in St. George's from 10 am – 2 pm
Thursday, 20-May, The Southampton Princess from 10 am – 2 pm
Saturday, 23-May, TCD in Hamilton from 10 am – 2 pm
These sites are for people who have not yet registered for the Covid-19 vaccine, do not have access to the internet, and prefer to register in person or have additional questions about the Covid-19 vaccine. There will be doctors on site to answer any questions you have, and you don't need an appointment. You can just show up and roll up your sleeve.
For those people who want to hear about the Covid-19 vaccine from a trusted source, we recommend the Close to Home programme as an ideal opportunity to learn more.
A mini-bus service is available to take people from their homes to the mobile vaccination sites and back to their homes afterwards.
Anyone wanting to use the service should call 533-5903 between 10 am and 1:30 pm.
As part of the Ministry's outreach, we are very pleased to report that yesterday a team from the Bermuda College vaccination centre vaccinated 10 homebound people with the AstraZeneca Covid-19 vaccine in the west of the island – from Southampton to Paget. This was done in partnership with St John's Ambulance who kindly donated the use of their emergency response car – thank you!
The team plans to go out again this Saturday morning to vaccinate those who have requested home visits in the east of the island from St David's to Devonshire.
Anyone who feels they need a home visit for the Covid-19 vaccine, please contact vaccine@gov.bm, and the team will arrange a visit in the coming weeks.
As many people will know, the Food & Drug Administration and Health Canada have both approved the Pfizer vaccine for children aged 12 to 15 years old. Parents are encouraged to register their appropriately aged children on gov.bm so the Ministry of Health can appropriately gauge interest in being vaccinated.
As the Memorandum of Understanding between the Bermuda Government and the Foreign, Commonwealth & Development Office specifies the vaccine can be used on youth aged 16 to 18, we are working on a resolution of this issue before we can begin to administer the vaccine on the lower age group.
Also, there have been questions regarding the AstraZeneca vaccine being administered to persons under 30 years of age. The Chief Medical Officer is available for technical questions on this, but the Bermuda Advisory Committee on Immunisations has approved the use of this vaccine on that younger age group, taking into consideration the benefits, incidence of adverse effects and the availability of alternatives.
As a reminder, we are in Phase 2 of our Roadmap to Re-opening, and to progress to phase 3 on June 6, the onus is on us. We have to be extremely careful, follow all of the guidelines and keep each other safe. Now is not the time to stop wearing a mask, stop physical distancing, and mixing households unnecessarily . . . that is how this virus has an opportunity to spread.
It is essential that everyone wear a mask in all indoor settings and outdoors if you cannot maintain physical distance.
Your mask should completely cover your nose and mouth. The nose and mouth are the primary confirmed sources of transmission of the coronavirus.
We continue to get reports of people not wearing a mask when they should, or wearing their mask incorrectly. This is cause for concern, for all of us. Please, please, please people. We do not want to see a spike in positive cases. We do not want to have to resume harsh restrictions. We do not want more people to die.
Wearing a mask is simple, but it achieves so much.
Remember, I wear a mask to protect you; you wear a mask to protect me.
I also want to remind everyone to keep their bubbles small and stay in them. The mixing of households is not prohibited, but it is strongly discouraged.
If you cannot avoid mixing households, keep it to a minimum i.e., small, intimate bubbles. Whether at home or work. Your bubble is not always as small as you think it is. You cannot be sure who those people in your bubble have been around.
Just switching gears for a moment, we have had quite a few questions about dance studios/schools. During this phase, they:
 Must continue to follow the Public Health guidance for Gyms, Exercise Facilities, Health Clubs and Dance Studios – this information can be found on gov.bm.
 Dance studios must ensure that each class does not exceed the maximum of 10 individuals – to include the students and instructors [e.g., 8 students and 2 instructors or 9 students and 1 instructor].
They must ensure that all students and instructors wear their face masks into and out of the building, during classes, and in hallways/stairways.
And they must ensure that occupied rooms are well-ventilated at all times.
It is recommended that all students arrive dressed for their classes, if possible, to avoid crowding in changing rooms.
In closing, I want to acknowledge our care home facilities and their dedicated staff.
In February of last year, the Bermuda Government implemented heightened restrictions for care homes to protect the residents and staff from the Covid-19 virus. The restrictions included:-
1. Physical distancing,
2. Twice daily screening for Covid-19 symptoms, i.e. temp checks
3. Mask and face shield wearing and increased use of PPE
4. No visitors to the care home
5. No visits outside of the care home.
6. Monthly Covid testing
Some of these restrictions forced technology changes, with residents quickly adapting to telephone and zoom visits.
These restrictions were intended to keep both residents and staff safe. However, the restrictions contributed to loneliness, helplessness, and boredom in care home residents in some instances.
This was an unintended consequence as care home staff worked tirelessly to enhance the quality of life among their residents under their charge.
The care homes are to be commended for consistent compliance in response to routine testing, exposures to positive Covid-19 cases, and outbreaks.
Residents and staff have had to change their way of life inside and outside the care homes. They have innovatively addressed staff shortages due to quarantine orders, school closures, fear of transmitting Covid-19 virus to their own families and shielding the residents.
There is some vaccine hesitancy in the care home industry among staff and residents, as there is elsewhere in the Bermuda community. We know and understand the decision to vaccinate is entirely a personal choice. We urge staff to seek credible sources for information about the Covid-19 virus and the vaccine, along with the counsel of their personal physician regarding their concerns in making informed decisions about vaccinations. Care home residents can seek counsel from the care home physician or their own physician and be assessed for vaccine eligibility.
We know science has demonstrated that the Covid-19 vaccination may not prevent transmission of the virus in the care homes, but it will reduce the severity of the resultant symptoms. Unfortunately, care homes accounted for 60% of Bermuda's Covid-19 deaths last year and 11% so far this year.
I would like to thank care home residents and staff who have persevered in the most difficult circumstances over the past year. I thank those who participate in the regular testing needed to ensure early detection of the virus and those who have been vaccinated and now have an added layer of protection for our most vulnerable.
Reaching the point of further relaxations requires each of us to do our part in stopping the spread of the coronavirus. Follow Public Health guidelines, wear a mask, practice good hand hygiene, maintain physical distance and download the WeHealth Bermuda app. Do the research, talk with your doctor and make an informed decision about getting the Covid-19 vaccine.
Stay safe, Bermuda, and Thank You.
Update 8.55pm: Premier David Burt's full statement follows below:
Good Evening Bermuda,
 
Firstly, I extend my heartfelt condolences to the families of the two persons who have passed away since our last press conference due to the coronavirus. Our thoughts and prayers are with their family and friends, and we continue to pray for those who are in hospital battling this disease.
 
I am joined tonight by the Minister of Health, the Hon. Kim Wilson who will provide an update to the country on our latest coronavirus test results, vaccinations statistics, including our Close to Home mobile vaccination initiative, and other matters from the Ministry of Health.
 
Following the Minister, I will reiterate key points regarding the mandatory supervised quarantine for non-immunised travellers, and other matters.
 
We will also be joined tonight by the Government's Chief Medical Officer Dr. Ayo Oyinloye, and the Bermuda Hospital Board's Chief of Staff, Dr Wesley Miller.
 
First we will hear from the Minister of Health…
 
Thank you Minister…
 
I thank you and your team at the Ministry of Health for your continued hard work and dedication to our country's coronavirus response. Thank you to our teams at the vaccination centres, the testing teams at Perot, Bulls Head, Penno's Wharf and Star of India, our Lab teams, doctors, nurses and hospital staff. I also thank all of those involved in our Close to Home mobile vaccination initiative, which has helped make the vaccine even more accessible to those who choose to take it.
 
As the Minister of Health outlined, 65% of our eligible population have now received at least one dose of the vaccine. This means that two-thirds of adults who can be vaccinated have made the choice to do so, including the 868 people who have taken advantage of mobile vaccinations since they began. 
 
Thanks to the work of our vaccination teams and the people of Bermuda our country is 7th in the world for vaccinations per capita. We are grateful for what we have achieved thus far, and that our vaccination numbers will continue to increase and move us closer to our goals of Community Protection for Bermuda.
 
The Government continues to encourage persons to speak to their doctor to find out if the vaccine is medically safe for you and discuss any questions you may have. We respect and appreciate that getting vaccinated is a personal choice, and should you decide to do so, we will continue to make it easily accessible for you. 
 
Whether you chose to get vaccinated or if you chose not to, we all have a crucial role to play to reach Community Protection, eliminating local transmission and protecting our country from dangerous variants that could enter through our borders. 
 
We have seen a decrease in new and active cases, and have successfully moved to Phase 2 of our reopening strategy. We have seen our local transmission 14 day average drop from 25 cases two weeks ago to 6 as of yesterday. However, we are still seeing unlinked cases reported, and therefore we must not allow ourselves to become complacent and delay our move to Phase 3, which is envisioned to begin on June 6th.
 
This is an important point. We still have a lot of work to do, and as the Minister of Health said we are not out of the woods yet.
 
Please continue to take advantage of the free testing available to everyone at Penno's Wharf in the East, and Star of India in the West to know your coronavirus status. Download the WeHealth app which can alert you of potential exposure, and if used by entire workplaces can prevent businesses from having to shut down and prevent persons not being able to work. 
 
The Government will continue to support businesses and persons affected by mandatory closures. Persons who cannot work can still apply for the unemployment benefit at uba.gov.bm.
I remind businesses affected by mandatory closures to go to bedc.bm to apply for the Covid-19 Emergency Grant for small & medium-sized businesses. The Emergency Grants helps to cover immediate costs associated with recurring expenses including rent, utilities, social insurance, and health insurance premiums for employees.
 
As of May 5th, we have implemented stricter rules at our border to protect Bermuda from dangerous variants that exist in other countries. Currently all non-immunised travelers entering Bermuda will be required to quarantine for 4 days at home or on their tourism property pending the receipt of their Day 4 negative test. 
 
All fully immunised travellers with a valid negative pre-test must quarantine until they receive their arrival test. Immunised travellers without a pre-test must quarantine at home until receiving a negative Day 4 test. All arriving travellers will continue to be tested on day 4, day 8 and day 14 following their arrival test.
 
From June 6, mandatory supervised quarantine for all non-immunized travellers will come into effect to strengthen our protection at our border against dangerous variants. Many members of the public have reached out to ask for clarification on who is exempt from supervised quarantine so I will reiterate the key points from the Minister of National Security's announcement last week regarding exemptions.
 
The following persons are exempt from mandatory supervised quarantine in a designated facility and therefore are allowed to quarantine at home:
1. Minors aged 17 years or younger travelling alone, parents travelling with a child 4 years old or younger.  
2.  Senior citizens aged 65 years or older will be able to apply to quarantine at home.
3.  Persons who have a medical certificate from their Doctor, persons who are certified for essential medical travel & persons who are considered to be an essential medical companion for persons travelling for medical treatment will be able to apply to quarantine at home.
4. Residents who left Bermuda before May 6 and are unable to meet the requirements to be exempt due to the inability to access vaccinations overseas. This would apply to students or other Bermudians who are residing overseas temporarily and are returning to Bermuda on or after June 6th and therefore are unable to comply. Students or residents who cannot access vaccinations overseas, will not be required to pay for supervised quarantine and can apply to quarantine at home.
5. A maximum of 2 parents or guardians escorting a minor to an educational institution will be able to apply to quarantine at home as this travel is considered essential travel akin to accompanying a family member for medical treatment.
If you do not fall under one of these categories, and are not fully immunised you will be subject at this time, to mandatory supervised quarantine from June 6th at your own expense. The Cabinet will consider final conditions, and will make the final announcement regarding supervised and unsupervised quarantine at our press conference on Tuesday, There is still feedback on certain things that we want to consider, and ensure we addressed every concern that is there.  
The Government does realise that not everyone agrees with this policy, but what we can all agree on is that we want our schools and businesses to stay open, we want to be able to gather safely with our family and friends, and we want to see an end to all restrictions. It is clear that our country's emotional health, our mental health, and our financial health cannot afford another lockdown, and that is why it is vital for us to take strong actions at our border.
To dispel some misinformation that has been spreading….The Government of Bermuda has never said that the persons who are not vaccinated must have their hotel stay paid for in advance of their departure from the island or they will not be allowed to leave. This misinformation is dangerous and only sows division – at a time that this country needs unity. I understand it makes good marketing for a protest, and the lies are effective in getting people riled up, but it is not helpful as it is false and will cause unnecessary division in our community. 
What the Minister of National Security said last week was that persons will be required to pre-pay for their accommodations, and there will be penalties if the prepayment does not happen. That is not prior to departure, it is prior to return to the island. Full details will be outlined by the Minister of National Security when it comes to quarantine facilities, and the Minister of Health when it comes to exemptions at our press conference next week. 
We can also agree that we want to save lives, and avoid more families having to mourn the loss of a loved one due to the coronavirus.  Protecting ourselves at our borders and keeping dangerous and deadly variants off of our shores can help us achieve those aims. Unity, and togetherness can help us achieve those aims. Though these decisions are difficult, the Government believes these are the best options and actions available to prevent dangerous variants from entering our country and setting us back as we have seen take place in many other countries around the world.
I also recognise there are growing concerns around vaccine status discrimination. I reiterate that vaccinations are a personal choice, and outside of the protections that are required at the border to keep new Dangerous variants out of Bermuda that could lead to another shutdown, there shouldn't be different treatment locally. The Government has heard of some reports of businesses who have denied entry based on vaccinations status – and we will be issuing proper legal guidance to all at Tuesday's press conference. 
While the Government must make difficult decisions in the interest of public health, to eliminate local transmission and protect the country from dangerous variants, we will always support a person's right to choose whether or not they wish to get vaccinated. This includes in the workplace where the law does not allow employers to demand that their employees be vaccinated. In all workplaces we want to make sure there is safety, and there will be further discussions with employers on how we make sure that testing can augment a safe environment like what is taking place at the hospital.
We are blessed to live in a diverse and free country. A country where each person has the right to express their views, their concerns and their beliefs. Even when our opinions differ,  we must remember that the current battle that we are in is not between one Bermudian and another. The battle is Bermuda united against the coronavirus. The only way we can continue to move beyond the pandemic is to work together, unified in our efforts to keep our country moving toward the end of restrictions and back to the normality that we all are aiming for. 
It is this Government's honour to serve the people of Bermuda. I thank you not just for support, not just for cooperation, but for constructively holding this Government, your Government accountable. We value your opinions, we hear your concerns, and we will continue to work to address them in this pandemic and also beyond it. I invite you to watch CITV, Government of Bermuda's Facebook page or YouTube channel tonight at 8 pm. The Government's Cabinet Ministers will be providing an overview of work taking place within their ministries as we continue to look beyond the pandemic.
As I close, I would like to make a correction from last week's press conference. I mentioned receiving a very kind and supportive letter from a 9-year old Bermudian, which had made my day. I mistakenly called them Asia, but their name is Asa Mello. I am sure he and his family are watching so again I would like to again say thank you to Asa for your kind letter and the wonderful drawing of our country's flag that you sent as well.
Thank you.
As we move beyond the pandemic, it is important that we continue to utilize technology to help us do so. Tonight, I would like to advise Bermuda of Covid Safe Key, which will provide a secure option for allowing activities such as indoor dining, indoor bars and clubs, and music festivals to take place. A Covid Safe Key is issued with an expiry date based on one of the following criteria:
Negative coronavirus test result, valid for 3 days..
Receiving Covid-19 vaccine, valid for at least 6 months.
This is not a vaccine passport, as you do not need to get a vaccine in order to have access. If you meet any of the 3 criteria listed, you can be included. Persons who do not wish to get vaccinated can still receive a Covid Safe Key.
 
We will begin piloting this programme next week, with a wider rollout scheduled for May 17th. More details regarding the pilot and how local businesses can participate will be shared at next week's press conference.
Comments
comments