[Updating] The Government is holding a press conference this afternoon [July 27] and the Government said topics to be covered include "Cup Match, public safety over the holiday, and the weekend Covid update."
Update 4.21pm: The Government said there were 8455 test results received, spanning four days of testing, and 15 were positive. The Minister said there have been 82,870 total vaccinations [as a note, last week was 82,468].
Update 5.30pm: Minister Dr. Ernest Peets' full statement follows below:
Thank you, Acting Premier. Like you and all of Bermuda, I am simply thrilled and overjoyed about Flora's historic Olympic gold medal win for Bermuda.
I cannot offer enough congratulations to her as an extraordinary athlete and to her family. This incredible accomplishment has been hard-fought and thoroughly deserved.
And Bermudians around the world are overjoyed that one of our own has brought us one of the proudest moments in our country's history.
So Flora, we cannot wait to welcome you back home so we can celebrate your achievement.
And with that, I wish to now share the Covid update from the Ministry of Health.
The Ministry of Health received 8455 test results since the last update, and 15 were positive for COVID-19. This gives a test positivity rate of 0.2%.
These results are from testing done on the following dates:
Thursday, July 22nd: 4 positive out of 2622 results [0.2% positivity]
Friday, July 23rd: 3 positive out of 2151 results [0.1% positivity]
Saturday, July 24th: 6 positive out of 1945 results [0.3% positivity]
Sunday, July 25th: 2 positive out of 1737 results [0.1% positivity]
Nine [9] of the new cases are classified as imported with details as follows:
3 non-residents who arrived on American Airlines AA 825 from Philadelphia on 17 July 2021 of which 2 tested positive on their outbound tests and 1 tested positive on their Day 8 test
1 non-resident who arrived on British Airways BA 159 from London on 22 July 2021 and tested positive on their arrival test
1 resident who arrived on British Airways BA 159 from London on 15 July 2021 and tested positive on their Day 8 test
1 resident who arrived on American Airlines AA 2044 from Charlotte on 20 July 2021 and tested positive on their Day 4 test
2 residents who arrived on American Airlines AA 914 from Miami on 24 July 2021 and tested positive on their arrival test
1 resident who arrived on United Airlines UA 1985 from Newark on 19 July 2021 and tested positive on their day 4 test
4 of the new cases are classified as local transmission with known contact as associated with known cases.
The additional 2 new cases are classified as under investigation. These cases are among residents with no currently identified link to other known cases or history of travel in the past 14 days.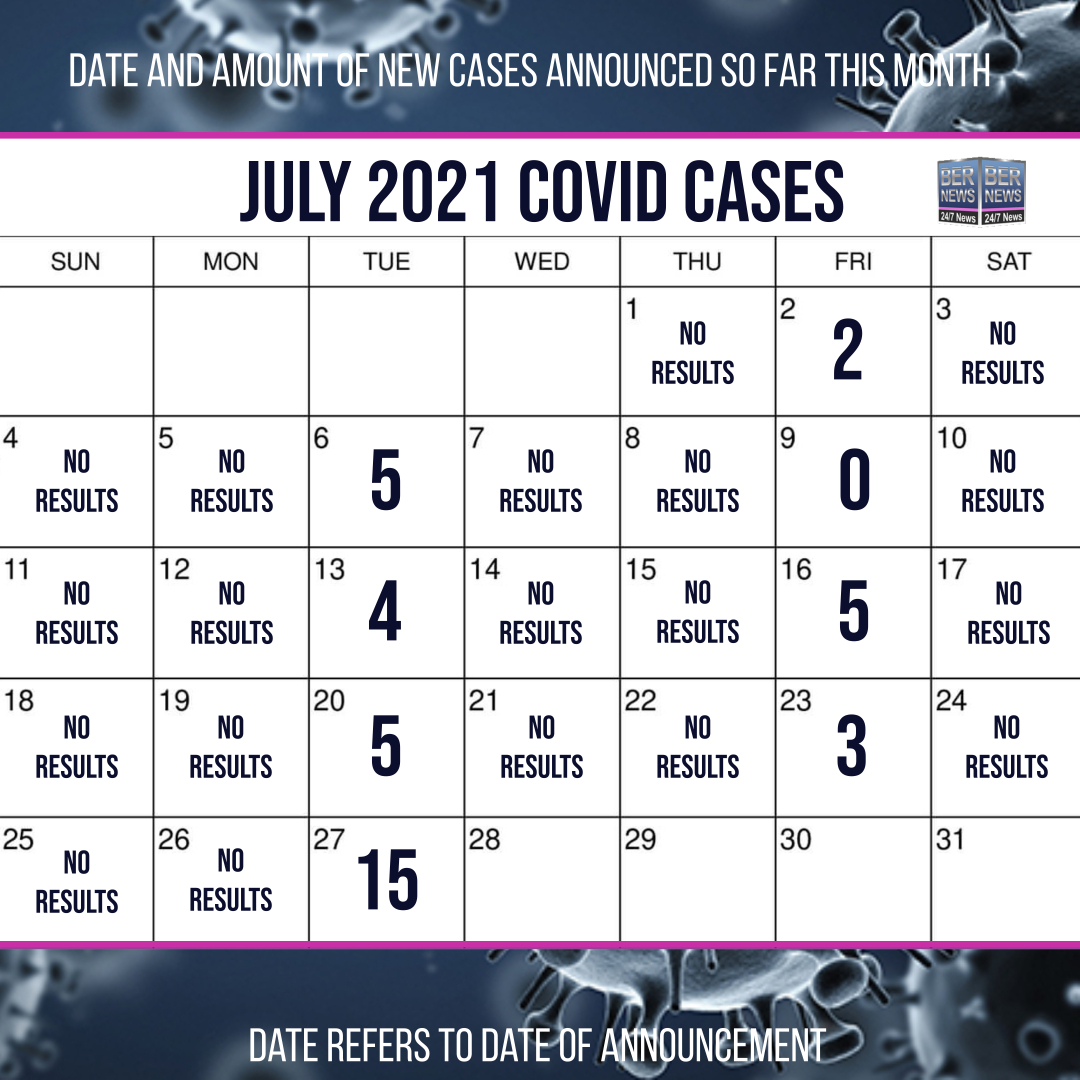 Additionally, since the last update, there were seven [7] recoveries and no deaths.
There are currently 25 active cases, of which;
25 are under public health monitoring and;
None are in the hospital.
Since March 2020, Bermuda has recorded 2553 total confirmed cases of COVID-19; out of those, 2495 persons have recovered, and sadly, there have been 33 COVID related deaths.
The source of all cases is as follows:
2200 are classified as local transmission of which:
1703 are Local transmission with known contact/source and
497 are Local transmission with an unknown contact/source
4 are Under Investigation
As investigations proceed, transmission categories may change.
The seven-day average of our real-time reproduction number is less than 1.
Of the active cases, by variant type: none are Alpha, 2 are Beta, 19 are Delta, none are Gamma or the wildtype and 4 are not available.
Bermuda's current WHO country status remains "Sporadic Cases".
………………………………
I will now provide an update on our vaccination programme…
We have completed week 28 of vaccinations. Since January 11th Bermuda has administered a total of 82,870 vaccinations.
Of the 82,870 vaccinations given as of July 24:
52% are women and,
48% are men
82.5% of all residents over the age of 65 years have had at least one vaccination and 81.3% are fully immunized.
To date, 65.3% of the population has been vaccinated [1 dose], and 63.9% of the population has been immunized [2 doses].
I would like to remind everyone that vaccination is recognised globally as one of the single most important measures that individuals can take to protect themselves, their loved ones and their community.
Anyone who is trying to make up their mind about getting vaccinated should seek information that is supported by science and rely on guidance from reliable sources.
If you haven't been vaccinated yet, you can walk in to the King Edward Memorial Hospital vaccination centre. Next week the vaccination centre will be open on:
Tuesday August 3rd, from 4 – 7 pm,
Thursday, August 5th, from 4 – 7 pm, and on
Saturday August 7th, from 8 am until 4 pm.
Please remember, each of us must do our part to stop the spread of the coronavirus. It is essential that we all follow Public Health guidelines. Wear a mask, practice good hand hygiene, maintain physical distance and download the WeHealth Bermuda app.
Do the research, talk with a reliable source and make an informed decision about getting the COVID-19 vaccine. There is a wealth of information about the vaccines online at gov.bm.
……………………………..
I now want to focus on the upcoming Cup Match holiday week-end to encourage everyone to please remain vigilant and err on the side of caution as much as possible when it comes to protecting yourselves and others from the coronavirus. COVID-19 continues to be a major threat globally and cases are rising significantly in other countries.
Persons who are vaccinated should also remain vigilant because the vaccine does not guarantee that persons won't catch COVID-19. The vaccine is highly effective in protecting severe illness and death but the level of effectiveness does vary across the COVID-19 variants.
This is all even more important in the context of large group gatherings, for which I have authority as Minister of Youth, Culture and Sport. Specifically, I'd like to touch on a few matters to do with Cup Match, SafeKey and the need to ensure that people continue to engage in safe health practices over this holiday weekend.
Under the current Public Health [COVID-19 Emergency Powers] [Phased Re-opening] Regulations 2021, I authorize large group events over the permitted number of '50'. In consultation with the Ministry of Health we require SafeKey is for most indoor events with over 50 persons and outdoor events over 100 persons. This is to protect the public and prevent a covid-19 outbreak, especially in a mass gathering where the risk of contagion is much higher and contact tracing much more difficult.
To be clear, a SafeKey events requires validating the SafeKey QR code via the official online portal. This means that a vaccination certificate or a test result cannot be used in place of a SafeKey.
If you are fully immunized or you had your covid test three days prior to an event, you must use the SafeKey QR code to be allowed to enter large group events.
I reiterate: you cannot use a vaccination certificate or a test result to enter a SafeKey event. You need a SafeKey QR code.
If you are immunized, go to gov.bm/vaccine-certificate to get your up to date SafeKey.
If you are not immunized, get a covid test and you will receive a link to your Safekey with the negative test result email. Test-based Safekeys are valid for 72 hours [3 days] after the test day.
There is a lot happening this week-end. This is our most special time of the year to celebrate and Bermuda is clearly rearing to get out and enjoy our usual festivities during our most beloved holiday.
We can see from the applications made for large gatherings that there are a number of large events planned by various organisers.
So, it's critical for those attending any of these large crowded events, whether it's Cup Match, or any of the special entertainment parties or activities taking place, that persons properly use the SafeKey validation and mask-wearing requirements.
Specifically as it relates to Cup Match, patrons are reminded that they must possess a pre-purchased [online] ticket plus a validated SafeKey to gain entry.
There will be no ticket sales at the gates – so those planning to attend Cup Match should have all the requisite entry particulars and should not show up at the gate looking for tickets.
If you're looking to attend the game, tickets to the Classic can still be purchased online at www.gpass.bm.
I'm pleased to say that recently I visited the St. George's Cricket Club to assess the preparation works, and everything is coming together nicely. So it should make for a great atmosphere of competitive cricket and comradery.
To ensure smooth entry for patrons, tomorrow Wednesday, the Cup Match organizers will be running two drive throughs to verify SafeKeys.
From 12pm – 3pm they will be at the National Sports Centre and from 6pm – 8pm at they will be at the St. George's Cricket Club.
SafeKey verification will include:
1. Checking physical or electronic SafeKey
2. Confirming SafeKey name against a valid ID
3. Validating the SafeKey on verify.gov.bm.
Persons with a verified SafeKey will receive a coloured bracelet to prove their SafeKey validation.
On the actual two days of Cup Match, the entry on to the grounds process will be as follows:
Cup Match attendees with a bracelet proving a verified SafeKey will enter the grounds via an express gate.
Persons who don't have a pre-verified SafeKey will be verified at the gate.
And to help expedite the lines into Cup Match, the Royal Bermuda Regiment will be assisting with the entry process.
I encourage everyone who intends to go to the games to get their SafeKey pre-validated at the Wednesday drive throughs. This will make the entry faster and smoother for all concerned.
I also encourage everyone with a SafeKey to test it prior to attending any SafeKey event. Just to verify.gov.bm with a device other than the one your own SafeKey is on, to confirm that it is working and in order. If you have any difficulties, call the Covid helpdesk for assistance.
Bermuda, we are into the full swing of the summer season.
And we want to see people enjoying the safe environment we have worked so hard to create.
Huge sacrifices have been made by many to get our country status to where it is today, and we cannot be complacent.
So it's important that over this holiday weekend persons take the proper health and safety precautions.
We understand and appreciate some of the anxiety and stress that our community has had to deal with, and we are sincerely grateful for the public's compliance with the measures that in place to help keep us safe.
You have all demonstrated a true spirit of resilience that Bermudians are known for.
But it's important to remember that we are only able to return to having signature events like Cup Match because we have been so disciplined and responsible with our health guidelines.
With that, I wish to take this opportunity to wish all of Bermuda a safe and healthy Emancipation, Mary Prince and Cup Match holiday.
Thank You.
Update 5.50pm: Minister Renee Ming's full statement follows below:
Good afternoon Bermuda,
I too wish to add my congratulations to Flora Duffy on her historic win in the Tokyo Olympics. I watched from start to finish and it was truly an emotional occasion when she passed the finish line.
Flora Duffy is Bermuda's first Olympic Gold Medalist. She has made history. And we are so incredibly proud of her accomplishment. Not just as a Bermudian, but also as a woman!
Now as we prepare to celebrate our Emancipation, Mary Prince and Cup Match holiday, the Ministry of National Security is keeping a close eye on public safety matters.
Here's what I can provide as a general overview of the preparations underway for the holiday.
I wish to pause to condemn Sunday night's shooting incident which left two men being treated in hospital for gunshot wounds. This was very distressing, particularly following such a successful community event held earlier that day – with the Court Street Market.
This matter is still under investigation, and we are urging anyone with any information to please contact the Police and share what they know about this incident.
Without question, we are expecting this will be a very busy and active holiday weekend.
In addition to celebrating the return of the Annual Cricket Classic, it's our expectation that many of our residents will be heading to our beaches and parks and spending considerable time on the water over the long holiday weekend.
The Bermuda Police Service's Joint Agency Command Committee has developed a robust policing plan in order to maintain public safety.
We want to ensure a safe and peaceful holiday and the BPS is working in partnership with the Royal Bermuda Regiment, the Coastguard, the Department of Parks and other agencies to ensure compliance on land and at sea.
With the expectation of large crowds at our beaches and parks, the BPS and the RBR will have a visible presence at our popular beaches such as Horseshoe Bay Beach and Clearwater beach.
I understand that many may people will be out on the water celebrating however, I urge the boating public to be considerate to other boat operators and houses nearby when playing music, especially late at night.
And there will be a visible presence at the St. George's Cricket Club for the two days of Cup Match. So we are encouraging persons to please practice the appropriate health and safety measures.
We are also urging the public to use common sense when it comes to alcohol consumption over the holiday period.
As you are aware, the BPS will be conducting Road Side Sobriety checks throughout the island over the holiday weekend.
So quite simply – don't drink and drive, and above all, have a plan to get home safely.
As it relates to recreational boating over the holiday, the BPS and the Coastguard will be present on our waters to ensure that the marine environment is as safe as possible.
Lastly, typically our Cup Match holiday is a festive period.
Even against the backdrop of COVID-19, we expect that members of the community will seek to enjoy this national holiday to the fullest. Please remember that according to the Public Health Regulations, gatherings must not exceed 50 people, unless a large group exemption has been granted by the Minister of Youth, Culture and Sport.
I would like to provide a brief update on the Government Approved Quarantine Facilities, please note that all non-immunized travelers are required to quarantine in a pre-approved Government facility for a total of 14 days.
To date there have been 162 persons who have been released from quarantine, and currently there are 56 in the facility. These measures are in place at our borders to mitigate any further spread of the dangerous Covid 19 virus.
Bermuda, I ask you all you please work together to make sure that the 2021 Cup Match, Emancipation Day and Mary Prince Day holiday can be remembered for the many enjoyable experiences – and not be marred by any major disturbances, road traffic incidents or infringements of the COVID-19 regulations.
All of public safety precautions that are in place by the Bermuda Police Service, and its partner agencies, are designed to ensure that any festivities remain safe and free of anti-social behavior.
As the Minister responsible for National Security, I wish to take this opportunity to thank all of our enforcement and emergency agencies for their tireless work. I wish both teams a safe and eventful game, and may St. George's win!
Thank you and Happy Cup Match.
Update 5.58pm: Acting Premier & Minister Walter Roban's full statement follows below:
Good Afternoon Bermuda, thank you for joining us.
Yesterday evening, all of Bermuda joined together to celebrate our first Gold Medalist – Flora Duffy. I watched in awe the tremendous athletic power of Flora. Her steady and focused management of the three sets of disciplines was inspiring. It is beyond words to finally witness Bermuda winning gold at the Olympics. Flora has made us all proud. She showed true grit and resilience, and that's who we are as a people. We've risen to the challenges, and no matter what we face on this small Island we call home, we have proved that we come together.
On behalf of the Government and her fellow Bermudians, we congratulate Flora on her victory; we look forward to her return to Bermuda when we celebrate her and her accomplishments.
For the first time in over a year, the excitement of the Cup Match has returned to our communities and homes. Anticipation and enthusiasm have taken hold across the Island. Residents are once again sporting their Cup Match colours, flying their team flags and busily preparing for the holiday festivities. It is a fantastic time to be in Bermuda and to celebrate one of our favourite public holidays.
To every Bermudian, Cup Match is so much more than a two-day cricket game. It is an integral part of Bermuda history.
This year we have much to celebrate.
Since August 2020, of our population, a significant majority are now protected from severe illness. Approximately 65% of our people are fully immunised against the coronavirus. We are nearing our goal of community protection, and I continue to encourage those people who have not yet been vaccinated to discuss this with their doctors and take advantage of the opportunity to do so.
With the successful introduction of SafeKey, anyone immunised or unimmunised who plans on attending Cup Match, can receive a SafeKey to enter the St. George's Cricket Club grounds, allowing the club to host our beloved match safely. A valid ID is also required to ensure the correct person is using the SafeKey. All residents who are fully immunised can access their vaccine-based Safekey online at www.gov.bm/safekey. Unimmunised residents can access Safekeys by getting tested for Covid-19 at a government testing location. A link to the Safekey document will be included in the negative test result email. Test-based Safekeys are valid for 72 hours [3 days after the test day]. If you intend to go to the match on both days or attend any event that requires a Safekey on Friday evening or Saturday, you will need to get your Safekey tomorrow, Wednesday, July 28th. The community testing sites, which will be open from 10:00 am until 5:00 pm. As a reminder, residents who get tested through a private lab may not have access to Safekey, depending on where test results are processed.
While there is much to celebrate, this is also a time for reflection and remembrance. This pandemic has caused heartbreak, and many families are grieving losses during one of our most family-centric holidays. In that spirit, also I encourage families and friends to check in on our vulnerable and seniors during the holiday.
As I stated, everywhere you turn, the Cup Match fever is in the air, and though we all are due relaxation, we must not forget to remain responsible and vigilant on the roads and the water.
During our holiday weekend, alongside our celebrations, we must look out for one another and follow the rules.
This afternoon we will hear from the Acting Minister of Health, Minister Ernest Peets.
We are also joined by the Minister of National Security, the Hon. Renee Ming. Both Ministers will provide the country with an update on enforcement and other vital matters.
Thank you, Minister Peets and Minister Ming.
In closing, last week, the Government of Bermuda presented a cheque to St George's Cricket Club to support hosting Cup Match 2021 with a $75,000 grant to ensure the event is a success. We recognise that it is a significant financial undertaking for the sports clubs to host the annual event.
On behalf of the Government of Bermuda, we extend our congratulations to Neil Paynter, president of St George's Cricket Club and the club officers for their hard work in preparing the grounds in anticipation of the 2021 Classic. I also extend heartfelt good luck to both cricket teams, and I wish all of Bermuda a safe and happy holiday weekend.
Happy Cup Match!
Comments
comments