[Updated] The Government is holding a press conference this evening [June 8] to update the public on Covid-19.
Update 6.10pm: Information about Phase 3 Re-opening of Bermuda from June 11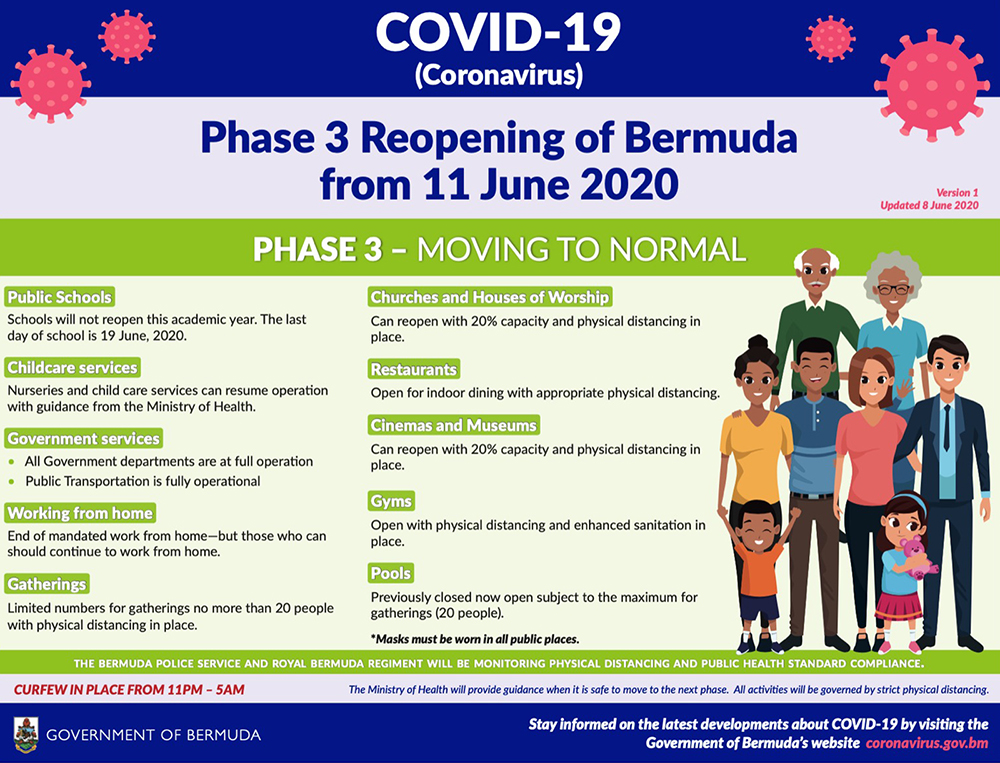 Update 7.39pm: Minister Kim Wilson's full statement follows below:
Good Afternoon,
Between Sunday and today there were 122 test results received by the Ministry of Health; and none were positive for COVID-19. This means we have not had a positive case for a full week.
Bermuda continues to have 141 total confirmed positive cases. Their status is as follows:
there are 12 active cases, of which
8 persons are under active public health monitoring, and
4 persons are hospitalized;
none are in critical care.
A total of 120 have now recovered, and
the total deceased remains 9.
The average age of all of our confirmed positive cases is 61 and the age range of all of our positive cases is from 18 to 101 years.
The average age of persons hospitalized is 77 and their age ranges from 66 to 86 years.
The average age of all deceased cases is 74 and the age range is 57 to 91 years.
Overall, 57% of all cases are Black, 41% are white and 2% are other or unknown.
The source of all local cases is as follows:
41 are Imported
84 are Local transmission, with known contact
11 are Local transmission with an unknown contact, and
5 are under investigation
Bermuda's country status remains "Local Transmission – Cluster of Cases". The seven-day average of our real time reproduction number is 0.63.
Our reopening indicators will be updated today, showing that we are holding steady in our control of COVID-19. In fact, I'm pleased that our score on face mask wearing has improved, moving us up to amber on that indicator. Well done, Bermuda! On that note, I should thank Mr Aaron Evans for his collaboration with the Ministry of Health team on the reopening scorecard.
I was truly impressed by the images of yesterday's march with near-universal use of face masks. Our team members who attended the march to hand out face masks reported that there were very few un-masked persons. We hope this responsible action by the public will prevent this mass event from being a 'super-spreader' incident.
We will keep a close eye on the reopening indicators to see how things evolve for the coming two weeks of the virus's incubation period. Until then, please register on HealthIQ and update your status frequently. This is more necessary than ever, following yesterday's one-off mass event.
I also encourage persons to take advantage of the free testing available through our drive-through at Southside, especially if they were in close contact with one of the very few people who were not wearing a mask. Close contact means within 6 feet for at least 15 minutes.
As we head into the summer, I feel it's an appropriate time to share with you some of the most recent guidance that has been produced regarding summer day camps and afterschool programmes.
It can be found on the Government website and it is intended for Camp Directors, staff and parents. It includes advice on how to make Camps safer, reducing the risk of spreading COVID-19 and providing a safer environment for those on site, their families, and the wider Bermuda population.
The guidance is informed by our own Ministry of Health and international organizations such as the Centre for Disease Control, Public Health England, and World Health Organization.
If you're a parent, this guidance will tell you what the government is recommending Camp organizers consider to help limit the risks of COVID-19 transmission. The measures that can be put in place will vary according to the type and location of the camp.
If you're a Camp Director, this guidance includes a lot of advice and ideas to help you plan delivery of a safer camp such as:
Safer access to and from the site including drop-off and pick-up;
Ensuring there are no symptomatic people on site who may have OVID-19;
Safer child to staff ratios with physical distancing;
Choosing activities that limit the risk of COVID-19 transmission;
And having a robust plan to provide physical and emotional support if needed.
It goes without saying that children and staff may only enter a camp programme if they are healthy, have not been exposed to an individual with COVID-19 symptoms, and are not under public health directions to be self-quarantined or isolated.
Programmes that provide additional services from private vendors for Karate, Gymnastics, Dance, Music etc. should be aware that the movement of persons from one facility to another poses challenges to containing the spread of the virus. Therefore Camps should consider using remote platforms, such as Zoom, for the continuation of these classes to ensure they are provided safely.
Summer is prime time for campers to take field trips around the community. However, I must reiterate that the use of facility mini vans or private mini buses to transport children for pick-up/drop-off services and/or field trips should be done safely with all the physical distancing precautions – all must wear a mask and keep 3 feet apart. Operators can transport smaller groups to make sure can travel safely.
Extensive hygiene practices should be implemented at the Camps and are listed in full in the guidance on the website.
More than ever it's increasingly important to maintain high levels of routine, responsivity, and nurturing for children. Children and adults have been significantly impacted by the closure of schools, change in routines, and drastic social adjustments. As a result, it is common to see an increase in problematic behaviours, anxiety, and depression. As many mood-related concerns typically present in behavioural disruptions in child-populations, symptoms may include: anger/irritability, frustration, crying, sadness, and limit testing. The guidance provides ways to address these concerns.
Another set of guidance which has been created and is now posted on the Government website is that for babysitters and nannies working for one or more families in the family's private homes.
If the family and sitter or nanny are in good health, there is no reason not to continue having them in the home. But each family and sitter or nanny will need to make a risk-based decision about whether to continue their care agreement.
If you're a babysitter, a nanny or a family who chooses to bring child care into your home, there are several actions you need to take immediately to protect against COVID-19 spread.
These include practicing safe, effective hygiene measures; details of which can be found on the website coronavirus.gov.bm.
Temperatures of the children and adults should be taken regularly and efforts should be made to avoid social gatherings where physical distancing cannot be maintained.
If the babysitter, nanny or the family live with a person who is considered extremely clinically vulnerable and should be shielded, then persons from outside the household should not be entering home.
If either the sitter, nanny or the family has symptoms of COVID-19, then the sitter or nanny should not report to work. Both should remain at home [and keep away from other people] and call your doctor.
I want to note again that masks must NOT be used for children under the age of 2 and should not be used for extended periods of time for children between 2 and 10-years-old.
For all COVID-19 guidance, please visit coronavirus.gov.bm.
Thank You, Bermuda, and stay safe.
Update: Premier David Burt's full statement follows below:
Good Evening, Bermuda.
Today I'm joined by the Minister of Health, the Minister of National Security and the Minister of Public Works.
Yesterday was a powerful moment for Bermuda. Thousands took to the streets to show solidarity and support for the Black Lives Matter movement, while demanding justice, and elimination of racism in Bermuda.
As we marched, we affirmed that Black Lives Matter, and with the rest of the world, remembered American black men and women who have been murdered by the state. It is clear that the events in United States have affected many, and I'm pleased that this government changed the laws, so that a legal and peaceful protest could take place this Sunday.
Racism in Bermuda isn't new, and racist attitudes still persist in Bermuda. Police brutality in Bermuda, is not new either, and neither are police who may have racists views. 2 December 2016 and recent local events have proven that that is the case. There is still economic disparity between black and white people who do the same jobs in Bermuda. This is our truth, and of course, it is not enough just to talk about it, but we must continue to act on it.
Bermuda's justice system is not colorblind. We have to make sure that we continue the reforms to our justice system so that the differing treatment of black person versus white persons inside of the criminal justice system is no longer there. This inequity is what led this government to decriminalize cannabis possession because the outcome of that law disproportionately, negatively affected black males, with 95% of convictions of cannabis possession being black males, whereas the usage statistics amongst black and whites is similar.
In the House of Assembly on Friday, I said that as a country, we must maintain the energy to continue to fix injustice. It is my hope, when we move forward with making additional changes t legislation, legislation that will dismantle laws, practices, and policies of systemic racism that negatively impact black people, they'll be met with the same energy for real change in equity that we saw on display this weekend.
In April, then Minister Jamahl Simmons invited the public to provide their opinions on current laws that they believe should be updated. The objective was to get public feedback to assist the government with updating, reforming, and repealing existing laws and introducing new laws that will benefit the people of Bermuda, because it's important that the government listens to the people it represents. And this online forum provides opportunity for us to engage in meaningful consultation, so that persons can provide their feedback.
Additionally, the Minister for Community Affairs and Sports, the Hon Lovitta Foggo, will shortly issue a statement announcing that she has reopened the Bermuda Race Relations discussion. In order to move forward we must address and improve the relationships between the various sub communities on this island. Minister Foggo did open that up, and it was engaged in with her Ministry earlier, but she's reopening that consultation and persons are invited to visit forum.gov.bm to add their thoughts to these issues.
Before I ask the Minister of Health to provide an update, I want to thank everyone who joined the march this weekend. The vast majority of Bermudians I encountered were wearing a mask and where possible exercised physical distancing. I encourage everyone, who may have been out on the streets, to take advantage of the free COVID testing which will be available next weekend – and you can visit coronavirus.gov.bm to book your appointment today.
On that note, I will invite the Minister of Health to provide today's COVID-19 update. Minister of Health reads her statement.
Thank You, Minister.
Last week I stated that Bermuda would move to Phase 3 – Moving to Normal, this week Thursday. In addition to the Expansion of Services in Phase 2, Phase 3 was stated to have the following:
The reopening of public school buildings, and as the Minister of Education announced, public school buildings will not reopen this academic year. However, private schools may be open, if they wish.
The reintroduction of childcare services, according to the guidance from the Ministry of Health; the opening of government offices; the ending of mandated working from home, and the allowed opening of churches and houses of worship, and also, gyms.
Additional items which have been added to Phase3; are restaurants will be able to open for indoor dining with physical distancing being maintained and in place with limits; and also cinemas and museums, will be able to reopen with 20% capacity with physical distancing in place. These were items which were originally scheduled for Phase 4.
The limits for gatherings will be adjusted from 10 to 20 persons. Additionally, pools, which were previously closed will be subject to the maximum limit of gathering for 20 persons and will also be allowed to be open.
The final item which I'm sure that a lot of persons are concerned about is what about the curfew? The curfew hours will be sorted from 10pm to 6am, where they are currently right now, to 11pm to 5am.
Minister Burch joins us here at the podium. He has been chairing the Cabinet committee that has been engaged in the difficult work of making sure that we reopen our economy safely and that Cabinet committee has been meeting repeatedly over the past few days, and as late as earlier today to finalize the specific guidance that is going to be announced today.
I'm now going to turn the podium over to Minister Burch who can give additional details on Phase 3, and certainly speak to any particular work that the committee's engaged in. Minister.
Minister of Works reads his statement. Thank you very much Colonel.
As I said in the House of Assembly on Friday, the government is now looking at safely reopening Bermuda's borders, which will form part of Phase 4. As we introduce a move through Phase3, and Phase 3B, the next step will be how dowe make sure that we can allow our tourism workers to return to work and allow persons to visit Bermuda safely.
As we saw last week, our government lab was able to test the returning passengers from Canada, and get the results back within five hours. This was a great accomplishment for the lab and shows how we are able to quickly begin to put practices into place to test arriving passengers quickly and easily.
As a government and a country, we are moving forward. We are following the rules, we are doing our part, we now have a reduction in the number of cases, our real time reproductive number is less than one. We've gone seven days without a new case, and this is certainly something to be celebrated. But we must remain vigilant, we have to continue to do what we have been doing all this time, so that we can have the same results that we have been having all of this time.
Comments
comments