[Updated] The Government is holding a press conference this evening [June 25] to update the public on Covid-19.
Update: The government said, ""We received 220 new #COVID19 results today. All 220 results received were negative. Total confirmed cases in #Bermuda remains at 146. Bermuda's real time Covid-19 reproductive number (Rt) 7-day average remains below 1.
They also stated, "Bermuda is on track to move into Phase 4- New Normal, on Wednesday, July 1. Some of the activities that will be permitted in Phase 4 include:
– Airport to reopen for commercial flights
– Nightclubs & bars to reopen
– Scuba diving
– Boating raft-ups.
"Curfew has also been amended to 12AM – 5AM. Gatherings will increase to a max of 50 persons."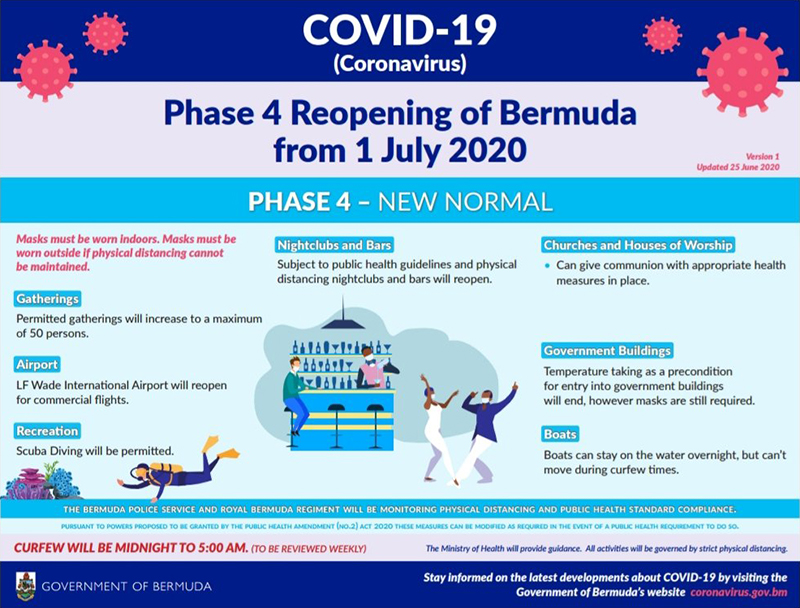 Update 7.31pm: Minister Kim Wilson's full statement follows below:
Today there were 220 test results received by the Ministry of Health; and none were positive for COVID-19.
Bermuda has 146 total confirmed positive cases. Their status is as follows:
there are now just 4 active cases, of which
are under active public health monitoring, and
1 is hospitalized;
none is in critical care.
A total of 133 have recovered, and
the total deceased remains 9.
The average age of all of our confirmed positive cases is 60 and the age range of all of our positive cases is from 18 to 101 years.
Overall, 57% of all cases are Black, 40% are white and 3% are other or unknown.
The source of all local cases is as follows:
42 are Imported
85 are Local transmission, with known contact
13 are Local transmission with an unknown contact, and
6 are under investigation
So far Bermuda has conducted 10,634 COVID-19 tests and over 98% have been negative. This is really good news for us…and is reflective of our adherence to the rules when it comes to preventive measures such as mask-wearing, physical distancing, staying home when sick, avoiding large gatherings, limiting our social interactions and shielding our vulnerable…None of which should be abandoned as we prepare to enter Phase 4 next week.
On that last point, I just want to say that continuing to shield persons who are clinically extremely vulnerable and very elderly persons will be more important than ever as we enter Phase 4.
Such individuals must be shielded not just from the public but also from household members who go out into the public.
For instance, if you are a family member who is the caregiver of a vulnerable person, you must take strict precautions when providing hands-on care to the shielded person if you go out to do the shopping, errands etc. You should wear a mask and stay 6 feet apart from the shielded individual where possible.
And if you must do hands-on care, please review the guidance for care-givers outlining the precautions you must take which can be found at coronavirus.gov.bm.
The specific shielding measures that vulnerable individuals should follow can also be found there and include avoiding close face-to-face contact with others, avoiding contact with someone who is displaying symptoms of coronavirus and not attending any gatherings.
I want to be clear: Moving to Phase 4 does not mean everything is 'okay'. We are reopening for the sake of our mental well-being and our economic survival… we are NOT reopening because there is no longer any threat from COVID-19.
We are able to reopen because we have done so well as a community in containing COVID that we have proven that we have the ability to practice responsible preventive measures.
So please use caution over these next few weeks…And if you are in any doubt over whether you should or should not do something, just don't do it. You can always call the COVID-19 hotline at 444-2498 for advice.
As of July 1st, Government no longer requires incoming travellers to self-quarantine for 14-days. We will, however, require pre-boarding testing, testing on arrival and intermittent testing during stay, with public health measures – which the Premier has already mentioned. I will now detail some of the specifics around the testing of incoming travelers…
Before leaving their place of origin, travelers should pack a thermometer so they can self-monitor per public health supervision once they arrive.
Visitors must show proof of a negative PCR COVID result from a sample obtained ideally within 72 hours of travel in order to board [up to 5 days is acceptable]. This can be a written lab result from verifiable lab or physician. Negative tests should be verified through an online "Travel Authorization" process that will go live next week.
Residents and Visitors unable to have access to a pre-departure test can test on arrival, quarantine for 3 days, and then test on day 3 to allow equivalence with the 72 hour 'pre-boarding clearance'.
Visitors and Residents must all be tested on arrival [at the airport] and quarantine at their accommodation until a negative RT-PCR result is received.
A nasopharyngeal test is required for adults. Children aged 10-17 will likely be able to take a saliva test. Children under 10 will not be tested.
Test results are expected in within 8 – 24 hours [depending on arrival time]. If a negative result is obtained, those with 'pre-boarding clearance' may circulate freely amongst the community.
Travellers, like residents, will be required to wear masks in all public places and follow physical distancing guidelines.
All Visitors and returning residents will be under public health supervision during the first 14 days of their stay, and will have to complete a very short online health self-report daily, including temperature.
A COVID test will be required on set days and their health status must be reported to public health officer. These set days are day 3, 7 and 14.
Travelers will be mandated to be accessible by phone, email, text and a physical address in order to communicate with a Health Officer.
A traveller will only be fully cleared after receiving a 'day-14 negative test'.
If a traveller becomes COVID positive, or symptomatic, or is a close contact of a positive person, they will be quarantined or isolated, as appropriate. Any traveller who does not wish to be subjected to the required testing will have to quarantine for 14 days AND either [a] have the day-14 clearance test, OR [b] quarantine for a further 14 days with no clearance test.
As closing, I want to remind the public of the COVID-19 pop-up testing taking place around the island this weekend:
On Friday June 26, testing will take place from 9am until 1pm at the Hamilton Cathedral and at the Somerset MarketPlace from 3pm until 7pm.
On Saturday June 27 testing will be held at the Southside testing facility [at the old White's Supermarket] from 9am until 1pm.
Then on Sunday June 28 testing will be held at the Modern Mart from 12pm until 5pm and also at the Southside testing facility from 9am until 1pm.
In order to ensure that wait times at pop-up testing venues are as minimal as possible, I would encourage residents wishing to get tested, to please ideally book an appointment. This makes it a faster, more convenient experience for you.
You can book online via the government website coronavirus.gov.bm or call the COVID-19 hotline 444-2498 between 9am and 9pm to make a reservation. A full schedule of testing days and times has been posted to the Government website. For more information about pop-up testing, you can call 444-2498.
Thank You, Bermuda, and, please, wear your mask and keep six feet apart if you are not wearing one.
Update 8.21pm: Minister Wayne Caines' full statement follows below:
Good Evening Bermuda:
First allow me to extend my thanks and appreciation to all of our essential workers, the Disaster Risk Reduction Mitigation Team and all of the Ministry of National Security's uniformed personnel who braved the frontlines during the last 4 months of the COVID-19 pandemic to ensure that the people of this Country were kept safe.
You are a huge reason why we are on track to move into Phase 4 in a relatively good state.
We all owe you a tremendous debt of gratitude for your service and your commitment to Bermuda and its people.
Bermuda, as we move into Phase 4 next week, here are a few key points for the community to be aware of.
We recognize that our beaches, parks and surrounding waters will continue to see increased usage as the summer progresses.
And as we navigate towards the lifting of the State of Emergency on June 30th, it's critical that we remain vigilant as a community by following the safety guidelines in place by the Ministry of Health.
Next week, Phase 4 will allow gatherings of up to 50 persons. And we recognise that there are some members of the public who will wish to host events or gatherings of more than 50 persons.
However I must caution – any event or gathering of more than 50 people, must have the permission of the Minister of National Security.
In that regard an application must be made seeking approval.
To assist the public, a planning guide for any gatherings of over 50 people will be available on the Government website.
However, the general process once application is made is as follows:
Event organisers, this includes planners and promoters for larger functions such as concerts – will have to submit an event safety plan taking the guidance into consideration when planning their event.
A form will be made available on www.gov.bm for persons to apply for permission to hold an event for more than 50 persons. Guidance surrounding this will be on the form.
The Disaster Risk Reduction and Mitigation Team will review the applications with the Ministry of Health and other relevant agencies.
If permitted, the DRRM Team will issue an approval letter outlining the health and safety conditions for hosting the event.
A copy of all approval letters will be sent to the Bermuda Police Service.
To ensure that we provide the clearest possible advice to potential event planners and promoters for large scale events, the Ministry of National Security will host a meeting at a date and location to be announced in due course.
Anyone wishing to attend this meeting should email: emogroup@gov.bm and include in the subject line – Promoters / Event Planners Meeting.
Turning to the Bermuda Police Service, Royal Bermuda Regiment and the Coast Guard:
The BPS and Regiment continue to work in partnership to ensure adherence to COVID regulations.
On land compliance is positive however there were 19 curfew breaches on the water last weekend with boaters ignoring the 10pm curfew and having to be directed to shore.
Law enforcement action will now be taken to those that fail to comply with the marine curfew.
The BPS will place additional resources this weekend at locations where disorder has taken place previously.
The BPS continue to investigate the recent incidents of serious violence, including the murder of 22-year-old Joshua Rowse. Four parties believed to be involved were arrested and are now on bail. Enquiries continue into the case and the BPS continues to support the family of Mr. Rowse
It is now believed all recent incidents, including the murder of Joshua Rowse and the attack on the female with a machete, are connected.
Further parties have been arrested and enquiries continue. The BPS thanks the community for the information they have provided to assist the investigation. Targeted patrols have been placed in the area of Warwick to reassure the public and respond quickly to incidents. Intelligence is being used to deter and prevent further gang retaliation.
Also this past weekend there were reports of a disturbance at Chaplin Bay involving fighting with helmets and knives. On arrival of BPS the group had dispersed. One male attended KEMH with a stab wound to arm and was arrested. Enquiries are ongoing.
The BPS also continue their search for Chavelle Dillon Burgess alongside ongoing enquiries in regards to the arrest of a 39-year-old male.
As a reminder, there is a $50,000 reward being offered for any person who can assist the BPS in locating Chavelle.
Regarding the RBR, over the nearly four month embodiment period, our soldiers have provided and maintained an invaluable service.
Over the next few days, the Coast Guard will continue to enforce Bermuda's maritime laws and the COVID regulations. Again as is my familiar refrain – raft ups are still prohibited and the limit is 20 persons for recreational boats. All commercial boats are allowed as many persons as the license allows, as long as they maintain appropriate physical distancing.
I want to remind that this weekend we are still in Phase 3, so though we are announcing Phase 4 plans, it's important to note that the new guidelines for Phase 4 do not go into effect until next week Wednesday. Existing rules for Phase 3 remain in effect for this weekend. And we will be enforcing the guidelines this weekend.
As I close, I wish to share some key Coast Guard summary points:
There were 84 days of continual operations.
We had 7 Coast Guard vessels in use.
There were 343 Operations conducted from Watford House.
There were an average of four, 4 hour patrols per day.
There were 4,206 instances of engagement with water craft.
The Coast Guard issued 173 warnings; served 33 summons; assisted with 8 arrests; and issued 38 tickets
Conducted 6 Search and Rescues; More than a dozen boat tows; AND
Participated in 1 Joint Exercise with the British Royal Navy.
Thank You.
Update 8.43pm: Minister Zane DeSilva's full statement follows below:
Good afternoon,
I know many Bermudians are keen to stretch their legs beyond our shores, just as many who have been stranded abroad are anxious to return.
I am pleased that the Ministry of Health and my Ministry have been able to work together to produce a set of travellers' guidelines which keep our visitors and residents safe.
After all, our island home is a precious resource, and we need to ensure our community is protected as we look forward to welcoming residents home and inviting visitors to experience our jewel in the Atlantic.
When regularly scheduled commercial flights resume in July, we anticipate Air Canada, Delta Air Lines and British Airways to service the island.
These schedules are always subject to change but, at present, the flights are as follows:
From Thursday, 2 July, Air Canada will fly weekly from Toronto,
Starting Monday, 6 July, Delta will fly daily from Atlanta, and,
Beginning Friday, 17 July, British Airways will fly twice a week, on Mondays and Fridays.
Delta's flights from New York and Boston are on hold. JetBlue anticipates providing service from those two cities starting in August, while American Airlines will fly from New York.
The other air service that we believe will start in August is WestJet, also from Toronto.
Flights from Philadelphia and Miami on American will not begin before December.
What we refer to as 'seasonal' flights from Newark, Washington DC and Charlotte are cancelled for 2020.
Where does this leave us?
The percentage change in our air capacity, i.e. available seats, year over year is as follows:
When we restricted entry only to Bermuda residents in March, that led to a 45.6% reduction in air capacity,
In April, May and June, we experienced a 100% reduction in air capacity as no commercial flights landed, and,
For July through to December we anticipate a reduction in seats available of between 91.9% [in July] and 26% [in December].
On average, as a result of the pandemic, Bermuda will experience a 61.7% reduction in air capacity in 2020, when compared with 2019.
What does that look like in numbers?
In 2019 our air capacity amounted to 579,720 seats and the 2020 projection was 543,325 seats. Now, we project a total for 2020 of 221,940 available seats. That is 357,780 fewer seats for travelers than last year.
I must emphasise these schedules change regularly – weekly, even! So, we will continue to monitor seat availability as and when schedules adjust.
Working with the Bermuda Tourism Authority, Bermuda Airport Authority and Skyport, the Ministry of Tourism and Transport will seek to increase air capacity and encourage visitation as it is prudent to do so. Our economy depends on it.
As I stated at the beginning, the Bermuda Government has placed great emphasis on community safety and creating an island space where visitors will be able to relax.
We must all do our part to ensure that, as we progress into Phase 4, we continue to embrace all the health measures that benefit us all: keep your distance and wear your mask!
Thank You.
Update 8.48pm: Minister Lt/Col David Burch's full statement follows below:
Good Evening.
You may will from Monday's press conference that the Cabinet Subcommittee on the Strategic Reopening of Bermuda was to present to Cabinet on Tuesday last recommendations for the Traveller Entry Policy to be applied on the resumption of scheduled commercial flights into Bermuda [that will be covered by Minister DeSilva] and the recommended matters for Phase 4 of the reopening of Bermuda.
I wish to remind that Phase 4 will commence next Wednesday July 1st at 6 am – so we are still in Phase 3b until then but we are providing advance notice so that affected parties can plan ahead.
Phase 4 will consist of the following:
[i]The State of Emergency will end on the 30th June
[ii]Permitted gatherings will increase to a maximum of 50 persons
[iii]Requests for larger gatherings must apply to the Minister of National Security for permission with a plan to include social distancing and masks.
[iv]Masks must be worn indoors. Masks must be worn outdoors if physical distancing cannot be maintained.
[v]Recreational scuba diving will permitted
[vi]Subject to public health guidelines nightclubs and bars will reopen
[vii]Holy Communion will be permitted
[viii]Temperature taking as a precondition for entry into government buildings will end, however, masks and hand sanitizing is still required.
[ix]The government quarantine site will close on June 30th
Since we have started a trend of having sub phases – we have two items that will likely form a Phase 4b – they are:
Subject to successful discussions with grocery stores to retain two or three discount days, alphabetized shopping will end
The curfew will shift to 12 midnight in the evenings to 5am in the morning and will be reviewed weekly.
While we as a country have made enormous progress – the Committee is mindful of mitigating the risk and recognize that we still have to be cautious and follow the Health protocols that have gotten us to this point.
Thank You, Premier.
Update: Premier David Burt's full statement follows below:
Good afternoon Bermuda and thank you for joining us.
As a country, we have made excellent progress and Bermuda is being recognized for our collective progress in successfully navigating the COVID-19 pandemic. From an overwhelming majority of us working together, and following the public health advice, we remain on pace to enter Phase 4 of the country's reopening when the State of Emergency expires on Wednesday 1 July 2020.
Today, I'm joined by the Minister of Health Kim Wilson, the Minister for Public Works Lt. Col. David Burch, Minister for Tourism and Transport, Zane De Silva and the Minister for National Security, Min. Wayne Caines.
The focus of today's briefing will be on outlining measures as we move into Phase 4, Our New Normal. There has been a lot of work getting us to this point, and before the Minister of Health gives her update from her ministry, I would like to pay tribute to all of our public officers, healthcare workers, volunteers, essential services workers, and all of you for doing your part to get us to where we are today. Thank you.
Minster Wilson who will give an update from the Ministry of Health. Minister Wilson Speaks
Thank you very much Minister of Health. That is a great news to know that we had so many test results back today, and none of them were positive. Your team continues to do great work in the community. I want to thank and pay tribute to the entire staff at the Ministry of Health.
Now we will have an update from Minister Burch, who is the chair of the Cabinet Committee for reopening of the economy on the details surrounding the start of Phase 4, Our New Normal, on 1 July.
Minister Burch Speaks
Thank you Col. Burch for that update.
With the hospitality industry hardest hit by the shutdown, Phase 4 will provide hope to our hospitality workers and industry that there will be some activity in 2020. Tourism is vital to our economy given the employment that it provides.
Minister DeSilva will now detail the extensive and rigorous protective measures that we are confident will keep Bermuda and our visitors safe.
Minister Desilva Speaks
Thank you, Minister De Silva
As we make decisions like the reopening LF Wade International Airport, the public should know that safety is first and foremost in our minds.
The high degree of screening and the protective measures we have identified are not just about keeping you safe, but were also shaped with the understanding that we have skin in the game as well. Getting this wrong puts the entire country at risk. That is the reason why we are making sure that we get this right the first time.
There are many who believe we should keep our borders closed. I understand the fears that persons may have as they see the news how some countries have not managed to handle their outbreaks. What is important to know is that Bermuda is as safe as we are, due to the wide scale testing, and we will ensure that is applied to our visitors who will be required to be tested as well. Prior to departure, upon departure, during their time here on island.
Bermuda's regime will likely be the strictest in the world, but visitors want a safe place to visit, and that is what Bermuda will be – that safe place.
I now invite Minister Wayne Caines, to give an update on the Ministry of National Security's plans as we move into Phase 4, Our New Normal. Minister Caines.
Thank you Minister.
As we have heard, the government is working to make sure our island stays safe as we fully open our economy. I am confident about our ability to move our economy forward as we resume our normal activities.
Those of you who may be hesitant to return to work, to venture out to shops and restaurants, you can do so knowing the precautions you must take personally, while large and small businesses, retail establishments, restaurants and other businesses know what they must do to maintain a safe environment.
During my quarterly meeting with the Chamber of Commerce, I restated my position. Bermuda has faced the COVID-19 crisis head on. Guided by the Ministry of Health, we have put appropriate measures in place to ensure that we can continue to stay healthy as our economy opens fully.
I encourage everyone in Bermuda to follow the guidelines and confidently return to your places of work, engage in leisure activities, visit retail establishments, go to lunch and dinner, buy breakfast, patronize small businesses and even feel free to socialize after work.
Take advantage of the staycation offers available from our hotels, and feel free to make sure you support our local economy. We have supported each other in the last three months. Now is the time to continue to support each other as we move towards Our New Normal.
While we continue to live our lives it is important that we pay close attention to what we have learned over the past few months. As long as Bermuda follows the public health guidelines, and as long as we continue to wear our masks, despite what you may see on YouTube, about the fact it may not be health. It is important to make sure it is done to reduce any possible spread of this virus.
From the start, we have been determined to prevent the economic impact of COVID-19 from being worse than the virus itself. And it's critically important that all of us continue to do our part.
As we conclude our briefing today and take questions from the members of the media who are here today, I would like to take a moment to reflect on how far we have come and how much we as a people have overcome. With no tried and tested global template to follow and no proven pathway to success to emulate, Bermuda has demonstrated creativity, resilience and discipline.
We have truly punched above our weight in terms of the managing a crisis that many larger jurisdictions have mishandled. Now is not the time to get complacent and now is not the time to sit on our laurels. As we prepare to move into Phase 4 next week, let us continue to do what we have done that has made us successful and together as a country, I am certain we will succeed.
Comments
comments