[Updated] The Government will be holding a press conference this afternoon [Oct 20] to update the public on Covid-19.
Update 6.54pm: Minister Kim Wilson's full statement follows below:
Good afternoon.
Over the past few days, our Covid statistics have gotten better. We have seen fewer active cases and deaths. This is good news for Bermuda, and I am confident that if we all continue to do everything we can to avoid getting infected with Covid-19 and look out for each other, things will continue to get better.
We have completed week 40 of vaccinations. Since January 11, Bermuda has administered a total of 89,029 vaccinations.
Of the 89,029 vaccinations given as of October 16:
52% are women and,
48% are men
85.7% of all residents over the age of 65 years have had at least one vaccination, and 83.4% are fully immunised.
To date, 70.0% of the population has been vaccinated [1 dose], and 67.6% of the population has been immunised [2 doses].
It is encouraging that we have reached 70% of the population vaccinated. This is good news. If you want to be vaccinated, please register your interest as soon as possible on gov.bm/vaccines.
If you're scheduled to receive your second dose, please do not miss your appointment. If you need to change your appointment, call the Vaccination Hotline at 444 2498 [option #2] or email vaccine@gov.bm as soon as you can so that we can re-schedule your appointment.
From January 11, 2021, when Bermuda's vaccine campaign began, to Epi Week 41 ending October 16, 2021, Bermuda's Covid-19 hospitalisations and deaths of vaccinated and unvaccinated persons are as follows:
Hospitalisations [including repeat admissions] totalled 298 of which:
265 or 89% were persons who were not fully vaccinated, and,
33 or 11% were fully vaccinated.
To October 16, Bermuda has also sadly had 83 deaths, of which:
70 or 84% were not fully vaccinated
13 or 16% were fully vaccinated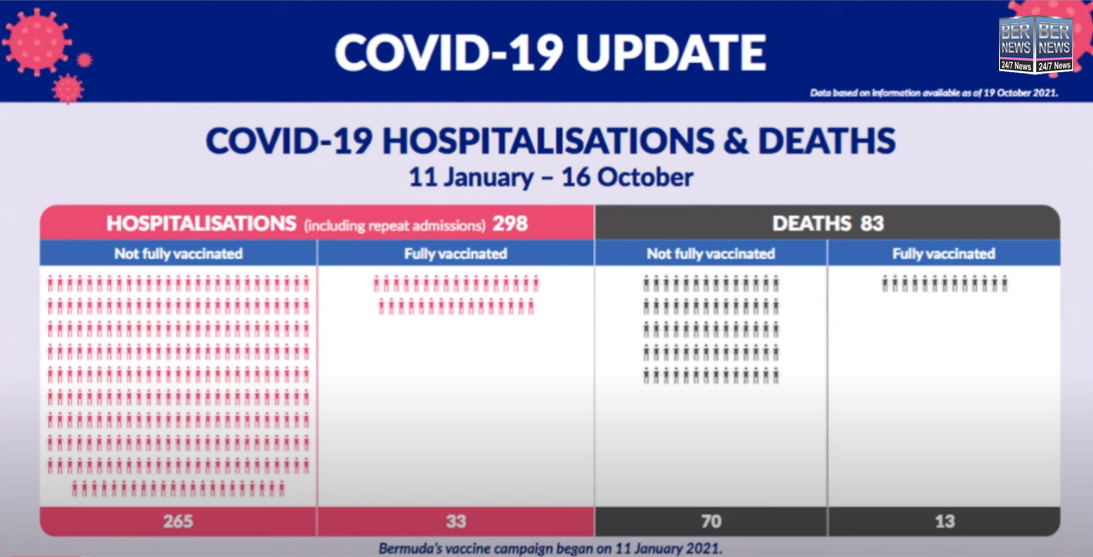 Those who have decided to get vaccinated can book an appointment or walk into the KEMH Vaccination Clinic on Tuesday and Thursday, 4 to 7 pm, and Saturday, 8 am to 4 pm. Medical doctors will be at KEMH to answer any questions about Covid-19 and the vaccines.
I want to thank the 198 medical professionals who have signed an open letter in support of the Covid-19 vaccination. I also want to thank the Bermuda Industrial Union who called on its members to get vaccinated.
As I have said on many occasions, the Covid-19 vaccine remains our best defence in preventing the spread of this virus. It will decrease symptoms and severe illness and, in most cases, prevent death. I encourage everyone who has questions about Covid-19 and the vaccine to please have a conversation with their doctor.
The booster programme successfully started on the Saturday 9th of October at the rest homes and subsequently started at the BHB vaccine centre and the National Sports Centre on the 10th and 13th October respectively. The BHB vaccine centre launched the booster programme by servicing the immunosuppressed for its first 2 days of opening, however, the centre is now open to those 65 and over. The National Sports Centre's vaccine programme launched by servicing the 65 year olds and over and pregnant women and continues to maintain services for that cohort.
The next phase of the booster programme will be for the healthcare workers and it is anticipated this group will be able to receive boosters in approximately four weeks based on the currant rate of boosters. The programme is now administering approximately 300 person per day per centre. The total boosters administered to date is approximately 2000 which is an amazing achievement and a testament that the public continues to want to play their part in having a safe environment for everyone. As a reminder if you are 65 and over or you are a pregnant women who has had a second dose at least six months prior you are eligible to make an appointment. To book your own appointment please visit the government website link gov.bm and select "Book a Booster Vaccine Appointment".
Another matter I want to raise before I end is the occurrence of members of the public threatening and intimidating many of our healthcare workers. In some instances, they are verbally abused and mistreated – this is unacceptable and highly inappropriate and unfair to those hard-working people who tirelessly fight this pandemic. They are protecting the health and welfare of our community.
A recent New York Times article reported that "public health agencies [in the US] have seen a staggering exodus of exhausted and demoralised staff, in part because of abuse and threats".
The article stated that "local health officials described increasingly poisonous encounters with the public, where people in the community yell at you, threaten you or lie directly to you".
This unfortunate behaviour is also happening in our community. Not as widespread as in other countries, but nonetheless, our healthcare workers, call-centre workers, contact tracers and many others are being harassed.
Bermuda, we must do better. Public health workers and public health measures are not the problems; the virus is the problem. This pandemic is brutal on everyone, especially healthcare workers working so hard to protect us and caring for those suffering from Covid. Let's show them the compassion that they all deserve it.
Please remember, we must all do our part to help stop the spread of the coronavirus. Continue to follow public health guidelines, wear a mask, practice good hand hygiene, maintain physical distance and download the WeHealth Bermuda app.
Comments
comments