Keeping a building as large as the hospital clean is very hard work at the best of times, and even more so in a pandemic when you have to go above and beyond to implement extra sanitization measures.
As one of our Essential Services that has always been unable to work from home, the Bermuda Hospitals Board Environmental Services team has played a key role in helping the island to manage the pandemic, and Bernews spoke with some of the team to get insight into their work.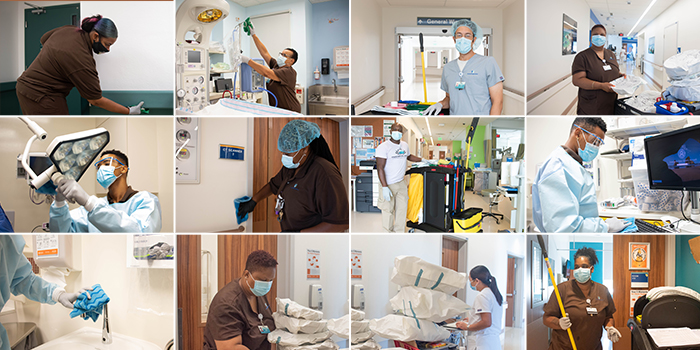 Throughout the entire 18 months of the pandemic and all it has brought including a shelter in place, transportation challenges, and children at home due to remote schooling; the Environmental Services team have not only continued to perform their tasks, they have handled an additional workload.
With some 'high touch' surfaces — like elevator buttons, rails, seats in the lobby and more — having to be cleaned every 15 minutes due to the pandemic, the team has been performing extensive work, with BHB Environmental Services Manager Lynae Wales-Richardson explaining that in some cases the pandemic has quadrupled their workload.
Interview with BHB Environmental Services Supervisor Dupré Wilmot
Our video editing may not do it justice, as the entire footage shows the Environmental Services team is doing what many of us would consider a 'once in a while spring cleaning' of our house, all day, every day, however hopefully it provides insight into the high workload.
When asked what the community can do to help support all the hospital workers, BHB Environmental Services Supervisor Dupré Wilmot said told Bernews that we should be following all public health guidelines and hospital protocols, get vaccinated and make sure that we stay within our bubbles.
Minister of Health Kim Wilson said, "I am proud of Environmental Service workers service to our community; they play a crucial role in keeping our hospital clean and safe. They are indeed our unsung heroes, and I want them all to know that they are appreciated. I am grateful for their continued commitment and dedication to helping us fight this pandemic."
Shadow Minister of Health Michael Dunkley echoed the praise saying, "Thank you for highlighting the Environmental Services team whose job is so critical, even more so during a pandemic when our health services are under tremendous strain.
"The ES team work behind the scenes, often after hours, maintaining the facilities and patient areas to high standards of cleanliness and sanitization. We extend our thanks and appreciation for your hard work, dedication and commitment to the task at hand 24 hours a day and 7 days a week. Stay healthy!"
The Environmental Services team is one of many departments in the hospital working extremely hard, with the hospital having declared 'Disaster Alert Level 4' — the highest level — for the first time in a pandemic earlier this month due to the major increase in Covid patients they are dealing with, with over 60 people in hospital.
"We want to keep Bermuda safe," BHB Environmental Services Supervisor Dupré Wilmot said.
Comments
comments