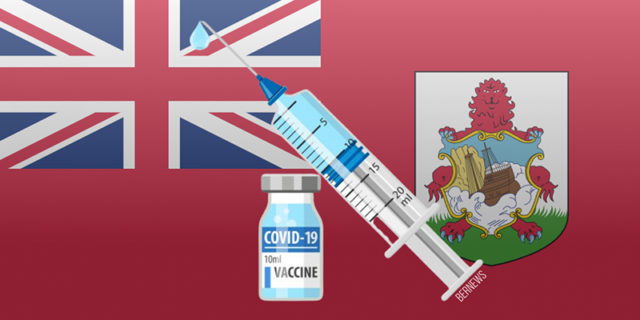 As of May 15th, Bermuda has administered a total of 65,497 vaccinations, with 47.7% of the population having received two doses thus far.
Speaking during tonight's press conference, Health Minister Kim Wilson provided vaccination statistics, saying, "We have completed the eighteenth full week of vaccinations. From January 11 to May 15, 2021, Bermuda has administered a total of 65,497 vaccinations – a figure that rises to 66,564 if you include vaccinations administered between Sunday May 16h and Monday May 17th as well! –all of which is excellent news.
"Of the 65,497 vaccinations administered for the period we are reporting on, which ends May 15th;
52% are women, and,
48% are men.
"Significant progress has been made in vaccinating our most vulnerable population, and I am pleased to report
"79.9% of all residents over the age of 65 years have had at least one vaccination with 70.2% being fully immunised.
"To date, 53.9% of the population has been vaccinated [with 1 dose], and 47.7% of the population has been immunised [with 2 doses].
"We've made remarkable progress, since our vaccination campaign began at the beginning of the year. The vaccine is extremely effective at preventing severe illness and death, which we saw demonstrated through the challenging outbreak that caused the Stay at Home regulations to be put in place.
"I encourage everyone who wishes to be vaccinated to do so as soon as possible.
"For recent travellers, the Ministry of Health guidance is being updated to support vaccination after your day 4 negative COVID-19 test result. You no longer have to wait until after day 14.
"You can get vaccinated at the Bermuda College, which is open Monday to Friday, 9:00 am until 1:00 pm for walk-ins.
"You can also make an appointment to get vaccinated at Bermuda College between 11:00 am and 1:00 pm. However, the Bermuda College is not open for vaccinations on the weekend.
"The Bermuda Hospitals Board vaccine centre is open daily between 8:00 am and 8:00 pm for anyone with an appointment. This is especially convenient for people who are working during the day and who need an appointment in the evening or on the weekend.
"Our mobile vaccination sites are also convenient as we visit various locations around the island, three times per week.
"Later this week, the mobile vaccination programme will be at the following locations:
Thursday, May 20, at the Southampton Princess from 10.00 am – 2.00 pm.
Saturday, May 23, TCD in Hamilton from 10.00 am – 2.00 pm.
"This week's mobile vaccination programme will be for individuals who wish to get their first dose, as well as for those who need to receive their second vaccine shot, following their first dose three weeks ago. The vaccine is most effective after you receive the second dose, so don't forget to go back to Southampton Princess or TCD to get that all important second shot.
"Next week our mobile vaccination programme will be at the following locations:
Tuesday, May 25, the Open Door Christian Fellowship in St. David's from 10 am until 2 pm
Thursday, May 27, at the Sandy's Secondary Middle School from 4 pm until 7 pm, and
Saturday, May 29, at the National Sports Centre from 10 am until 2 pm.
"These neighbourhood sites are for people who have not yet registered for the COVID-19 vaccine, do not have access to the internet, and prefer to register in person or have additional questions about the COVID-19 vaccine. There will be doctors on site to answer any questions you have, and you don't need an appointment. You can just show up and roll up your sleeve.
"We recommend the Close to Home mobile programme as an ideal opportunity to learn more for those people who want to hear about the COVID-19 vaccine from a trusted source.
"And please don't forget that there is a free mini-bus service available to take people from their homes to the mobile vaccination sites and back to their homes afterwards. Call 533-5903 between 10.00 am and 1.30 pm if you need a ride to one of the mobile vaccination sites.
"Anyone who feels they need a home visit for the COVID-19 vaccine, please contact vaccine@gov.bm, or call the hotline 444-2498 and select Option #2, and the team will arrange a visit in the coming weeks.
"Since the mobile vaccination programme began on April 27, a total of 1,012 vaccines have been given as of May 16. About 90% of injections were administered to people receiving their first dose.
"Parents who are interested in having their children vaccinated are encouraged to register their appropriately aged children on gov.bm so the Ministry of Health can gauge interest in being vaccinated.
"The Food & Drug Administration and Health Canada have both approved the Pfizer vaccine for children aged 12 to 15 years old. Parents.
"As the Memorandum of Understanding between the Bermuda Government and the Foreign, Commonwealth & Development Office specifies the vaccine can be used on people aged 16 years and over, we are still working on a resolution of this issue before we can begin to administer the vaccine to the lower age group of 12 – 15 year olds."
Comments
comments