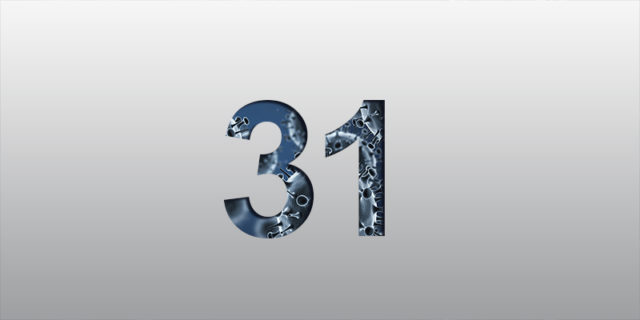 The Ministry received 1179 test results and 31 were positive, so there are now 720 active cases, of which 31 people are in hospital with 8 in ICU.
A Government spokesperson said, "The Ministry of Health received 1179 test results since the last update, and 31 were positive for coronavirus, yielding a test positivity rate of 2.6 %.
"15 of the new cases are classified as local transmission with known contact as they are associated with known cases. The additional 16 new cases are classified as under investigation. These cases are among residents with no currently identified link to other known cases or history of travel in the past 14 days.
"Additionally, since the last update, there were 93 recoveries, and there were no deaths.
"There are 720 active cases, of which:
689 are under public health monitoring and
31 are in hospital with 8 in intensive care;
"Since March 2020, Bermuda has recorded 2315 confirmed cases of coronavirus, out of which a total of 1572 have recovered, and 23 persons have sadly succumbed to COVID-19.
"For information regarding age distributions and overall transmission categories, please refer to https://www.gov.bm/coronavirus-covid19-update.
"The seven-day average of our real-time reproduction number is 0.77. "Bermuda's current WHO country status remains "Community Transmission".
"The Minister of Health the Hon. Kim Wilson said: "It is encouraging to see that the number of positive coronavirus cases is holding steady, and our recoveries are outpacing new cases.
"This is good news, and an indication that Government regulations and guidelines are having a positive impact. I want to thank the many residents who are doing their part to help reduce the spread of the coronavirus on the island and keeping our community safe."
"Please everyone, continue to avoid mixing households, follow public health guidelines and avoid the 3 Cs: closed spaces, crowded spaces and close-contact settings. As well, please get vaccinated.
"The Bermuda College Vaccination Centre is accepting walk-ins this Saturday and Sunday, 9 am to 3 pm. You don't need to register online – you can just show up. Going to and from your vaccination is allowed under the current restrictions."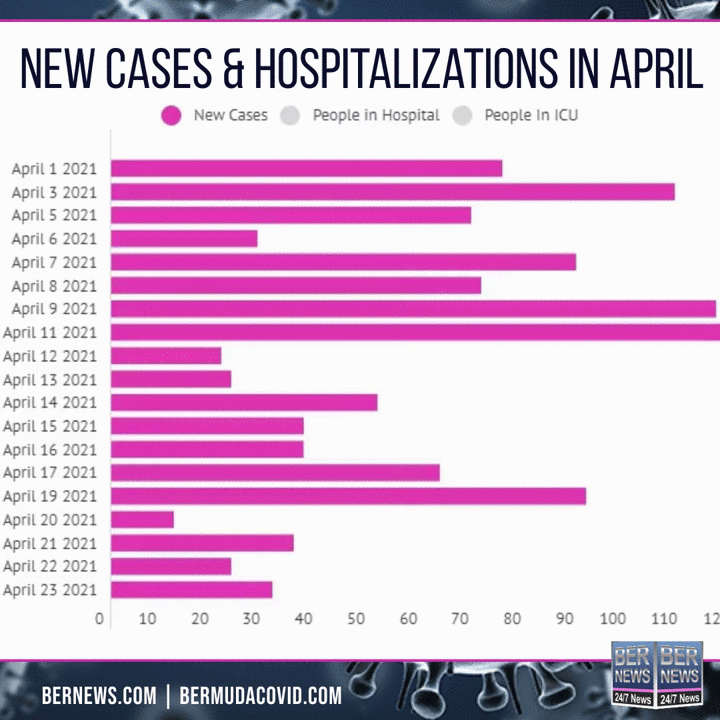 "Today, the Ministry of Health announces that Bermuda will join the Pan American Health Organization [PAHO] and its partners to celebrate the 19th annual Vaccination Week in the Americas.
"This year marks the 19th anniversary of the Vaccination Week in the Americas [VWA], which will be held from 24 to 30 April.
"Every year as part of VWA, more than 40 countries and territories in the Americas come together to raise awareness on the importance of immunisation and vaccinate their populations, making a special effort to reach people who may not have regular access to health services.
"VWA has been a key driver of immunisation in the Americas, resulting in more than 806 million people being vaccinated against a range of diseases since 2002.
"Bermuda will celebrate VWA this year in four ways:
"1. Recognise the progress made to reduce many vaccine-preventable diseases that have caused death and disabilities to children worldwide, such as measles, rubella, polio, whooping cough and tetanus.
"2. Sustain the gains achieved by having their infants and children vaccinated according to the Bermuda Childhood Immunization Schedule.
"3. Conduct a survey to help us assess levels of confidence in the immunisation programme in Bermuda. You can access the link at www.gov.bm/vaccines or Ministry of Education web pages. It will only take 3 minutes to complete.
"4. Encourage Bermuda residents and their family members over the age of 16 years to be vaccinated against Covid-19.
"The VWA 2021 theme is "Vaccines bring us closer" to a fairer world, family, friends and a world without pandemics. Bermuda, along with the rest of the world, has been living with Covid-19 for over a year, and the public health measures of face mask use, hand hygiene and physical distancing have been important in preventing the spread of the coronavirus. We now have the benefit of the COVID-19 vaccine which is effective against moderate to severe disease and which will protect our community if most residents get vaccinated.
"The Department of Health's Mobile Team has established an outreach programme to increase access to Covid-19 vaccines. The "drive-in" venue will be at Penno's Wharf on Tuesday, 27 April, from 10 am – 2 pm. Other sites will be in the central and western zones on Thursday, 29 April, and Sunday, 2 May [exact location and times to be determined]. The drive-in venues are specifically for persons who have not yet registered for the COVID-19 vaccine, do not have access to the internet, and prefer to register in person or have additional questions about the COVID-19 vaccine.
"Immunisations have been one of the most successful public health interventions to save lives, locally and globally. The benefits have expanded to adults, and the Department of Health encourages the family to participate in being vaccinated to protect Bermuda and the world.
"For further information, you may contact Child Health on 278 6460 or email childhealth@gov.bm.
"Each of us has a role to play in stopping the spread of the coronavirus. Follow Public Health guidelines, wear a mask, practice good hand hygiene, maintain physical distance and download the WeHealth Bermuda app. Do the research, talk with your doctor and make an informed decision about getting the COVID-19 vaccine.
"Saturday 24 April and Sunday 25 April, the Bermuda Red Cross will coordinate with the Bermuda Taxi Owners/Operators Association free rides to Bermuda College for persons who need transportation for their vaccine. This service is provided between the hours of 9:00 am and 1.30 pm to members of the community who have no form of transportation and wanting to be vaccinated at Bermuda College. Members of the public wishing to arrange transportation through the Bermuda Red Cross should call 232-1945."
Comments
comments